THESE EYES OF STONE
2009, graphite on paper, 13" x 9" $300
Pisa, Italy, in the Piazza dei Miracoli where the Leaning Tower, Cathedral, Baptistery and the Camposanto Monumentale stand, Holy Soil from Golgotha was deposited after the 3rd Crusade, circa 1192. This grave yard has such a powerful, spiritually inhabited ambiance I was in tears of loss and love the entire time I was there. Within the walls of the cemetery is a carved figure of a woman. Her dreamy, wistful expression speaks of waiting and unrequited love. She cried out to me to capture her visage and help her find love. Her plaque, written in Italian, translates: "I have been waiting nine hundred years. These eyes of stone see only shadows. Please bring the light, my love."
THE GRIM REAPER detail,
2014, graphite on paper, 21 x 15, SOLD
In the "English Cemetery" (Cimitero Inglese) of Florence, Italy, among the many baroque, beautiful and lavishly decorated monuments to cherished loved ones, is a larger than life sculpture of 'Death' in all his glory brandishing a scythe. There are many striking and unusual memorials there, but when I saw this three meter tall marble sculpture I had to make a drawing of it. I dealt with this subject as a 'still life,' embellishing the crosses and memorials to look like wood, rather than the carved marble and cast concrete they were actually made of. Author Loren Rhoads writes about this monument, "I haven't been able to discover any information about Andrea di Mariano Casentini 1855 – 1870, but clearly Mama and Papa had some message to give the world when they lost their child." In 1827 the Swiss Evangelical Reformed Church purchased land from the Grand Duke of Tuscany for this international, ecumenical cemetery.
Pisa Duomo detail
At The Colosseum
PALAZZO MEDICI RICCARDI detail
Matchless Moto detail
Leone detail
Leone detail
Leone detail
Santa Maria della Salute detail
Faces of Salute
Santa Mara della Salute detail
HERCULES AND CACUS detail
2008
A work by Baccio Bandinelli, 1534, of the mythical Hercules defeating Cacus, placed in the Piazza della Signoria in Florence, Italy. Considered by the Florentines to be a second rate statue, the locals refer to it as the sack of potatoes because of the exaggerated muscles. Sketched on site.
FACES
2008, Graphite on paper, 13 x 9
BAMBINI ANGELI
2010, graphite on paper, 7 x 5, SOLD
Inside the entrance to St. Peters Basilica are Gian Lorenzo Berninis cherubs holding a holy water font. Bernini, 1598 – 1680, began working in the basilica as a sculptor in 1624. He was appointed Architect of St. Peters in 1629, a post he held for the rest of his life.
SHOPPING IN LUCCA detail
2009, graphite on paper, 9 x 13, SOLD
The Piazza Anfiteatro in the walled city of Lucca, Italy (a few kilometers north of Pisa) was at one time a Roman amphitheatre. Now shops and apartments face into this popular piazza that has become a trendy destination for locals and tourists alike. On this particular Sunday afternoon the local antique auto and motorcycle club ended their rally at the piazza. This image of two local shoppers was inspired by a reflection in the fuel tank of a wonderfully restored 'Matchless' motorcycle.
1922 F/N detail
Boston Bob in all his glory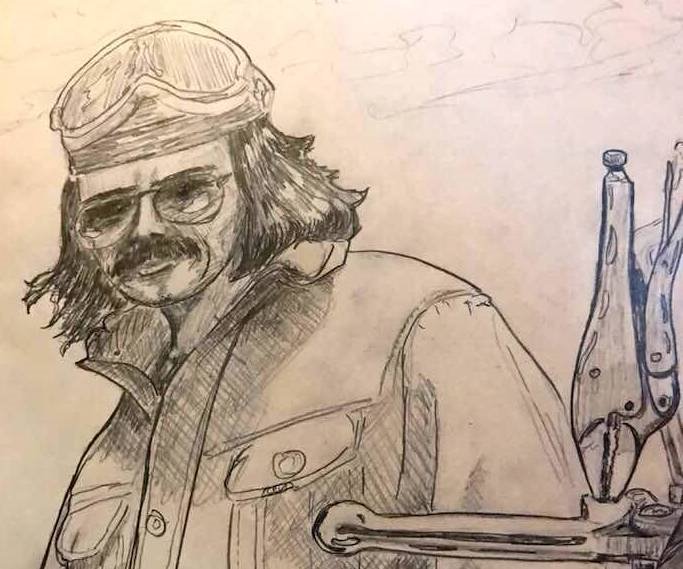 MY OL' FRIEND BRAD sold
1985, pencil on paper, 8.5 x 11
After Brad passed in 2014 his wife, Amy, posted this image on fb. I had wondered if this drawing was still in existence. We were on a motorcycle road trip to the Mescalero Apache Indian Reservation in New Mexico when Brad's clutch cable broke at the handle. As we were camping in the mountains near Ruidoso, a replacement cable was many miles away. The temporary fix was the needle nose vise-grips to attempt to secure the cable end at the handle. It didn't work for very long. In fact it only worked once, enabling Brad to get rolling before shifting without the clutch and grinding the gears. We coasted down the mountain from Ruidoso to Tularosa where we found an All Brands Motorcycle Shop that had the correct clutch cable. Brad and I shared many journeys and adventures from playing our brand of Rock & Roll to cross country motorcycle trips.
Brough Superior SS100 detail
Brough Superior SS100 detail
Brough Superior SS100 detail
Colosseo detail
Colosseo detail
GORDON'S GARGOYLE detail
2017, graphite on paper, 10 x 12
Freaked out Gargoyle detail
Freaked out Gargoyle detail
Hercules vs Nessis
Graphite on paper, 2008, 13 x 9.
On site drawing in the Loggia dei Lanzi at the Piazza della Signoria, Florence, Italy.
The Law
Moses Grotto detail,
Palazzo Pitti courtyard, Florence, Italy
statue of The Law by Antonio Novelli, 1635
Moses
Moses Grotto detail
Palazzo Pitti courtyard, Florence, Italy
statue of Moses by Raffaello Curradi & Cosimo Salvestrini, 1635
Norton Luckenbach detail
Norton Luckenbach detail
Orvieto Italy detail
PIAZZA DELLA REPUBBLICA detail,
2008, graphite on paper, 13 x 9 SOLD
San Gimignano detail
San Marco detail
San Marco detail
San Marco detail
San Marco detail
Vincent HRD Rapide detail
Vincent HRD Rapide detail
Menelaus, Roman copy of Greek statue.
Lady Di in Lucca
Drawings of Faces
Every scene and subject that I have elected to draw has a history and story connected to it. In staying true to my artistic roots, I endeavor to draw only that which I have seen with my own eyes. I admit that I have an Oriental way of looking at the place humans and figures have in my art. That is to say I am honoring something natural, or something that someone designed and built, rather than the people who built it, or who happen to be around at the time I decided to draw it. If there are people in my drawings they do have a place, but they are rarely prominent, or the focus of the subject. In Nature drawings, the geologic passing of time diminishes the impact and presence of people and personalities. With drawings of man made things, architectural or archaeological, my work is like a forensic study of human creative endeavors. It memorializes what the people did, not who did it.