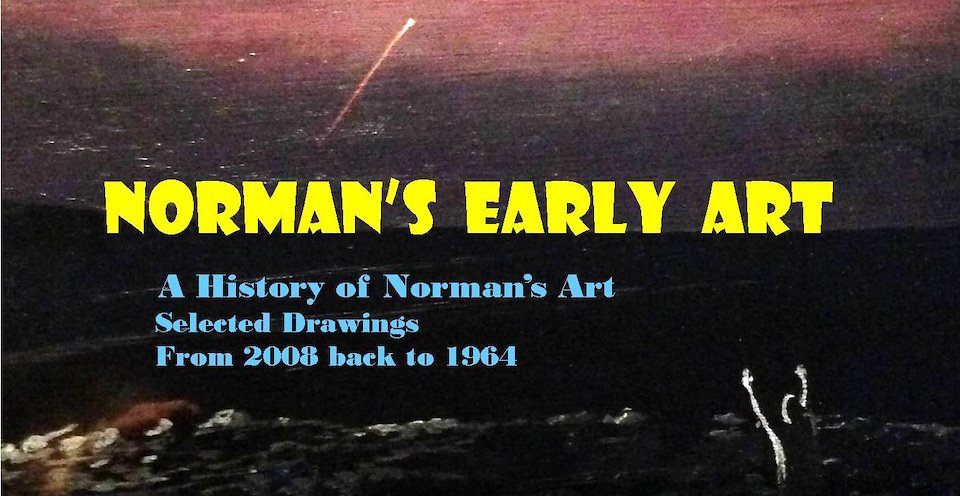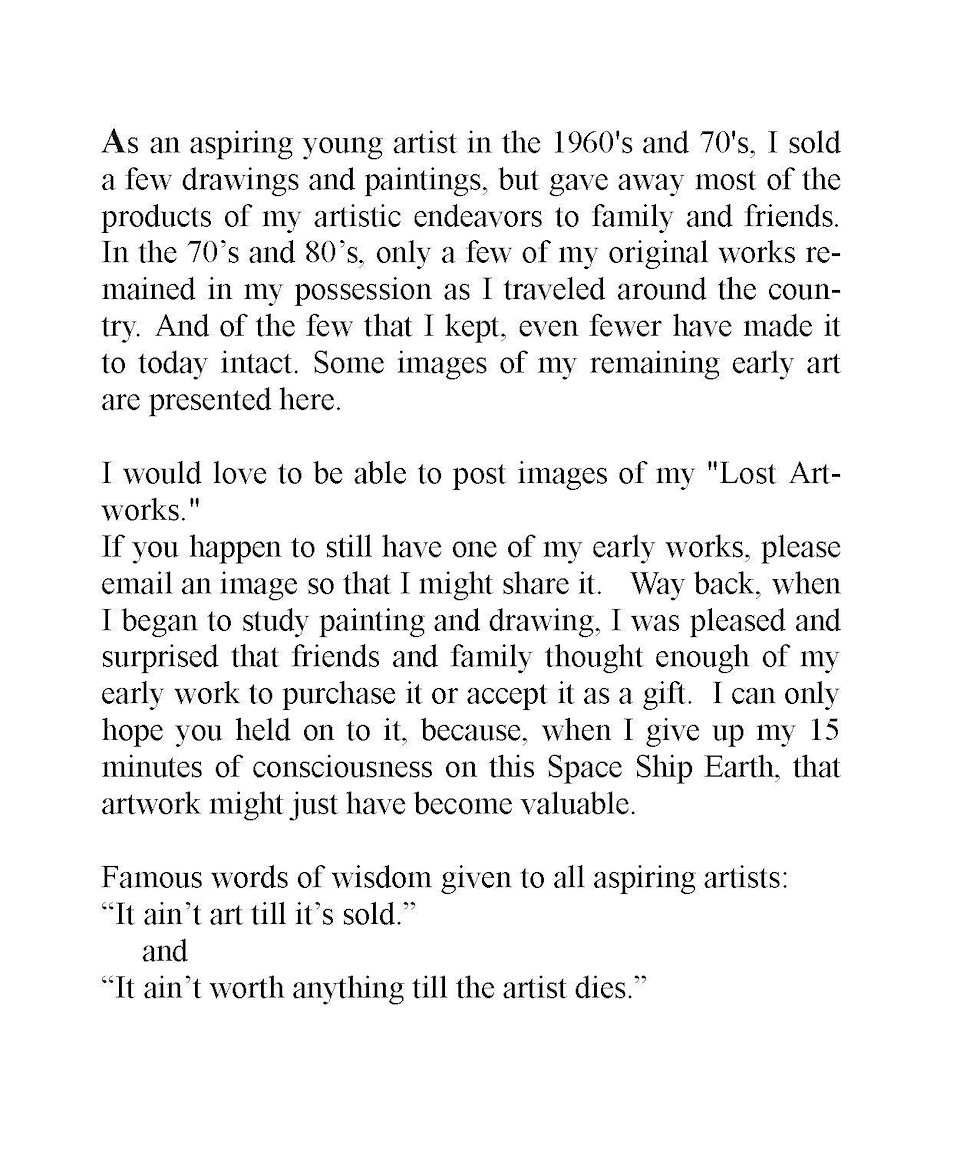 Cross Roads, Dirt roads,
pencil and paper, 2011
GRAND CANYON
pencil and paper, on sight, 2004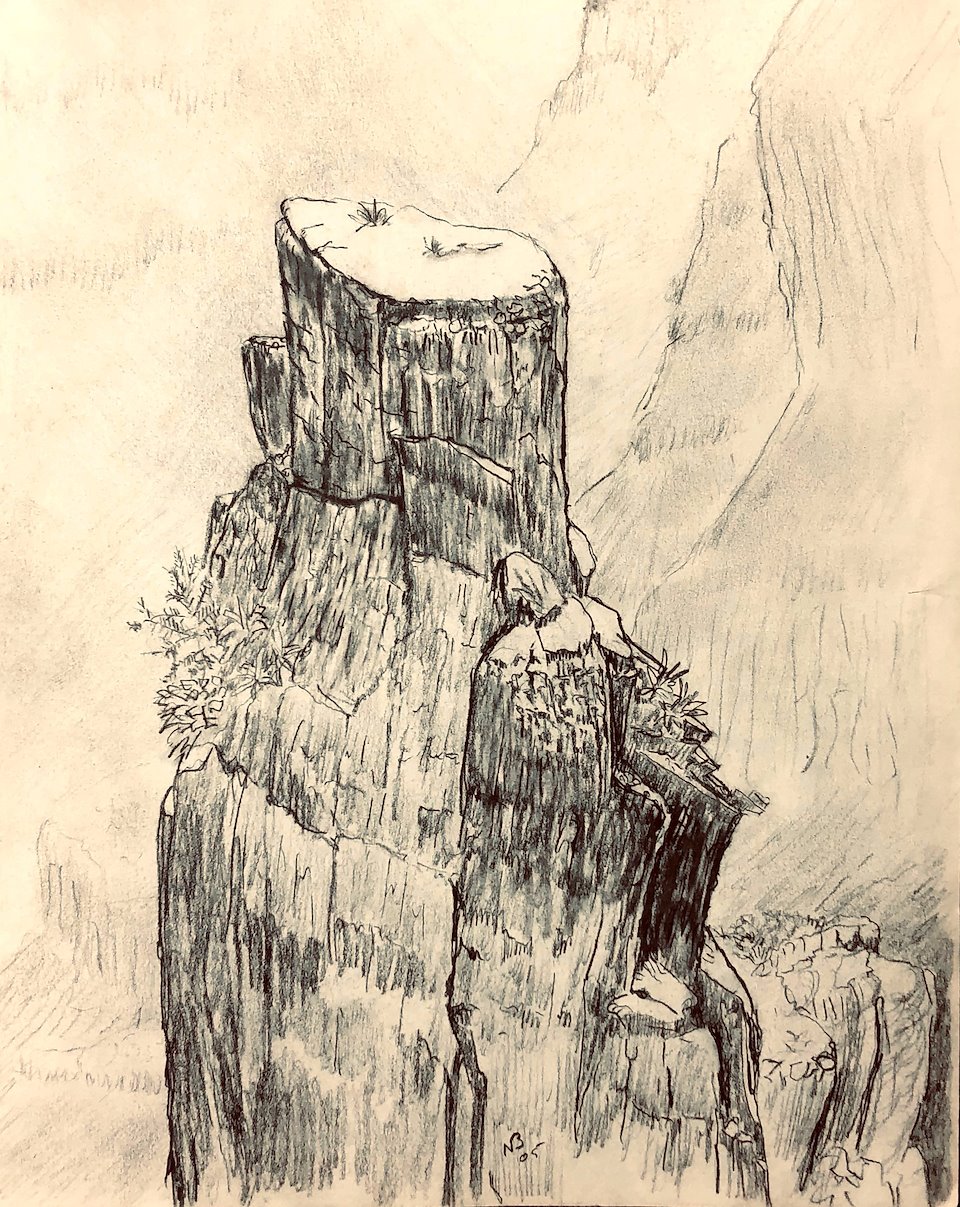 Grand Canyon,South Rim, 2004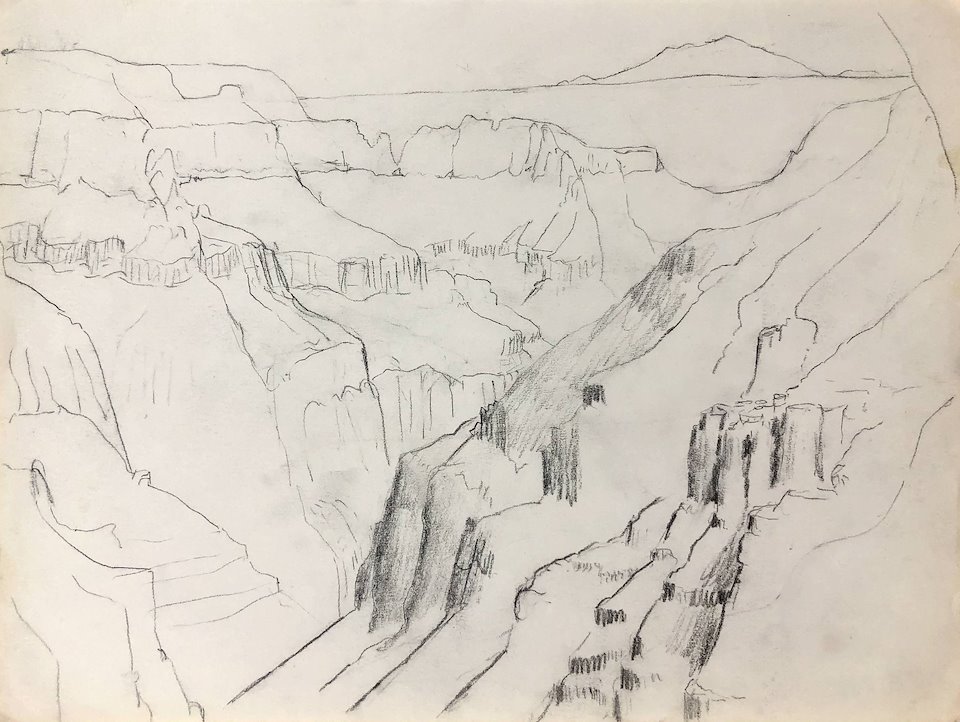 Quick Grand Canyon Sketch 2004
Tree Root Snake
ca; 1998
PAMIE'S MOTHER'S HOUSE
ink on paper, 1989, 8.5 x 11, SOLD.
Farm house in Central Texas near Lake Buchanan.
THE PUMP OUT BACK
ink on paper, 1987, 8.5 x 11, SOLD.
Functional antique hand pump out back of Pamie's Mother's house.
COLORADO BIKER RALLY
ink on paper, 1989, 8.5 x 11.
On the way to Sturgis, SD in 1988 we participated in an all brands motorcycle rally from Colorado Springs to Montrose area. Great fun before being put to work in Sturgis.
FRIENDS
ink on paper, SOLD.
ca. 1986
Riding the New Mexico fire roads up above Socorro and Magdalena.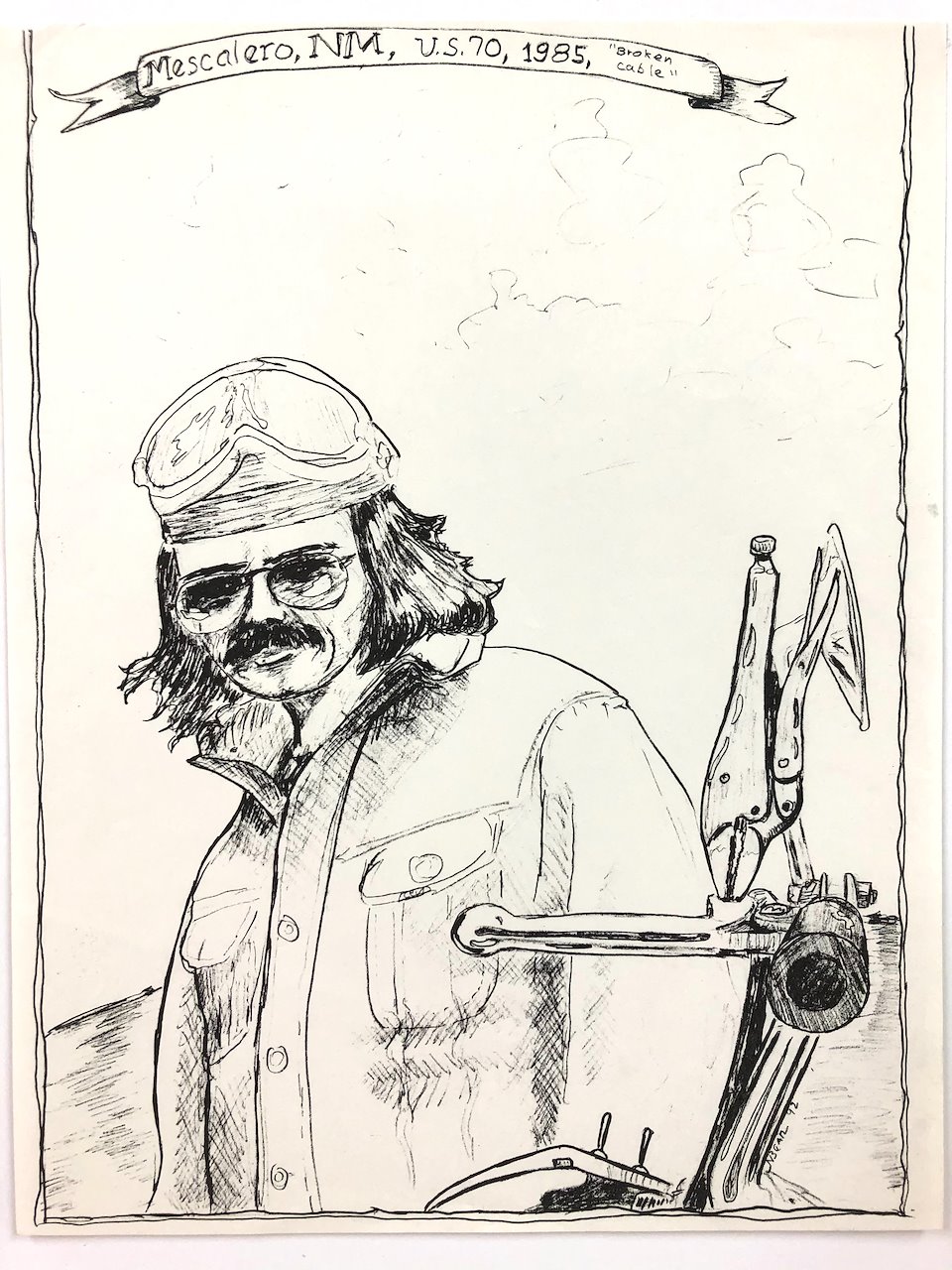 Mescalero New Mexico, 1985
pencil on paper, 11 x 8.5, SOLD
On a motorcycle road trip Brad's clutch cable broke and the temporary fix was vice grips to secure the cable end at the hand lever. It didn't work for long, but we managed to motor down the mountain to Tularosa where we chanced upon an "All Brands" motorcycle shop that just happened to have a workable cable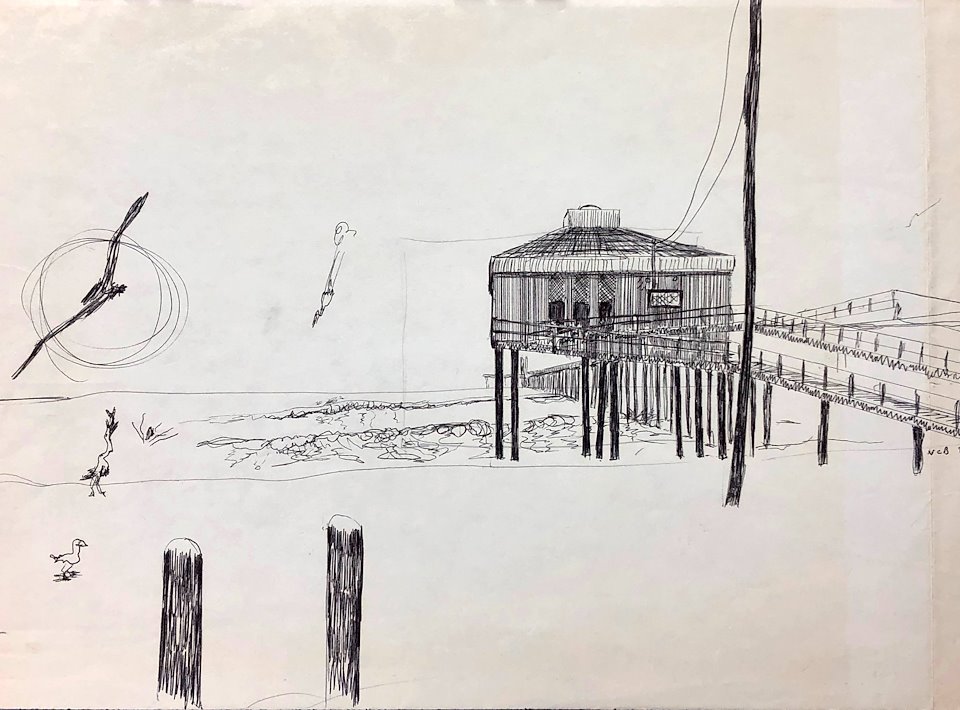 English Pam's Sea Shore, 3rd Coast
Practice drawing for 24 x 36 acrylic painting ca. 1984
FLYING
pencil on paper, 1979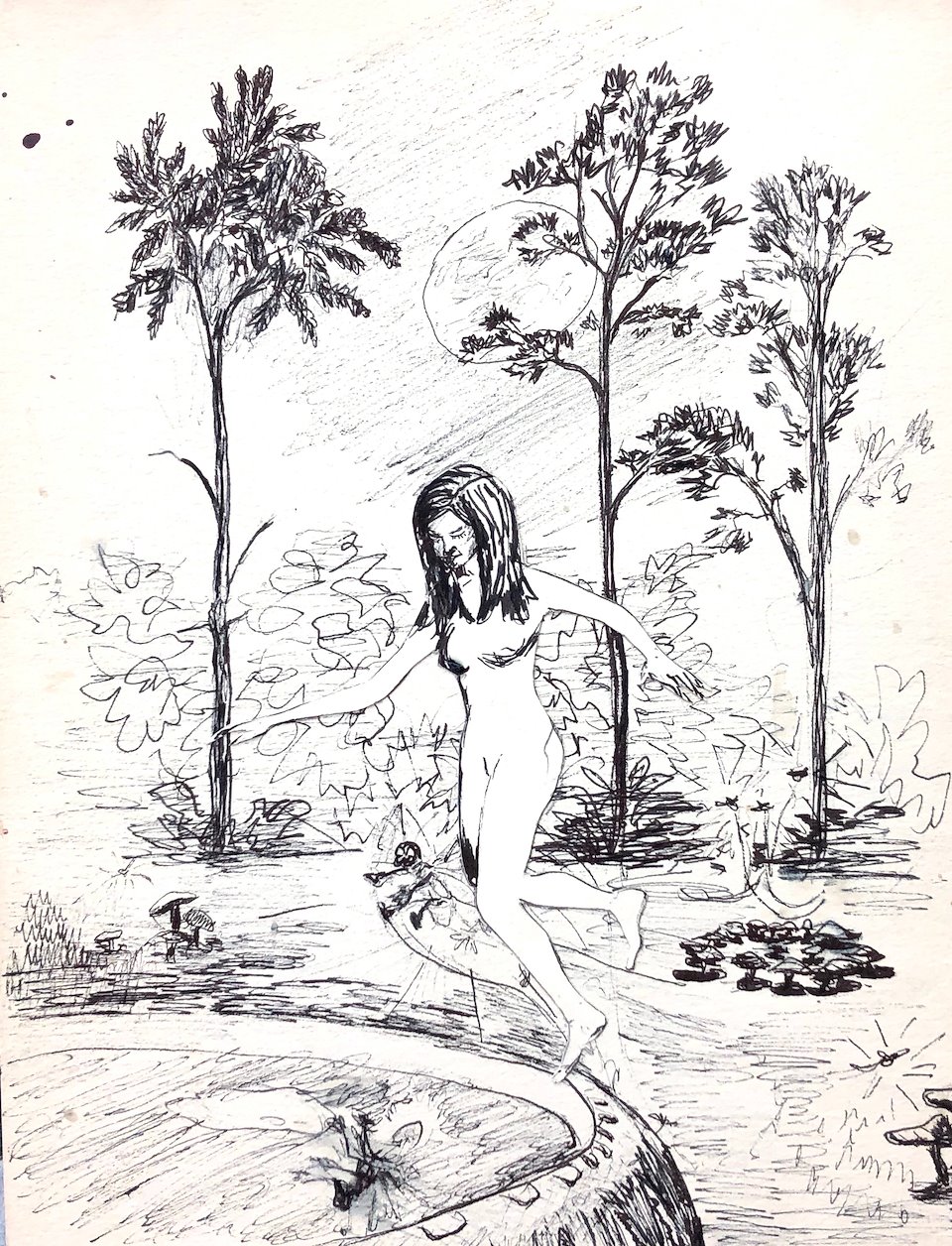 Practice drawing for a painting. ca. 1979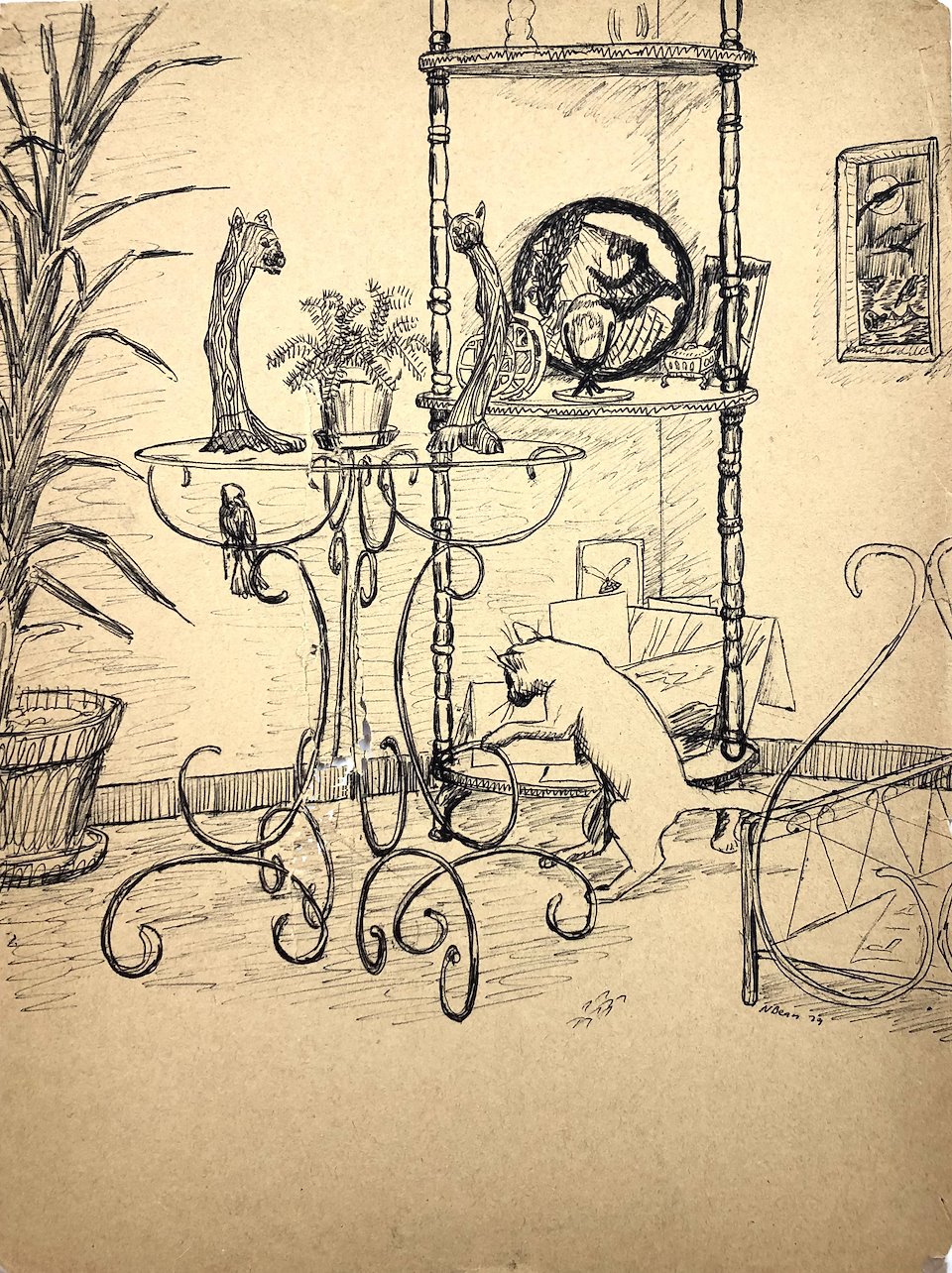 Practice sketch for commission ca. 1979
Cahoots the Cat chasing Tweety Bird
TIGERS
acrylic on panel, 1977, 18 x 24, SOLD
Cat Moon
PRAY
acrylic on panel, 1977, 18 x 24, SOLD
BEAN 'FRATE'
ball point on typing paper, 1972.
This was a practice drawing for a 24 x 30 acrylic painting. No telling where that painting is. I was very proud of the surrealistic realism and the techniques I learned while painting it.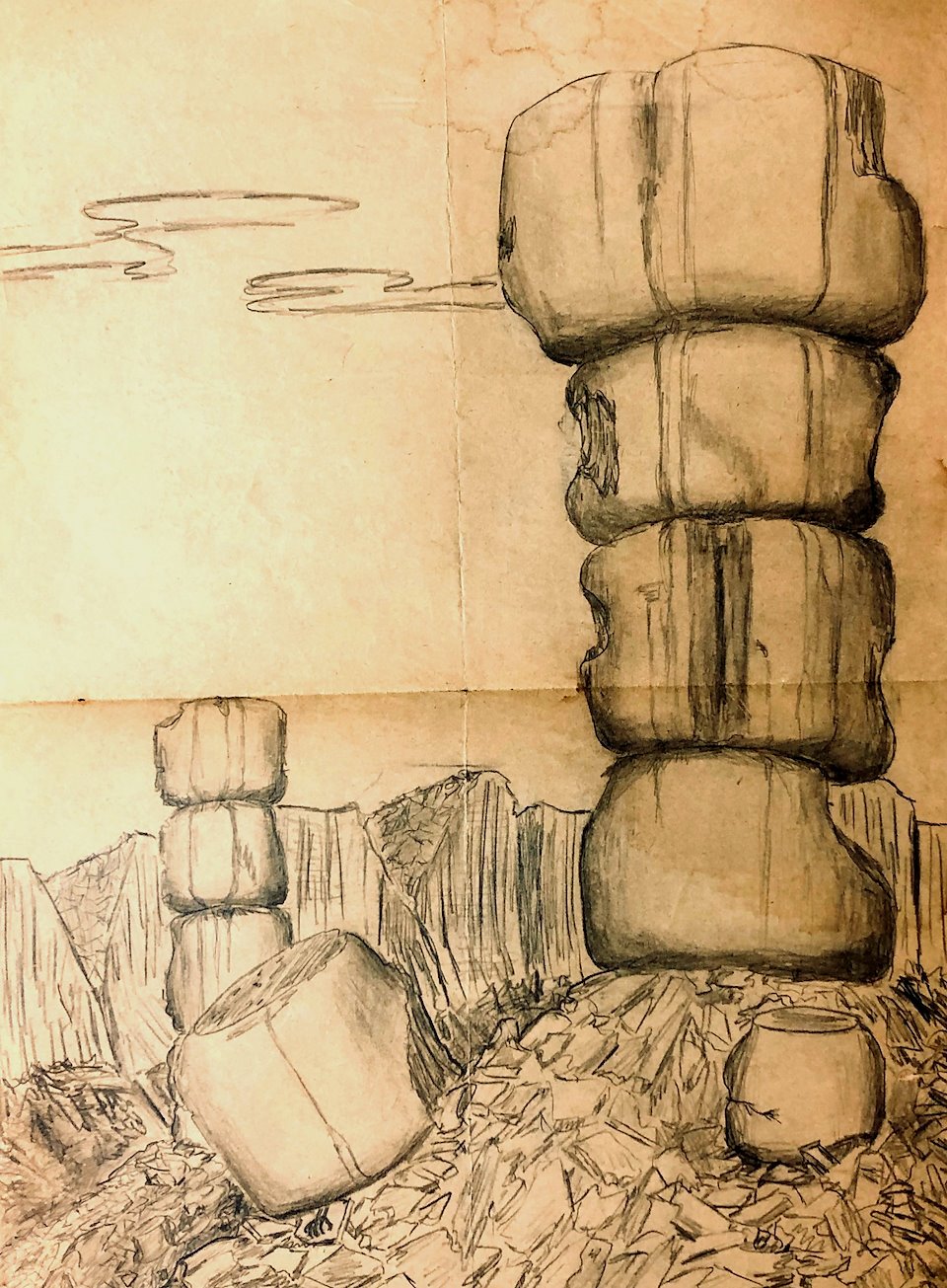 Balanced Rock
18 x 24 pencil on paper ca 1964
After a family vacation to the Utah Canyonlands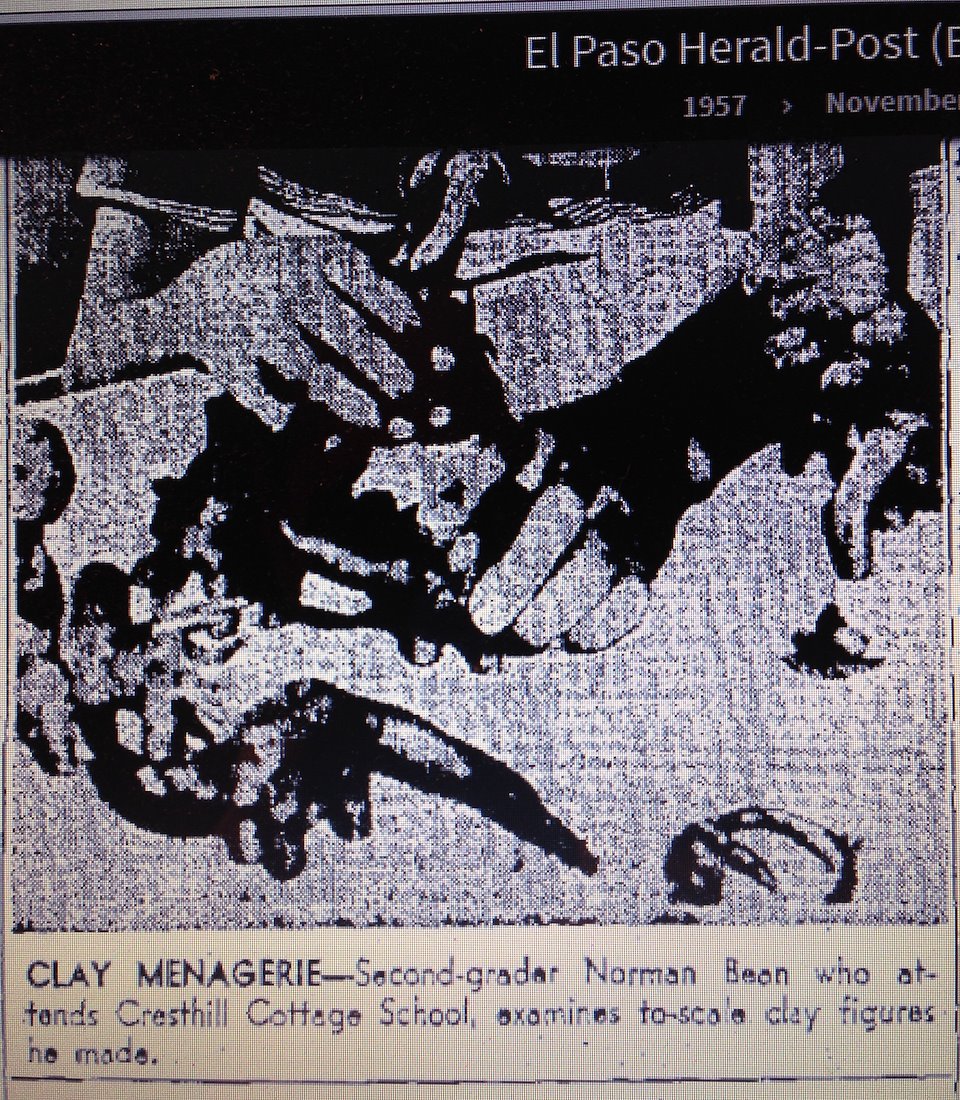 A little hard to discern, but front left of center is a brontosaurs,
far right is a T-Rex, far left an allosaurus, Not sure just what I've got in my hands, might be a stegosaurus. .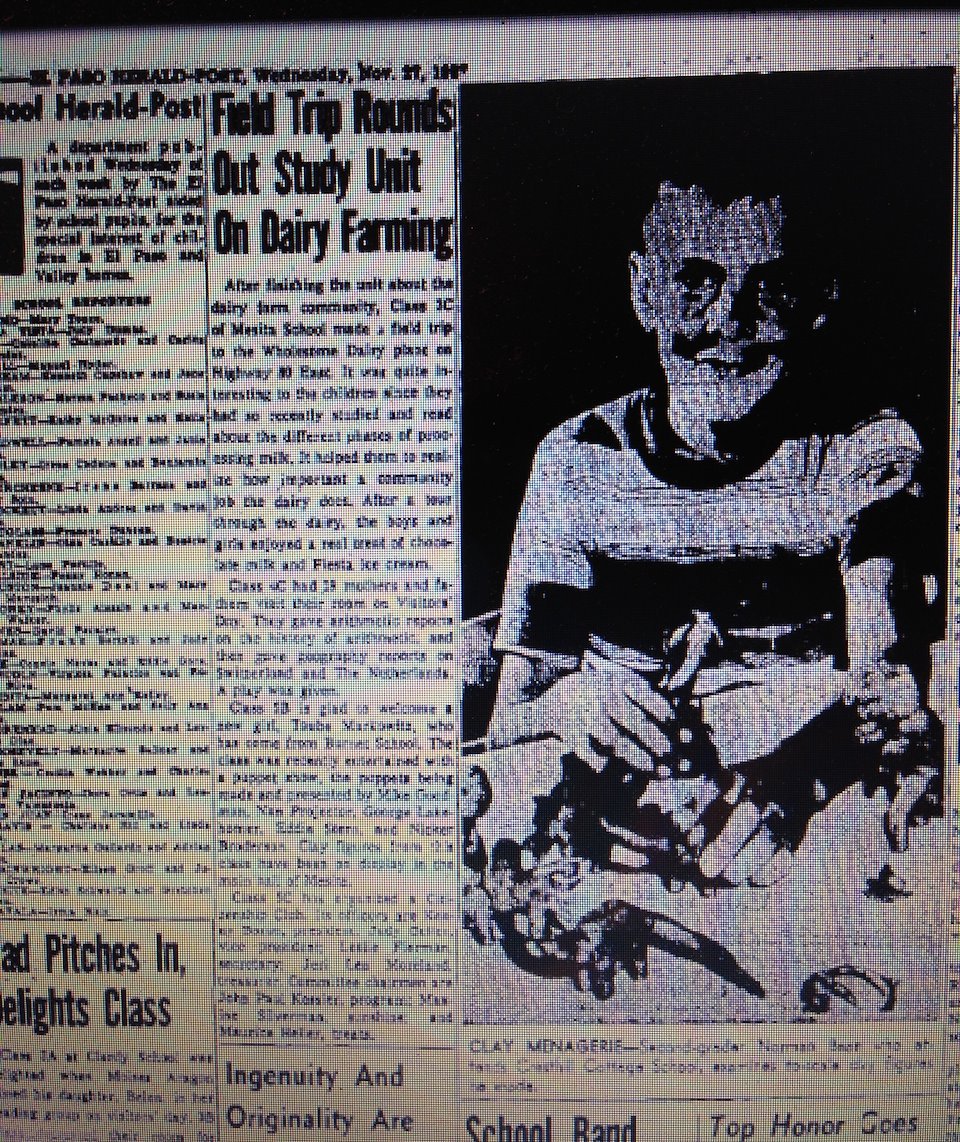 7 year old 2nd grade Norman in the local daily newspaper for his first taste of "fame," ca 1957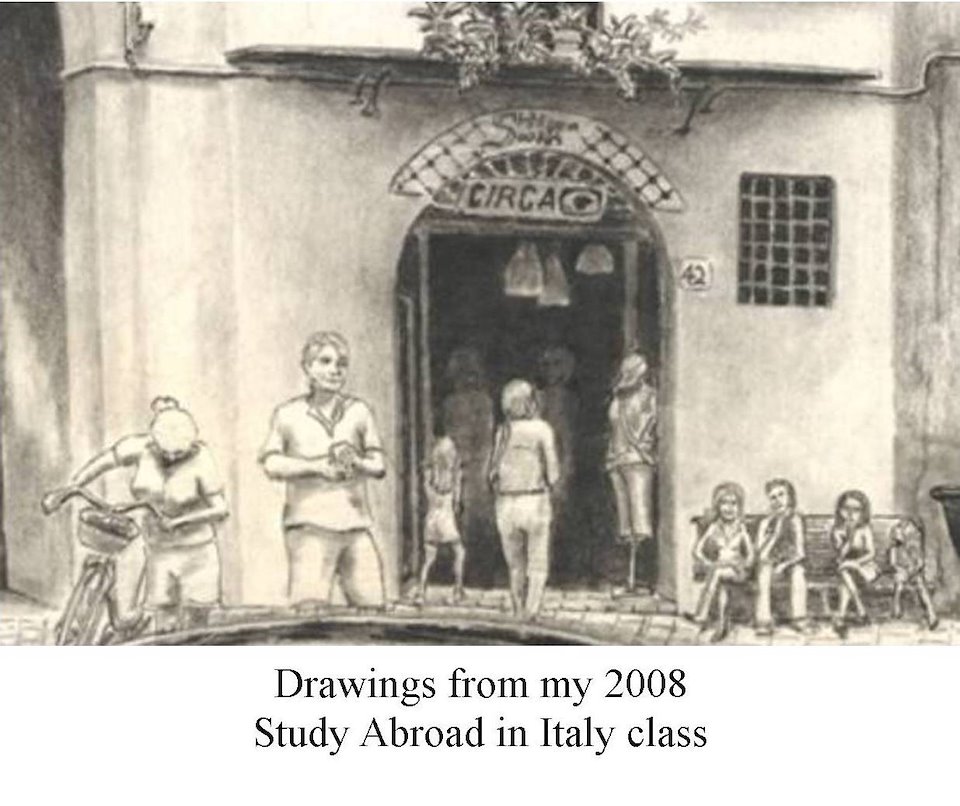 The following images are plein air drawings.
During the 2008 Drawing Class in Florence we were often taken to statues and frescoes and asked to draw what we were seeing.
The following images are drawings scanned right out of my 2008 Italy drawing book.
The Gate
2009 graphite on paper, 9 x 13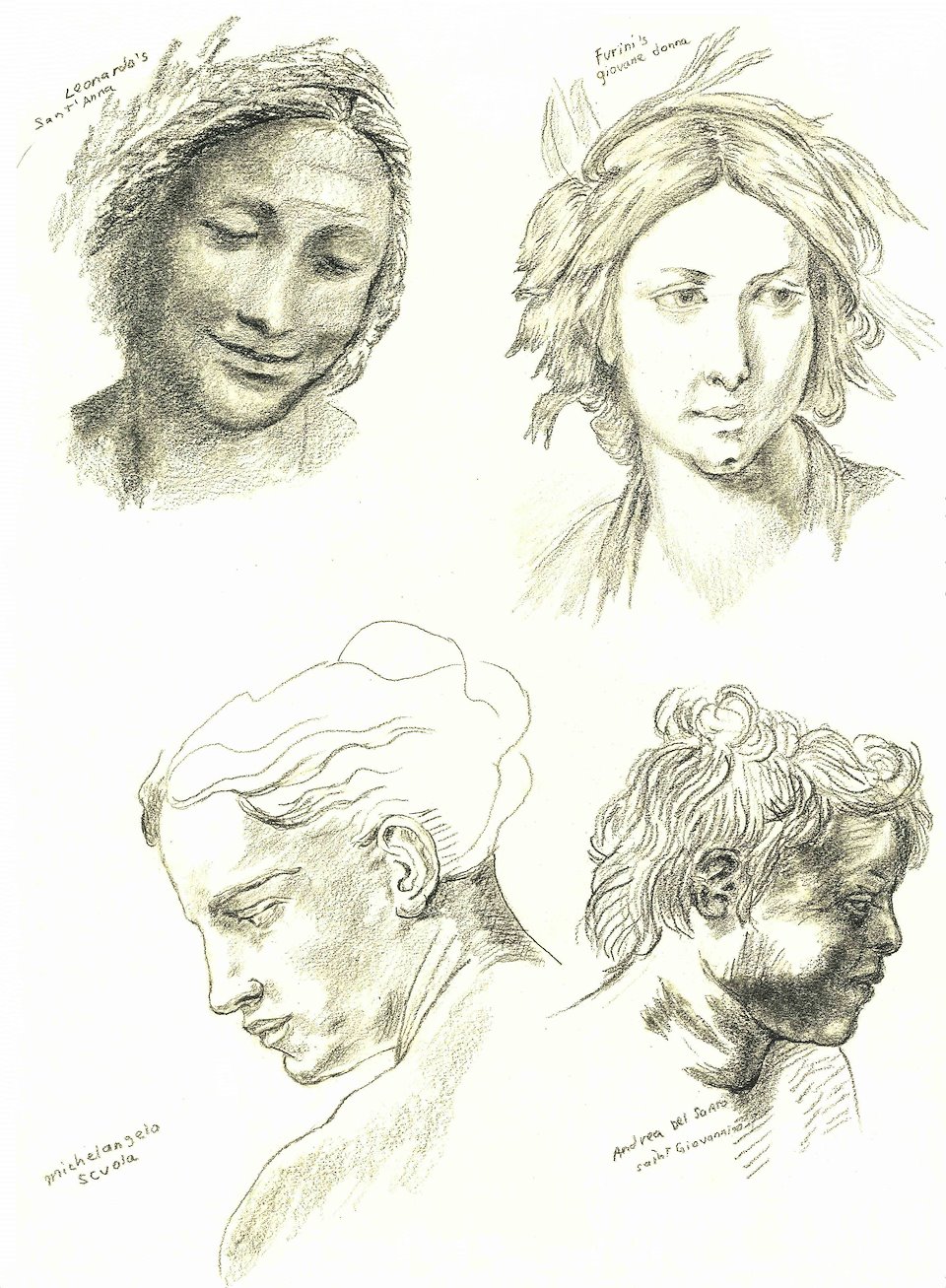 FACES
2008, Graphite on paper, 13 x 9, $400
This is my epiphany picture. In our visit to the Uffizi Gallery my art mentor gave us an assignment to copy freehand one face each from four paintings by famous Renaissance artists. This is the page out of my drawing book from my 2008 visit to Florence, Italy. As I was drawing the faces, I began to have hope for me as an artist...that I could actually draw and fairly accurately reproduce on paper what I was seeing. Upper left, sketch of Sant' Anna by Leonardo. Upper right, Testa di Giovane Donna by Furini. Lower left, Testa di Donna, probably by a student of the Michelangelo scuola. Lower right, sketch of Sant' Giovannino by Andrea del Sarto.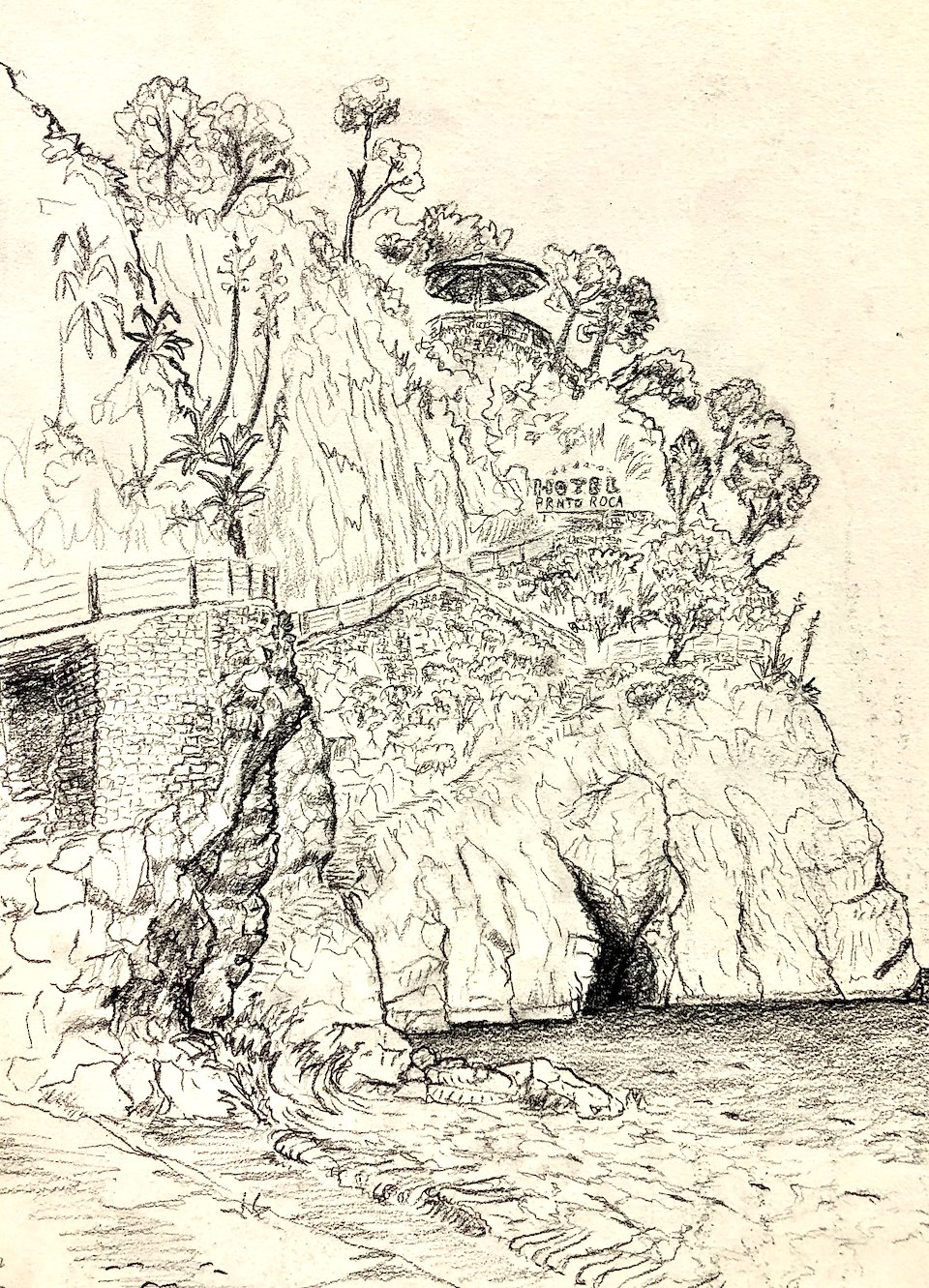 Cinque Terre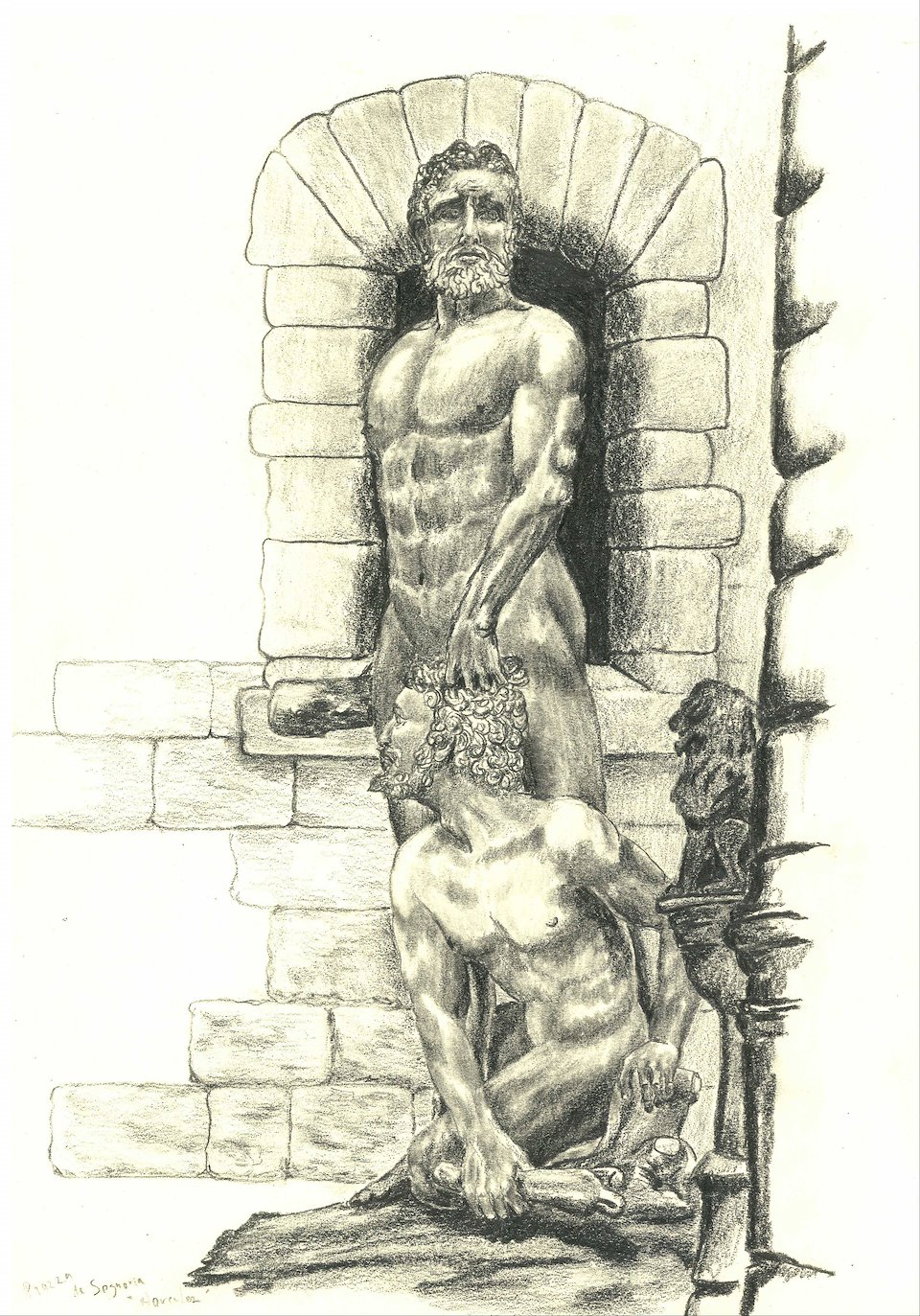 HERCULES AND CACUS
2008, graphite on paper, 13 x 9
A larger than life statue by Baccio Bandinelli, 1534, of the mythical Hercules defeating Cacus, placed in the Piazza Signoria, Florence. Considered by the Florentines of the time to be a second rate statue, the locals refer to it as the "sack of potatoes" because of the exaggerated muscles.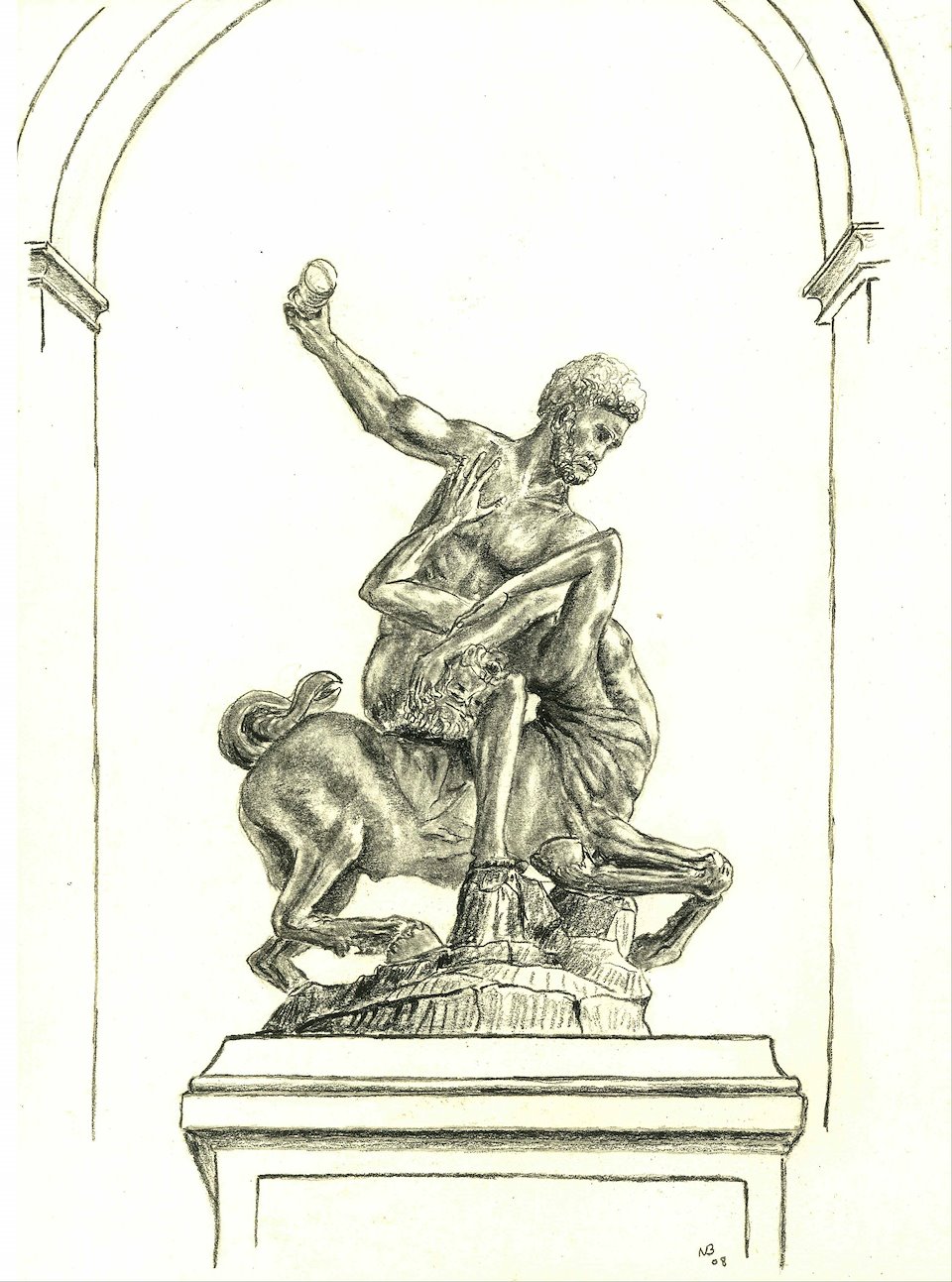 Hercules defeating Nessus the centaur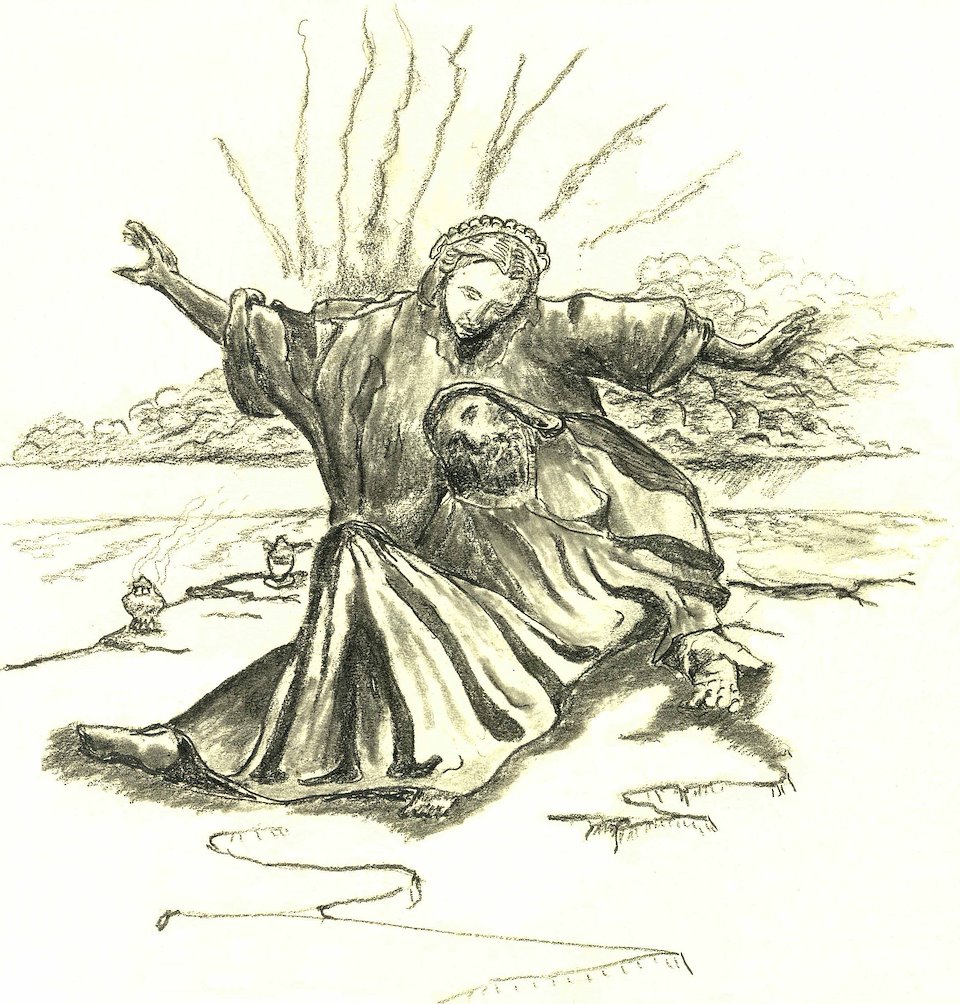 Mary comforting JC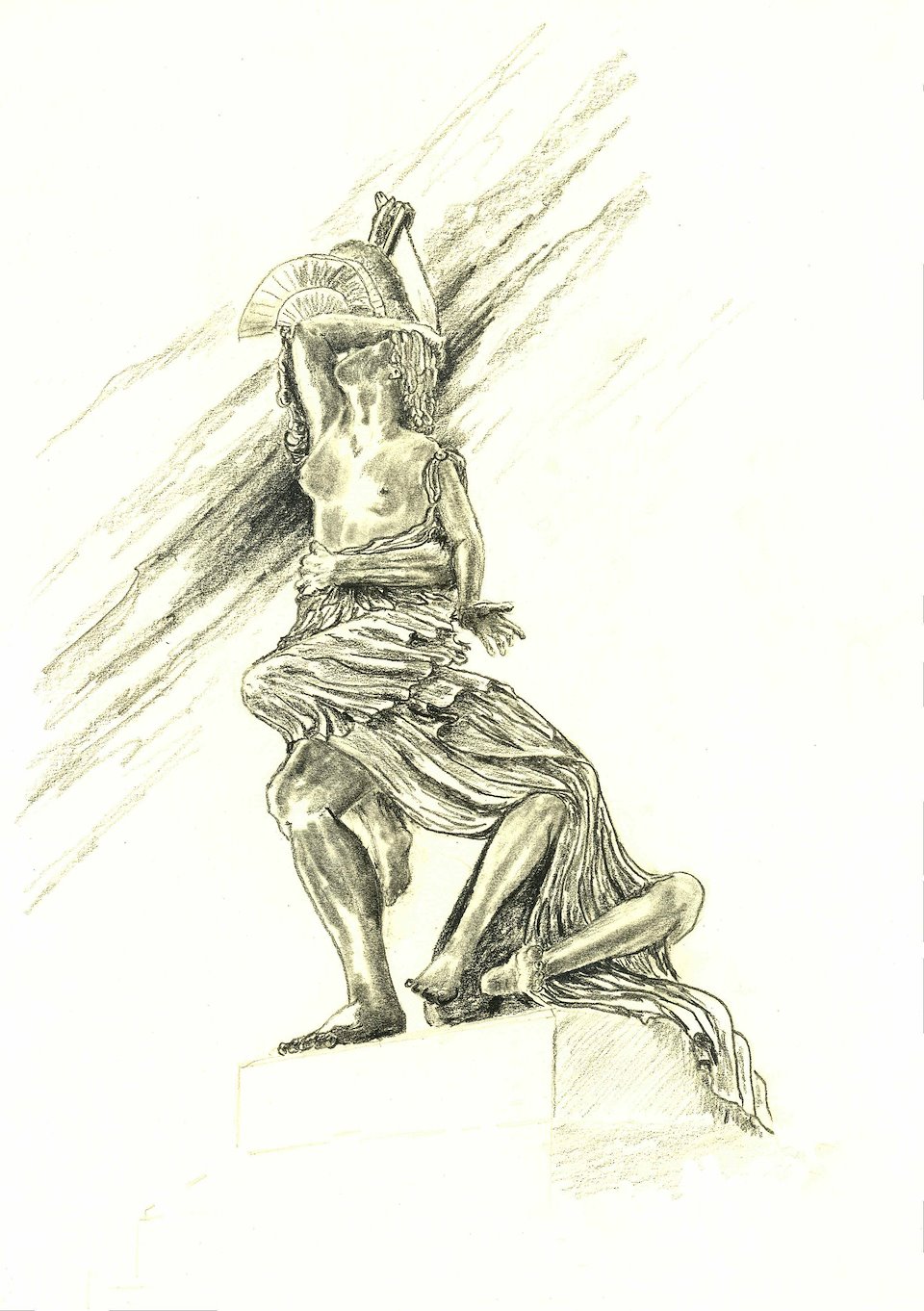 The Rape of Polyxena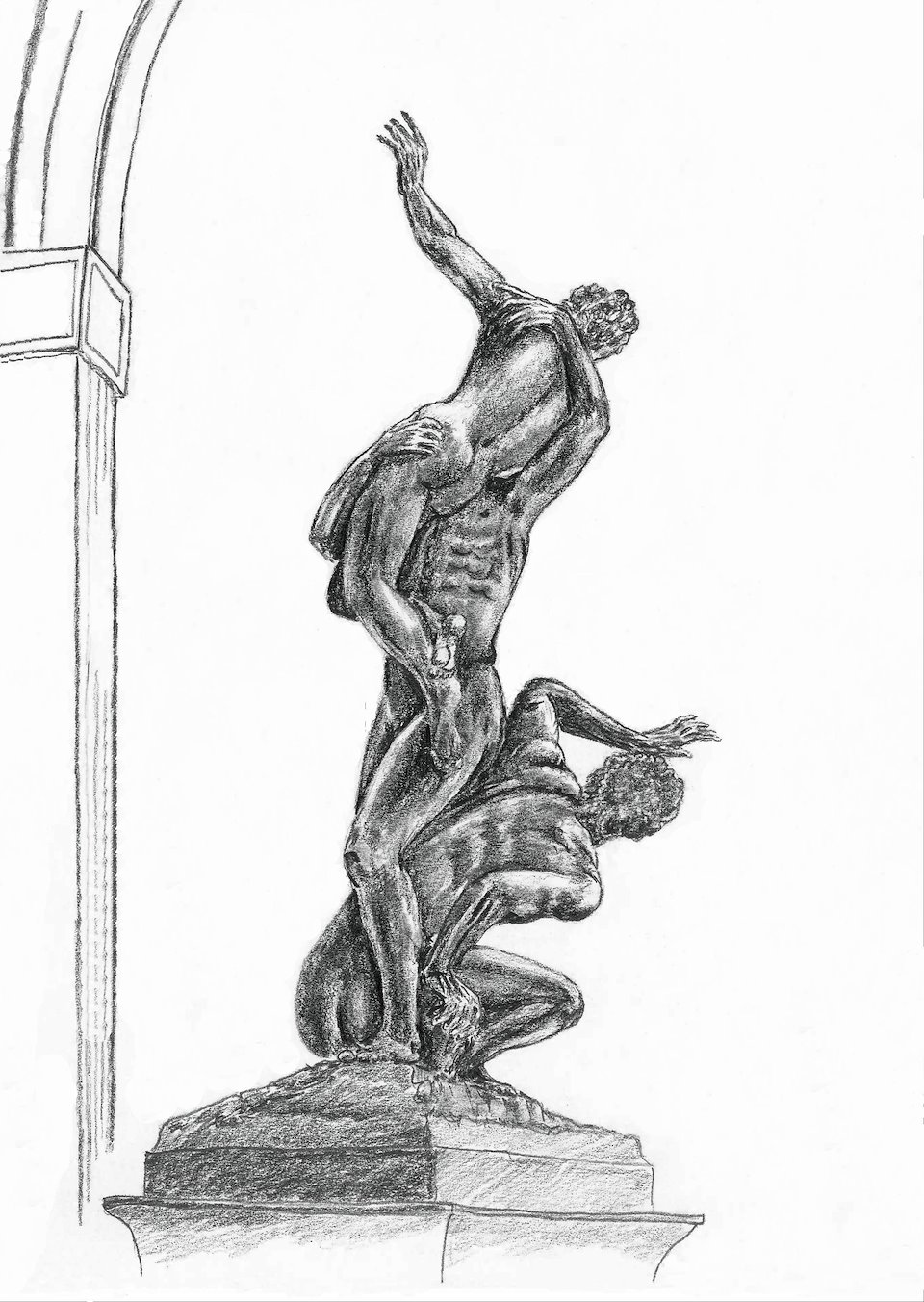 The Rape of the Sabines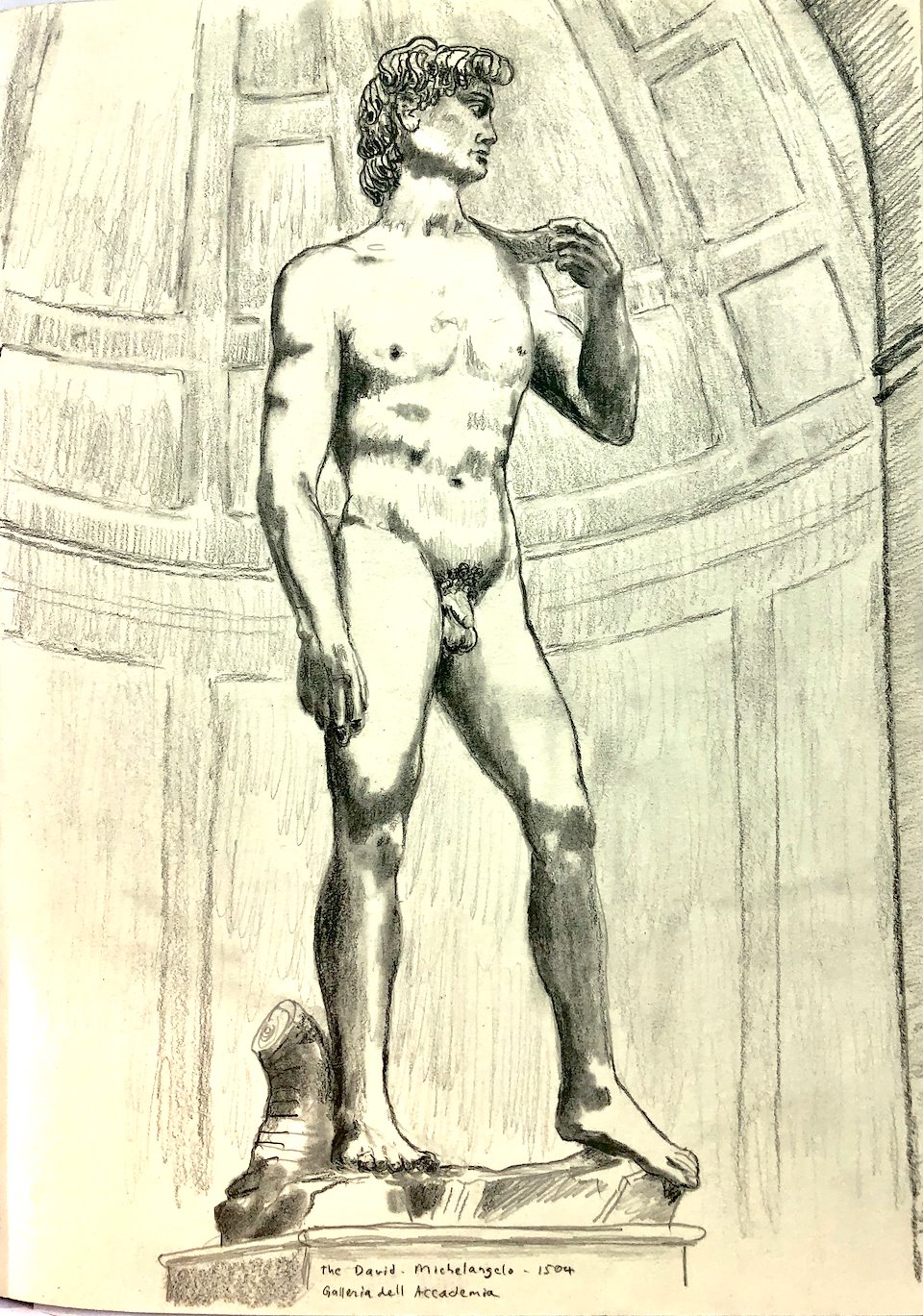 THE DAVID
2008, 13 x 9.
Drawn on site in the Academia, Florence, Italy.
The original David statue by Michelangelo was laboriously transferred from the Duomo Workshop where it was sculpted 1501 to 1504 to the Palazzo Vecchio in the Piazza della Signoria, then to the Gallery of the Academy of Fine Arts in 1873 to protect it from the weather. The David, installed in the Piazza in 1504, became an icon of Florentine liberty. It was damaged during a siege of the Palazzo Vecchio in 1524. A heavy object, thrown from an upstairs window, broke off the statues right arm which was spirited away and hidden for many years before being returned and reunited. During mu 2008 visit to the Academia Museum I was fortunate that a fellow tourist offered me her seat where I was able to complete this drawing in about 40 minutes.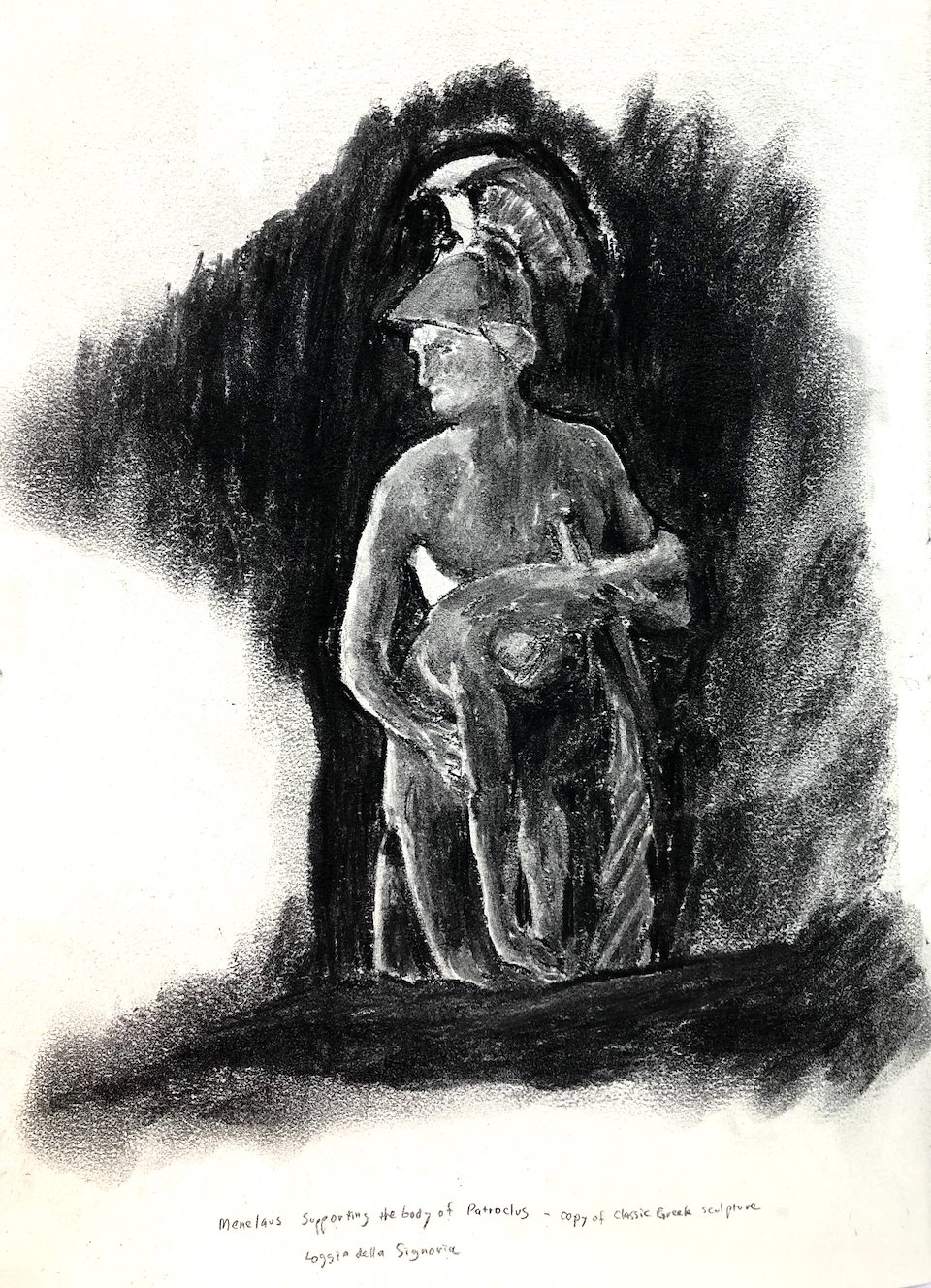 Warrior at night
Menelaus supporting the body of Patroclus
This statue is an ancient Roman copy of a classic Greek work
Norman's Early Art
Every scene and subject that I have elected to draw has a history and story connected to it. In staying true to my artistic roots, I endeavor to draw only that which I have seen with my own eyes. The geologic passing of time, however, has changed the way I see and interpret the reality around me. This website page is a scrapbook of my memories in my art, how my style of memorializing things that I saw and was thinking about has changed, something I've been doing since the Second Grade.