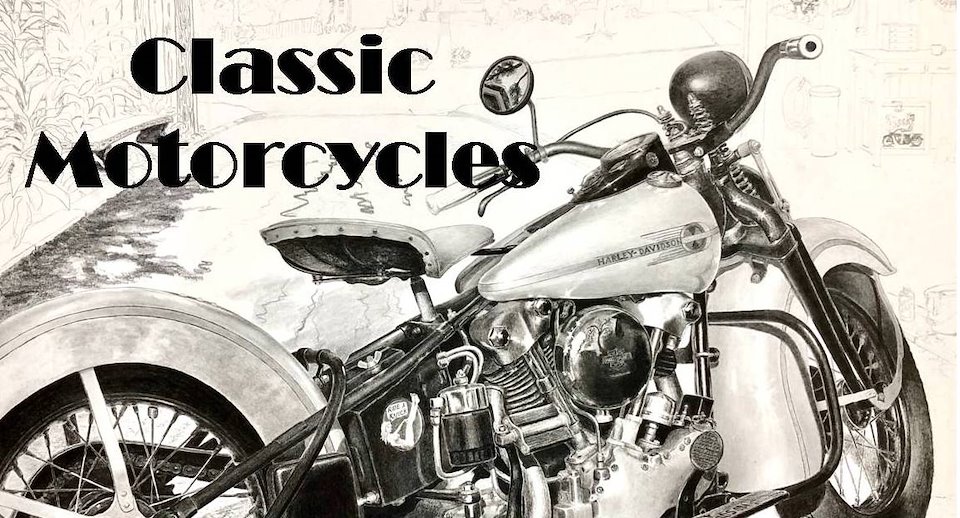 Harley Knucklehead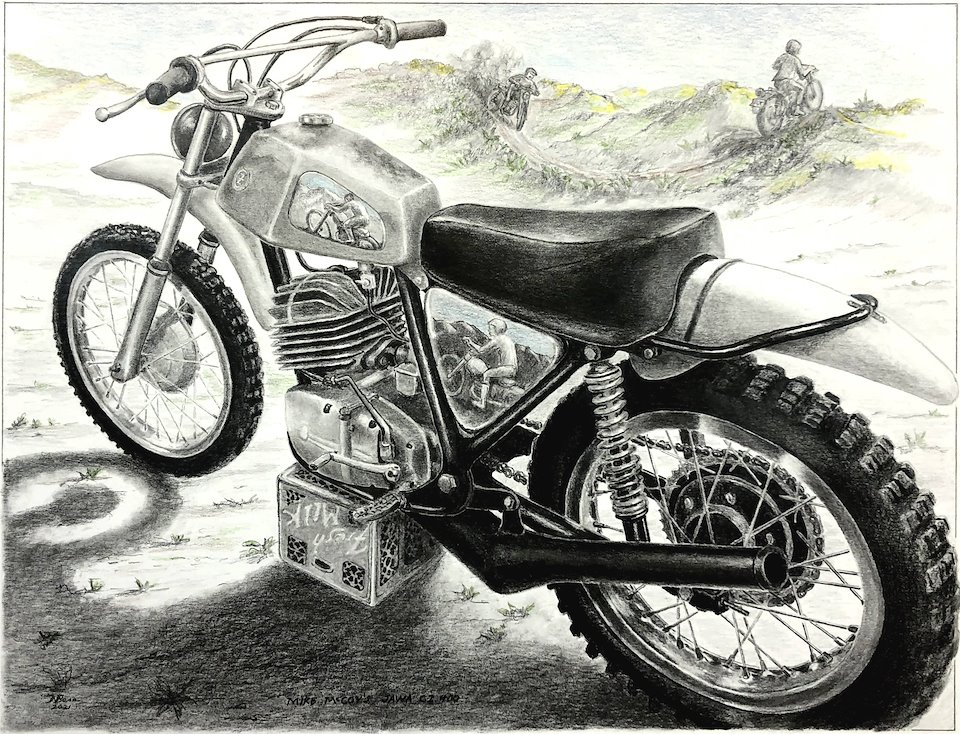 "McCoy's Motorcycle"
2021, graphite and color pencils on paper, 14 x 18
Another Motorcycle drawing of a not so antique, but sort of classic motorcycle (if you ever rode dirt bikes)
The Mid 1970's Jawa CZ 400 was mostly for the European markets. The CZ dominated the off-road market for a few years winning many moto-cross and trials events world wide.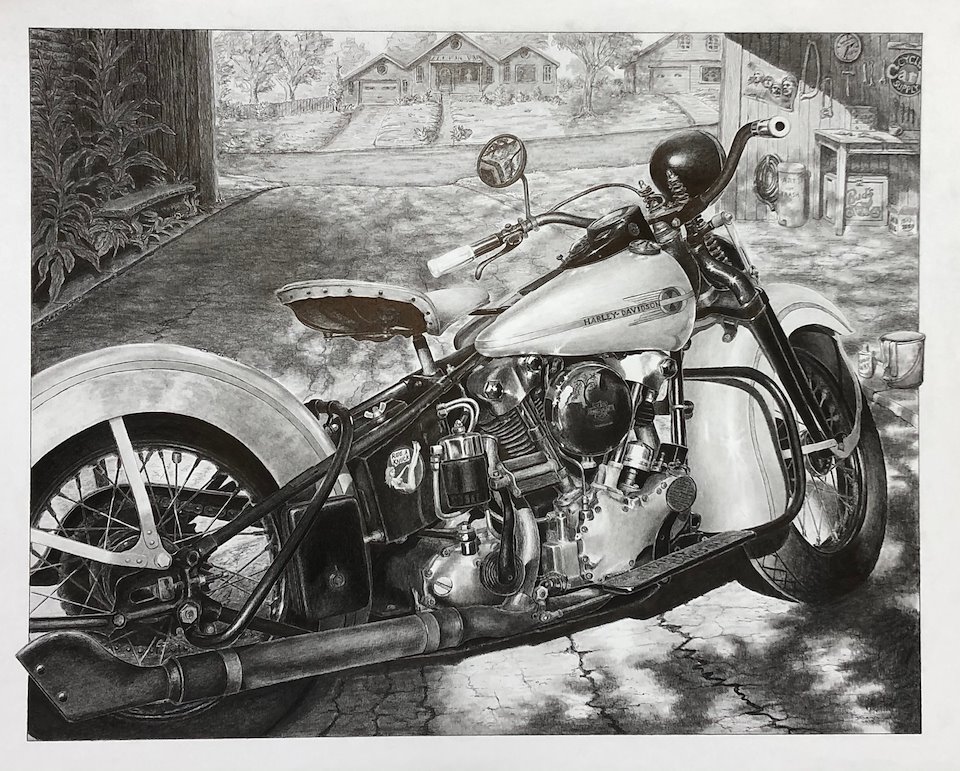 1938 EL HARLEY DAVIDSON (Knucklehead) $3500
2019, graphite on paper, 21 x 16
This particular motorcycle was the last Harley restored by Bud's Motorcycle in Austin Texas ca. 2015.
Known as a "Knucklehead" because the rocker boxes looked like the knuckles of a fist coming at you, the EL was Harley's first venture into general production overhead valve engine configurations. Produced from 1936 to 1947, the Knucklehead was one of the most successful and distinctive Harley V-Twins ever produced. Joe Petrali set a 136 mph land speed record in 1937 on a modified EL. As a 45 degree V-Twin of 61 cubic inch displacement (1000 cc's), Knuckleheads produced about 38 horse power. The unmistakable appearance and performance of the Knucklehead has earned it a place in motoring history.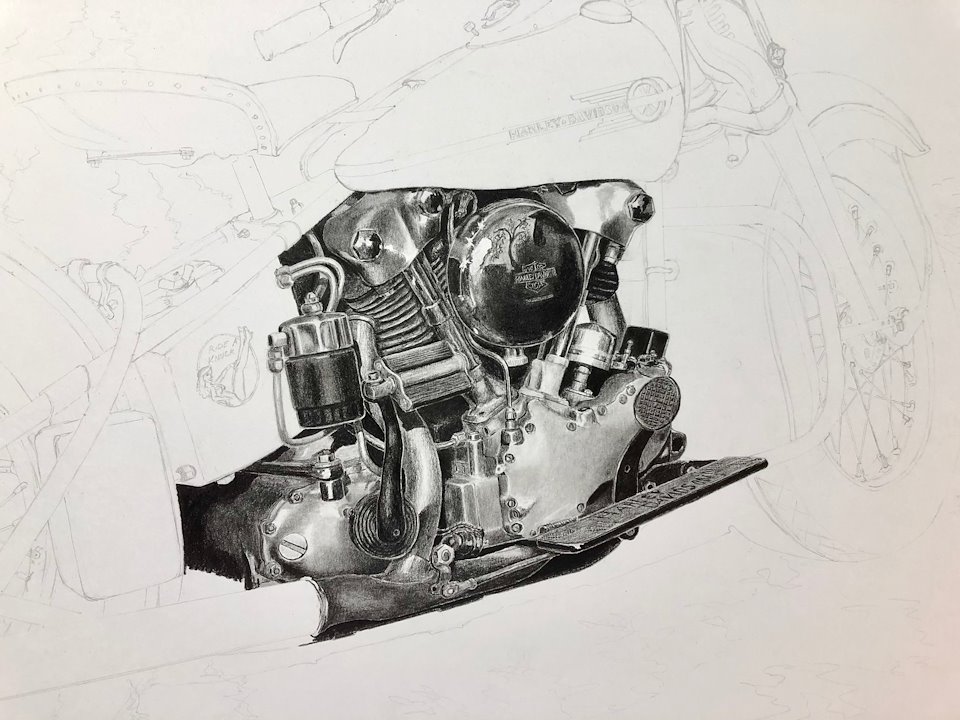 The famous 1938 EL Harley Davidson Knuckle Head
detail of drawing
16 x 21, graphite on paper
NORTON LUCKENBACH
2018, graphite on paper, 13 x 10, $500.
Luckenbach Texas is the weekend music & motorcycle destination choice for many. It's a little bit Country and a little bit Rock & Roll. Made famous by Willie, Waylon and countless C&W and R&R players and music aficionados, motorcycle riders of all brands also congregate on Saturday and Sunday afternoons for a cold brew and great music. A 1971 Norton Commando 750 seen at the 2017 Harvest Classic Motorcycle rally in Luckenbach, Texas. Even as a finicky thoroughbred needing constant supervision and maintenance, the Commando was popular with motorcycle riders looking for handling, performance and thrills.
Norton detail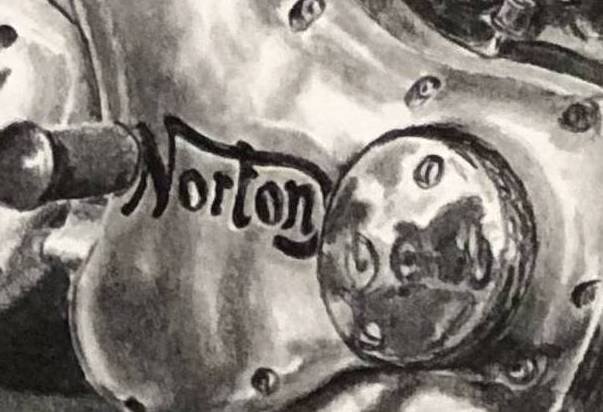 Norton Detail
1956 ARIEL SQUARE FOUR
2017, graphite on paper & color pencils, 15 x 21, $3500.
It always amazes me when I look back at the drawings I have created over the years: the time and energy, study and hand training, not to mention actually being present with my subject to find the best angle, perspective and detail. And sometimes I am not satisfied, experimenting with sketch after sketch before daring to put pencil to the expensive drawing paper. I saw this Classic British machine at the 2017 Harvest Classic European and Vintage Motorcycle Rally in Luckenbach, Texas. The owner saw some of my drawings and asked me to draw a picture of his 56 Ariel Square Four. I was very impressed with the quality and exactness of the restoration work
Ariel Sq 4 detail
Ariel Square Four detail
1949 VINCENT HRD Rapide
2017, graphite on paper, 15.5 x 21, $3500.
As a retired motorcycle restoration technician, antique and rare motorcycles hold a special fascination for me. A friend of mine in Austin, while performing a partial restoration on this Vincent, let me study it closely. Observing first hand the construction and layout of the engine and frame gave me the opportunity to fairly accurately compose a realistic view of this classic motorcycle. This drawing is the result of over 150 hours of study & drawing. The background, The Lost Well in Austin, Texas, is an urban bar and motorcycle destination frequented by the riders of vintage and classic motorcycles of all brands. Motorcycle owners often lovingly name their rides and sometime in this motorcycle's life, the name, "Prieto," was stamped into the timing gear cover.
Vincent HRD detail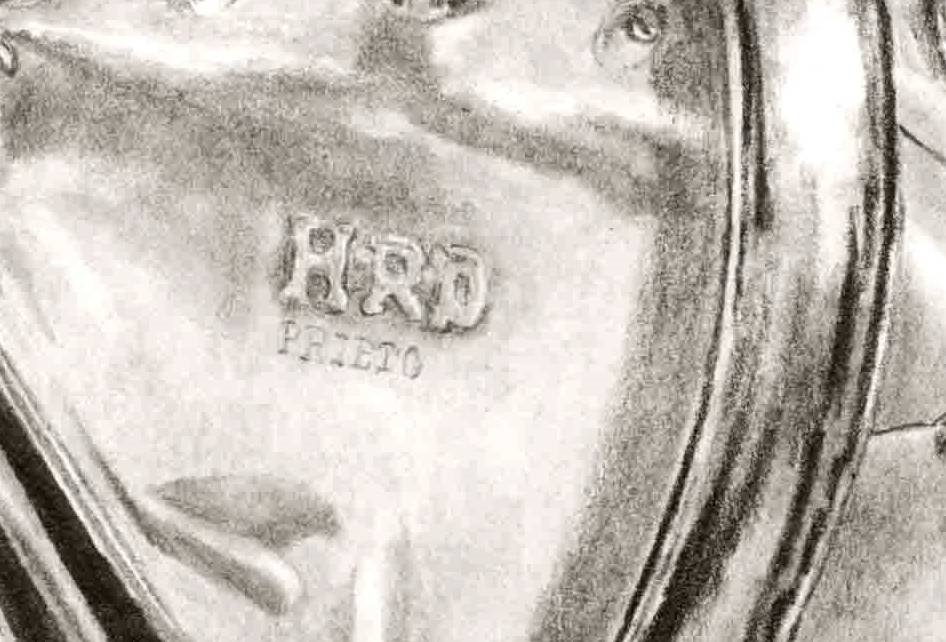 Vincent HRD detail
VINCENT BLACK KNIGHT
2015 graphite on paper, 6 x 10.5
,$300.
This drawing was inspired by the Vincent emblem surrounded by reflections in the bodywork of a Vincent Black Knight motorcycle. Manufactured by Phil Vincent in Brittan between 1954 & 1955, the 'Series D' Black Night was basically a Black Shadow covered by an aerodynamic body of gloss black fiberglass. My fascination with depicting reflected light was given a challenge to create this drawing. The emblem, as the drawing's centerpiece, is bracketed by my artistic take of the reflections in the bodywork of The Lone Star Motorcycle Museum in Vanderpool, Texas.
1922 F/N (Fabrique Nationale)
2013, graphite on paper, 20 x 15, $3500 .
This rare antique motorcycle was seen in Lucca, Italy on a spring afternoon after a Sunday run in the Tuscan hills to the Piazza Anfiteatro. I created this drawing because the motorcycle, with it's unique T – head engine, and the Italian background location made wonderful subjects to draw. And the rider actually rode this moto to and from the piazza. The couple walking behind the moto are representative of my mate and I; she hates motorcycles and I love them. Fabrique Nationale was established in 1889 to manufacture Mauser rifles for the Belgin government. In 1897 F/N began manufacturing Browning fire arms, and in the early 1900's diversified into automobiles and motorcycles. F/N made many models of motorcycles until 1965, and continuing to this day, to manufacture quality fire arms for military and civilian use.
1922 F/N (Fabrique Nationale) detail
BROUGH SUPERIOR SS 100
2012, graphite on paper, 14 x 20.5, $3500
The Brough Superior SS 100 motorcycle was built from 1924 to 1939 at Nottingham, England. The 998cc 50 degree, over head valve V-twin was the "Rolls Royce of Motorcycles," guaranteed to go 100+ miles per hour off the showroom floor. This drawing depicts an SS 100 seen in Lucca, Italy at the Piazza Anfiteatro at the end of a Sunday run by the Club Balestrero VMC (Veteran Motor Car Association) in May, 2008. At the time, I was so focused on the details of this Classic Motorcycle that I failed to actually stand back and look at the whole vehicle. After seeing a video of Jay Leno and his 39 SS100 I realized that I'd seen a running example and had recorded enough information to create a drawing. This freehand drawing was created as an exercise in reflections. From the Italian Piazza background to the stone and chrome, everything we see is a function of reflected light.
Brough Superior detail
ZUNDAPP K800
2011, graphite on paper, 11.5 X 15. $2200.
Hunting Art Prize Finalist, Houston, Texas, 2012
One of the motorcycles from the Club Balestrero VMC (Veteran Motor Car Association) of Lucca, Italy is a wonderfully restored Zundapp K800. The K800 has such an unusual 1930's Art Deco appearance that I had to make my artist's rendition of what I was seeing. The detailed reflections of the piazza and people in the mirror, chrome and paint were so irresistible that I added Diane's image to the surface of the fuel tank. I loved drawing the juxtaposition of the textures: the paving cobbles, chrome & painted surfaces, mirror reflections and hand grip rubber.
MATCHLESS MOTORCYCLE
2010, graphite on paper, 14.5 x 11.5, $2200
On a Sunday afternoon in June of 2008 in the walled city of Lucca, Italy, the local antique auto and motorcycle club roared into The Piazza Anfiteatro for refreshment and conversation after a day of riding the country roads of Tuscany. This self portrait and reflection of the one-time Roman Stadium was inspired by the reflected image on the fuel tank of a wonderfully restored 1943 350cc 'Matchless' motorcycle.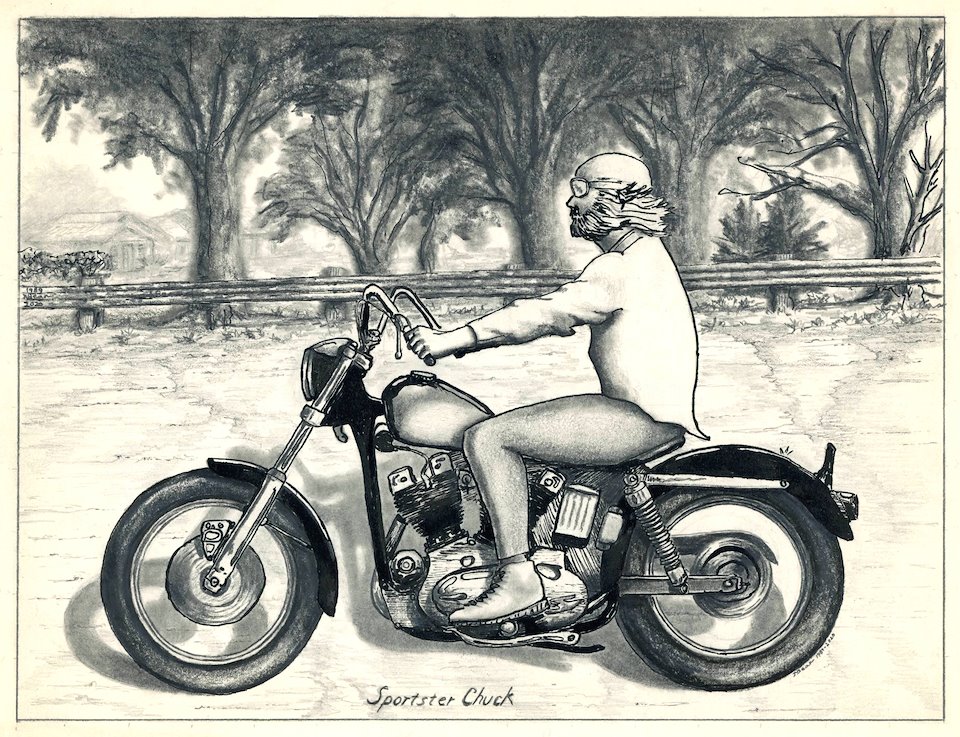 Sportster Chuck Rides Again
Ink and graphite on paper, 1989/2020, 8.5 x 11
in August 1988 Chuck, Steve Tripplet and I rode from Austin, Texas up to Sturgis, South Dakota to work at the big Harley Motorcycle rally. We had made it a point to attend another a biker rally in Cedaredge, Colorado the week before where we spent a couple of days partying with the folks of the sponsoring club and riding in the Colorado Rockies. Don't know if the Colorado Springs club still sponsors the event, as a few years later some of the attendees caused a bit of trouble and pissed off some of the locals.  
Boston Bob,
1986, ink on paper, 8.5 x 11
Boston Bob wanted a Harley Davidson motorcycle with a passion. Unfortunately, as a happy-go-lucky ner-do-well he had no money. When a Harley came his way and he was unable to raise the cash, I bought it out from under him before someone else did. When Bob got miffed at me because I wouldn't let him ride it, I drew this little ink portrait of him riding the motorcycle he almost had. Glad I made Litho prints because the original was destroyed a few years later when Bob's house burned down. I suspect he was doing something illicit that got away from him.....
Classic Motorcycle Drawings
As a retired Harley Restoration Specialist, and a general all around Motorcycle Technician, I find great enjoyment in creating detailed drawings of Classic and Antique Motorcycles I have known.
Seriously, if you see something you like, email me at:
normanbean3102@gmail.com