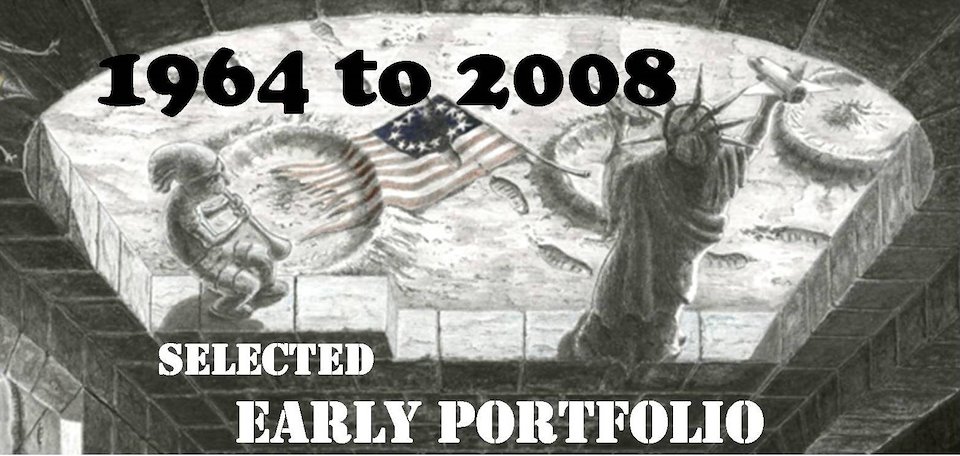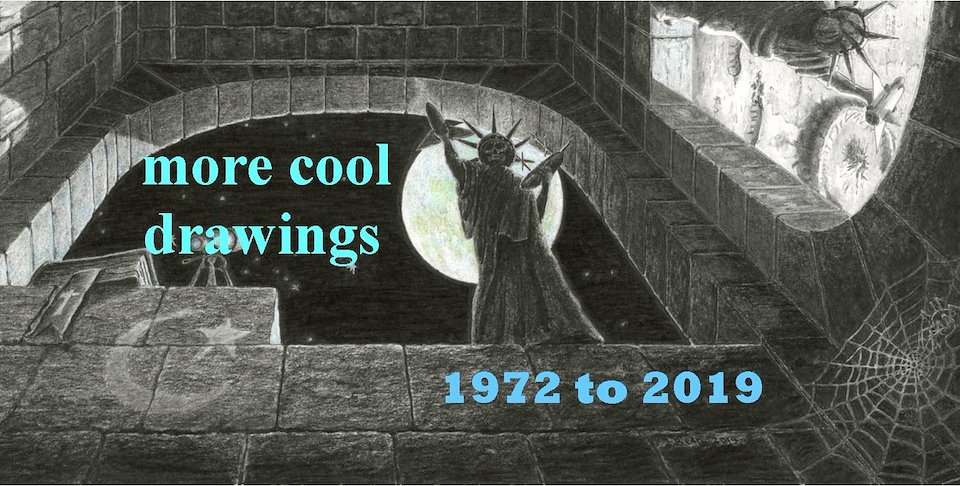 The very new to the very old
This portfolio is made up of a few recent creations, some others that didn't fit anywhere else, and older works all the way back to high school. Many works were sold, traded or given as gifts, while some await revisiting and rethinking, or a chance to see daylight
I've been told by people who think they know, "It ain't art until someone buys it." And, "It ain't art till the artist dies." Maybe some day you'll see one of my works on Antiques Roadshow and collectors and appreciative patrons will rush to jack up the insurance value.
In the meantime enjoy this view into my artistic Cave Man Soul.
So if you remember me, and ended up with one of my artworks, I would love to remember you and post a digital image. Please email a photo and I'll post it. Thanks.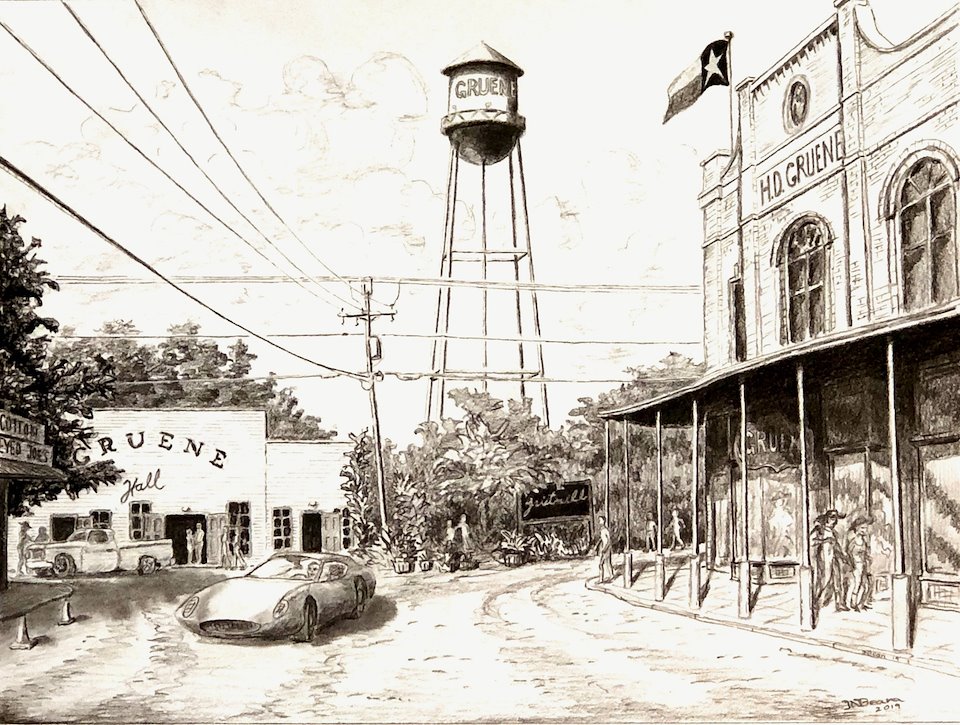 Another view of Gruene Hall
graphite on paper, 9 x 12, $90.00
Different perspective, different time of day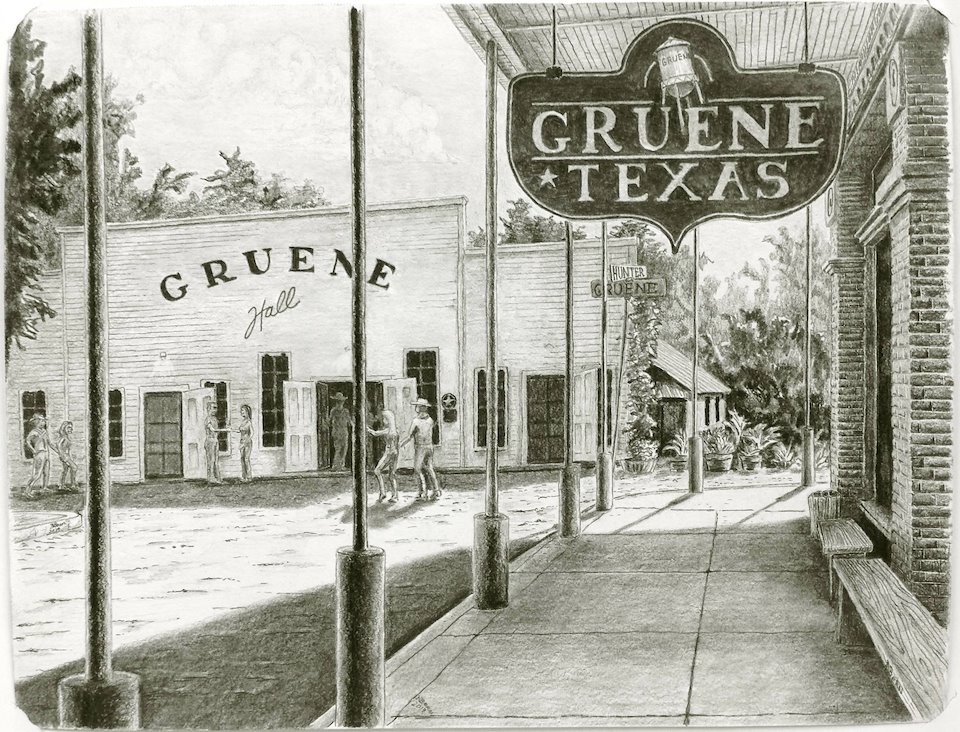 Gruene Texas
2019, graphite on paper 9 x 12, Sold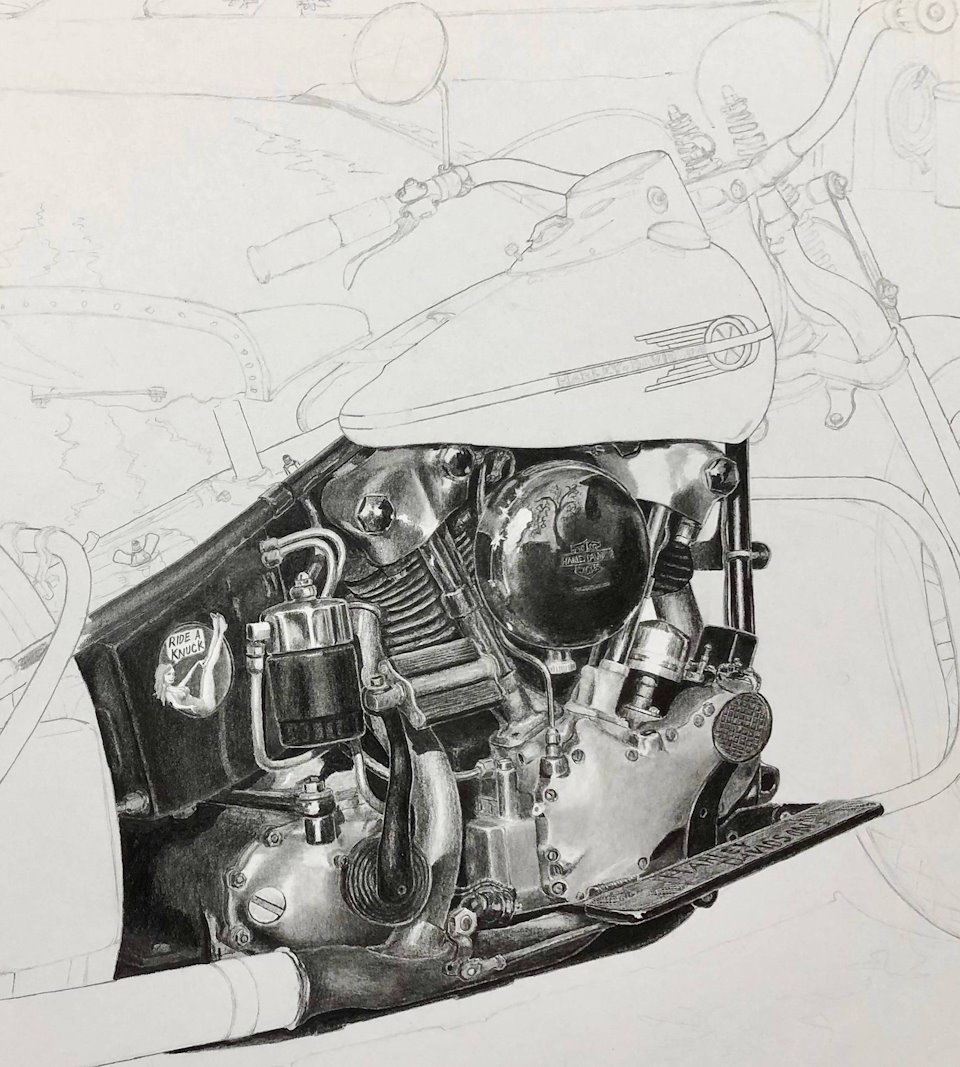 Almost Ready To Ride
A drawing of my friend's Harley Knuckle Head coming to life
I want the metal to look so real you can taste it.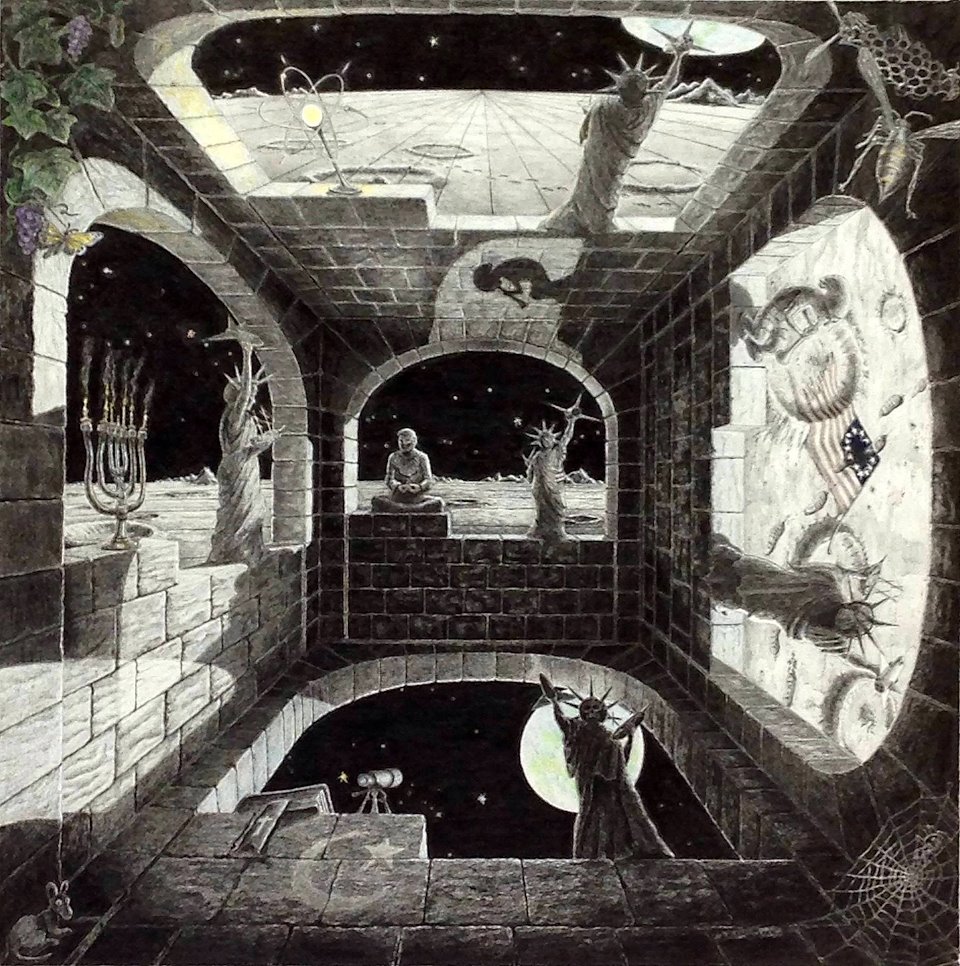 WHEN LIBERTY MET ESCHER
2019, graphite and colored pencils on paper, 16 square
This work of art was inspired by the works of M.C. Escher. Somewhere between science, religion, politics and the spirit of discovery are choices we make that take place in dreams of a future that can take us anywhere. In this version of that dream is a crossroads that is inviting to all, but in reality inhospitable. Because, if you are here, for some reason you've left the green, green grass of home. You might or might not be an individual from the tired, huddled masses staring up at the last icon of universal freedom. Maybe you are someone who has made some serious choices to leave where you came from, arrive at this place we call 'here', and decide the places you want to discover. Some of Escher's works pose some interesting dilemmas in the realms of politics, religion, science and discovery. "Is this real or fantasy," "Are there undiscovered truths," "Is this truth or lies?"
Only you can answer these questions and live your dream.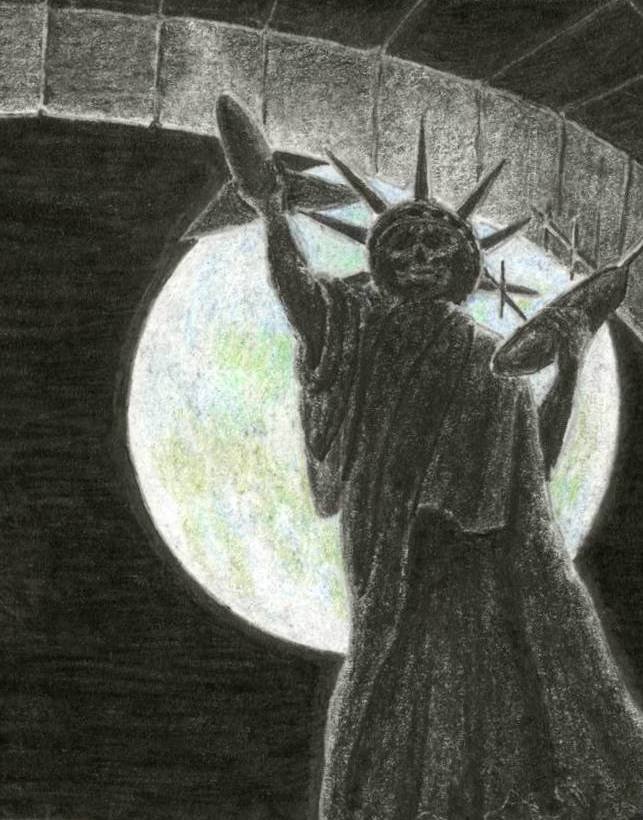 Liberty detail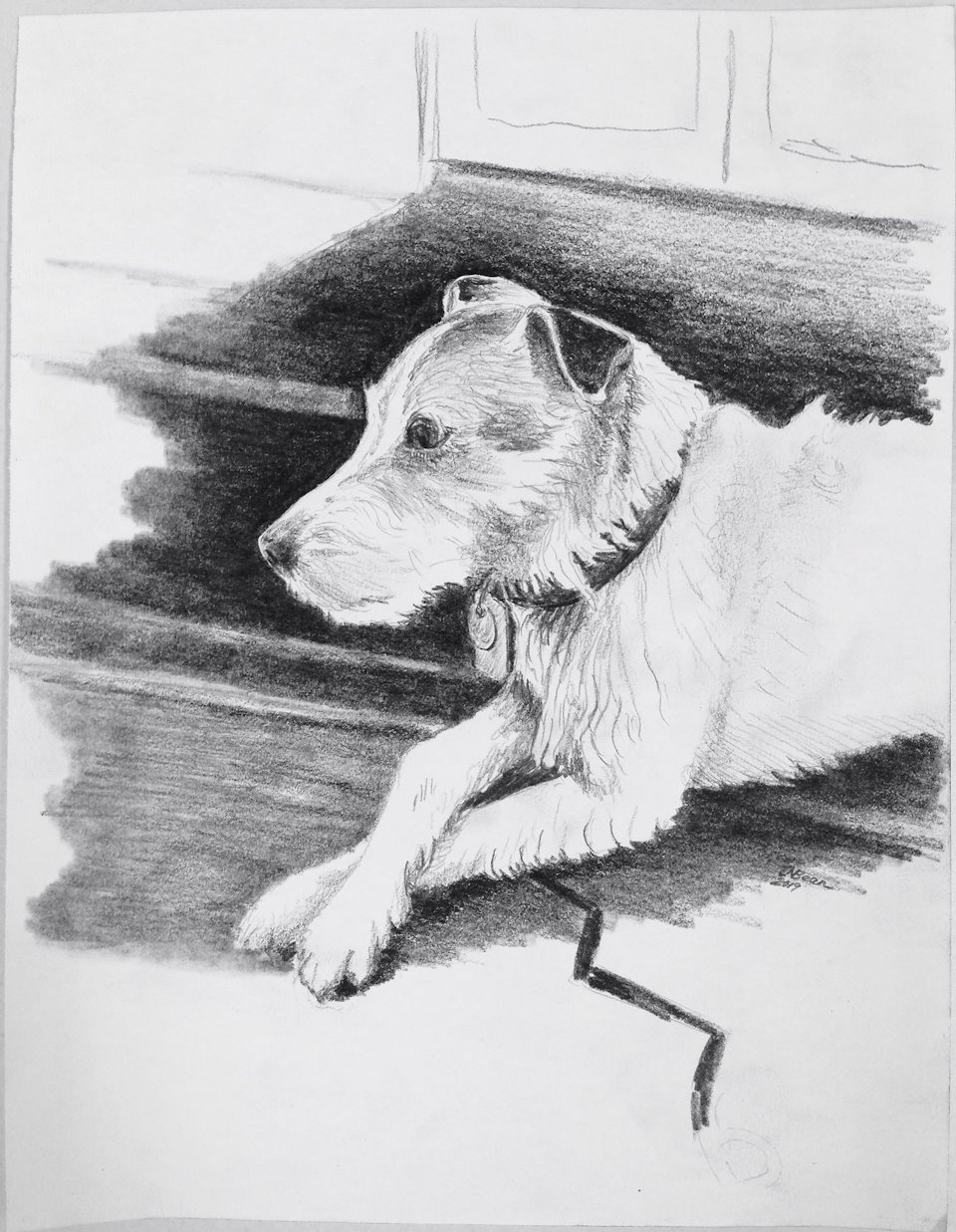 My friend's dog, Buddy 2019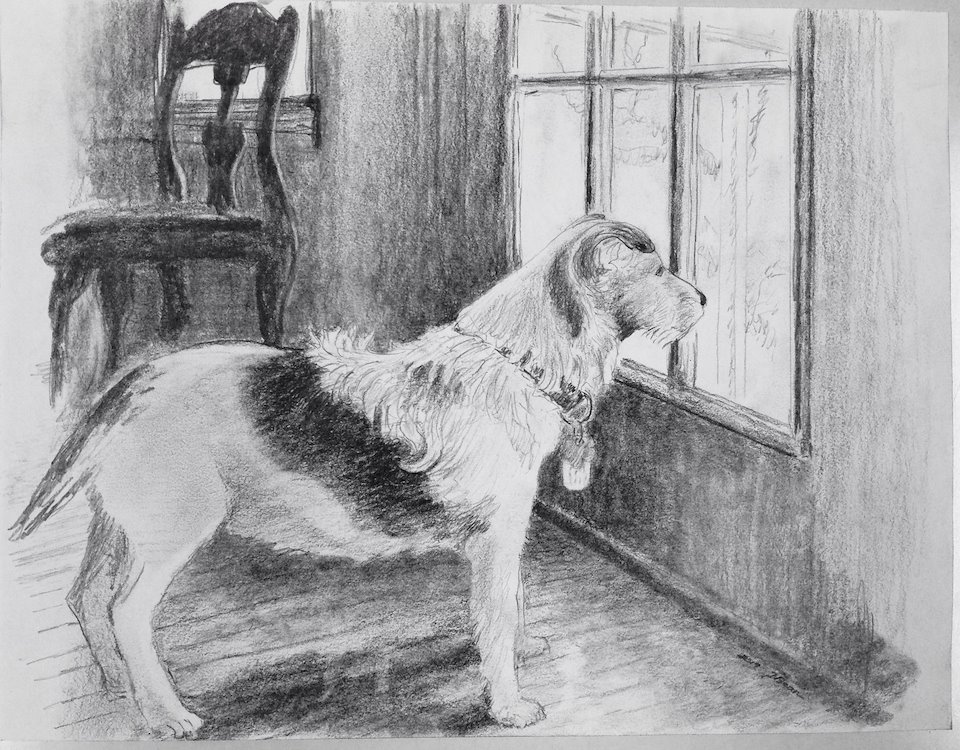 Buddy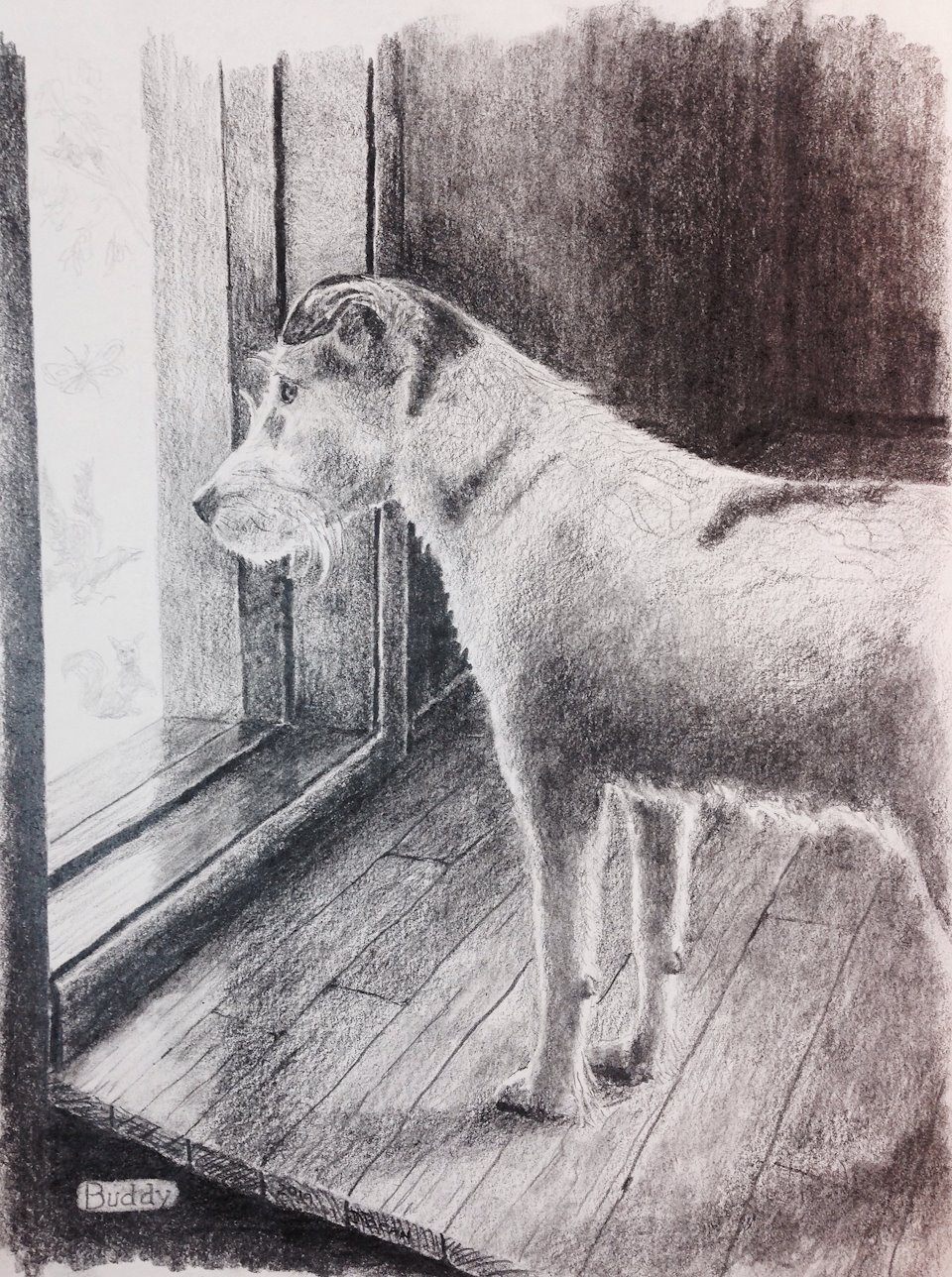 Buddy
MONUMENT VALLEY
2018, mixed dry media on paper, 10 x 13, $500
On the Navajo Indian Reservation where the air is so much clearer and cleaner in the Four Corners of North East Arizona. Yes it is blazing hot in the sun, but the scanty shade of a thirsty desert tree offers a brief respite with the promise of water if you dare to dig. Tourists and visitors to the Navajo Reservation are not allowed to just go where they wish, access to many parts of the Reservation are restricted. We visited and photographed this area during a special tour with a Reservation approved guide driving a four wheel drive bus.
THE GRIM REAPER
2014, graphite on paper, 21 x 15, Sold
In the "English Cemetery" (Cimitero Inglese) of Florence, Italy, among the many baroque, beautiful and lavishly decorated monuments to cherished loved ones, is a larger than life sculpture of 'Death' in all his glory brandishing a scythe. There are many striking and unusual memorials there, but when I saw this three meter tall marble sculpture I had to make a drawing of it. I dealt with this subject as a 'still life,' embellishing the crosses and memorials to look like wood, rather than the carved marble and cast concrete they were actually made of. Author Loren Rhoads writes about this monument, "I haven't been able to discover any information about Andrea di Mariano Casentini 1855 – 1870, but clearly Mama and Papa had some message to give the world when they lost their child." In 1827 the Swiss Evangelical Reformed Church purchased land from the Grand Duke of Tuscany for this international, ecumenical cemetery
RE – FLEX,
2018, graphite & pastel on paper, 10.5 x 17.5, SOLD
SIENA CAMPANILI,
2011, graphite on paper, 7 x 5, $100
Cross Roads, Dirt roads,
pencil and paper, 2011
SHOPPING IN LUCCA
2009, graphite on paper, 9 x 13, SOLD
The Piazza Anfiteatro in the walled city of Lucca, Italy (a few kilometers north of Pisa) was at one time a Roman amphitheatre. Now shops and apartments face into this popular piazza that has become a trendy destination for locals and tourists alike. On this particular Sunday afternoon the local antique auto and motorcycle club ended their rally at the piazza. This image of two local shoppers was inspired by a reflection in the fuel tank of a wonderfully restored 'Matchless' motorcycle.
MARY & JESUS
2008, 13 x 9
This drawing is from a detail of a fresco in Santa Maria Novella, Florence, Italy
HERCULES AND CASSUS
graphite on paper, 9 x 13, 2008.
A work by Baccio Bandinelli, 1534, of the mythical Hercules defeating Cacus, placed in the Piazza della Signoria in Florence, Italy. Considered by the Florentines to be a second rate statue, the locals refer to it as the sack of potatoes because of the exaggerated muscles. Sketched on site.
THE DAVID
2008, 13 x 9.
Drawn on site in the Academia, Florence, Italy.
GRAND CANYON
pencil and paper, on sight, 2004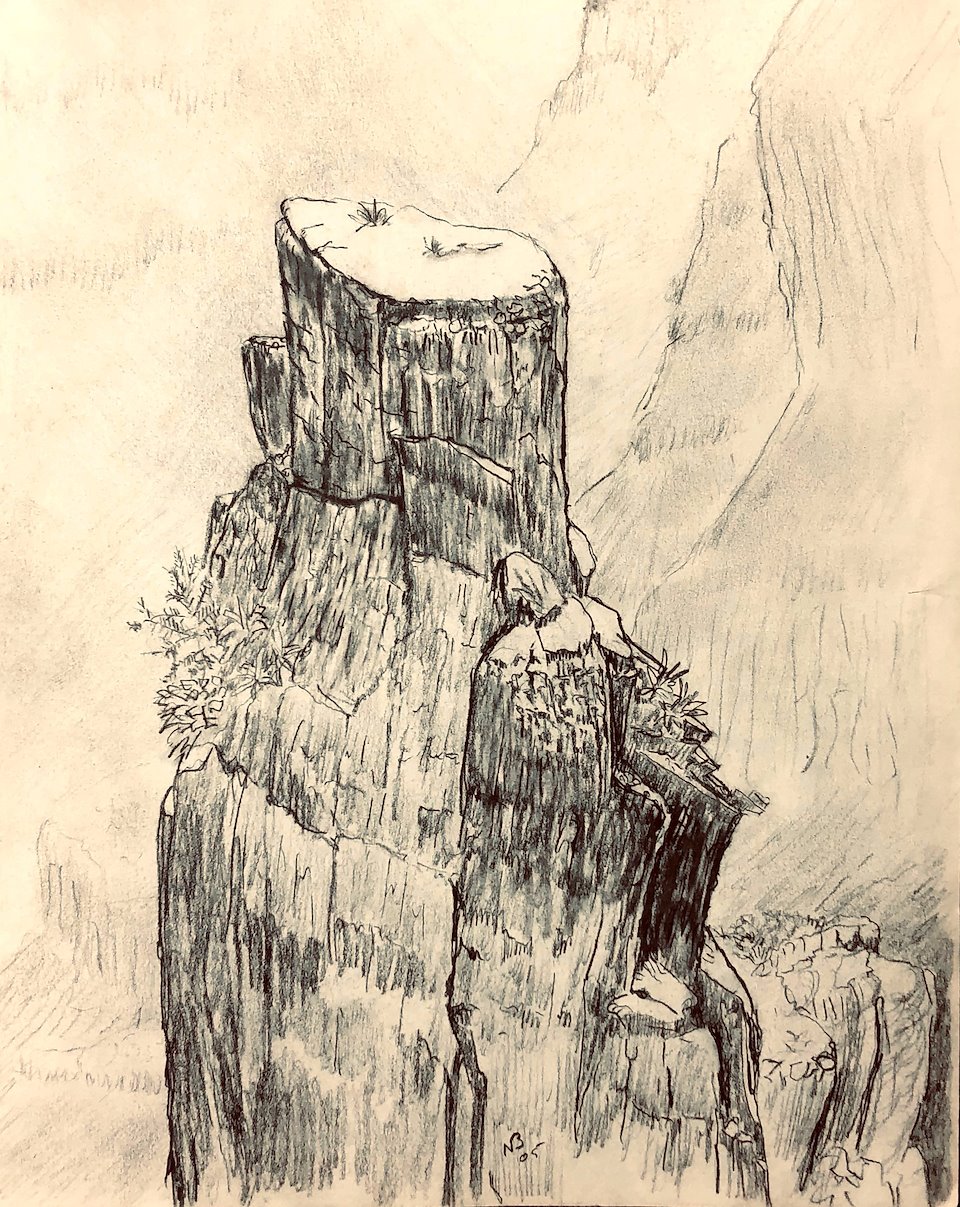 Grand Canyon,South Rim, 2004
Tree Root Snake
ca; 1998
PAMIE'S MOTHER'S HOUSE
ink on paper, 1989, 8.5 x 11, SOLD.
Farm house in Central Texas near Lake Buchanan.
THE PUMP OUT BACK
ink on paper, 1987, 8.5 x 11, SOLD.
Functional antique hand pump out back of Pamie's Mother's house.
COLORADO BIKER RALLY
ink on paper, 1989, 8.5 x 11.
On the way to Sturgis, SD in 1988 we participated in an all brands motorcycle rally from Colorado Springs to Montrose area. Great fun before being put to work in Sturgis.
Sportster Chuck
ink on paper.
Chuck, if you see this, call me, it's yours.
FRIENDS
ink on paper, SOLD.
ca. 1986
Riding the New Mexico fire roads up above Socorro and Magdalena.
My Ol' Friend Brad
pencil and paper, 1985, SOLD
I had wondered if this drawing was still in existence. Brad and I shared many journeys and experiences. This is from a motorcycle trip to the Mescalaro Apache Reservation near Ruidoso NM. His clutch cable broke and the temporary fix was the needle nose vise-grips to attempt to secure the cable end at the handle. Didn't work for very long. We coasted down the mountain from Ruidoso to Tularosa where we found an All Brands Motorcycle Shop that had the correct clutch cable.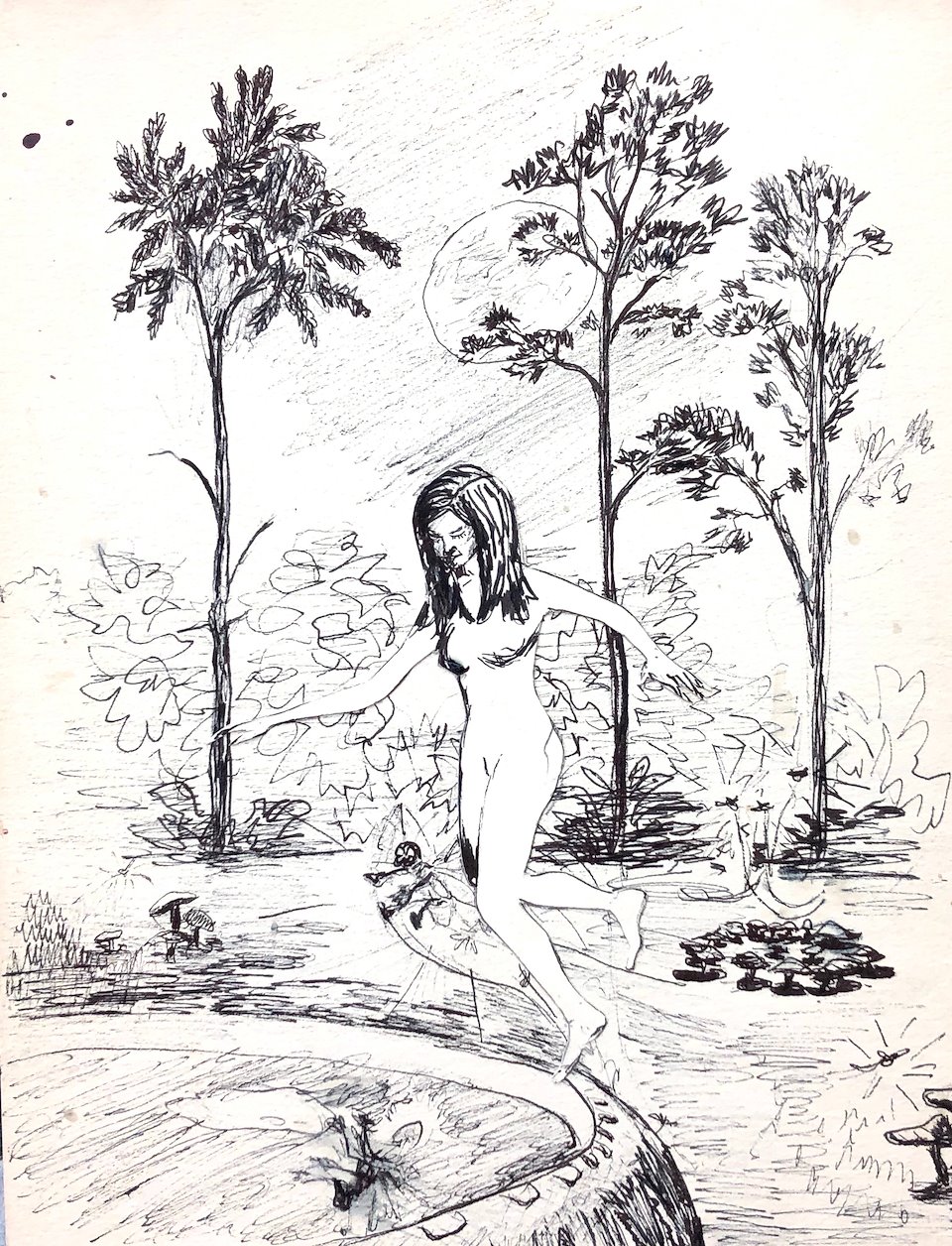 Practice drawing for a painting. ca. 1979
FLYING
pencil on paper, 1979
TIGERS
acrylic on panel, 1977, 18 x 24, SOLD
Cat Moon
PRAY
acrylic on panel, 1977, 18 x 24, SOLD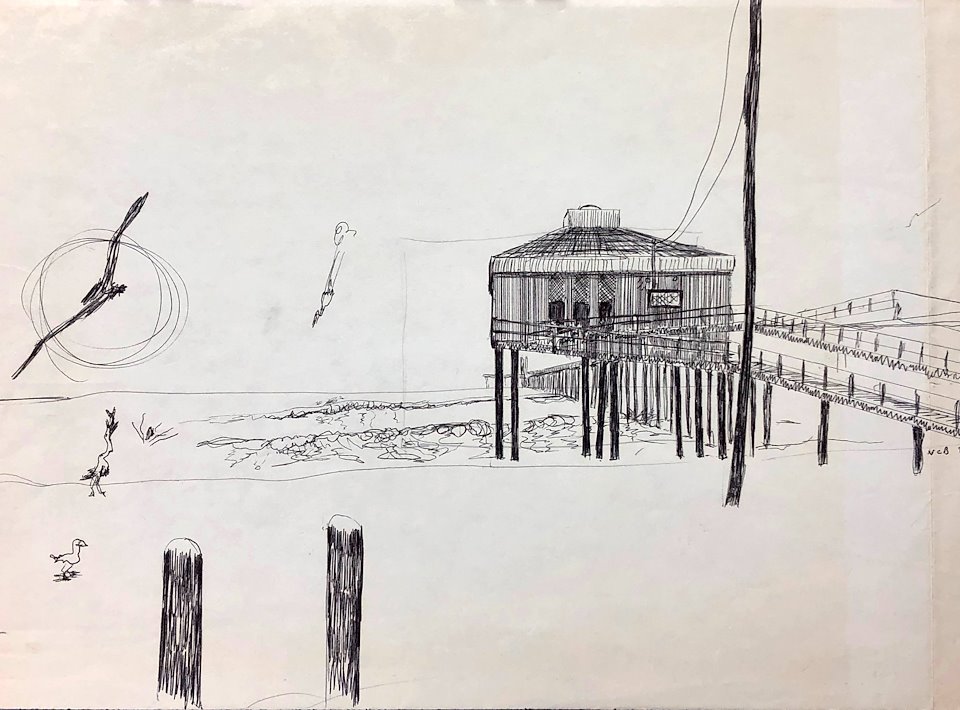 English Pam's Sea Shore, 3rd Coast
Practice drawing for 36 x 24 acrylic painting ca. 1984
BEAN 'FRATE'
ball point on typing paper, 1972.
This was a practice drawing for a 24 x 30 acrylic painting. No telling where that painting is. I was very proud of the surrealistic realism and the techniques I learned while painting it.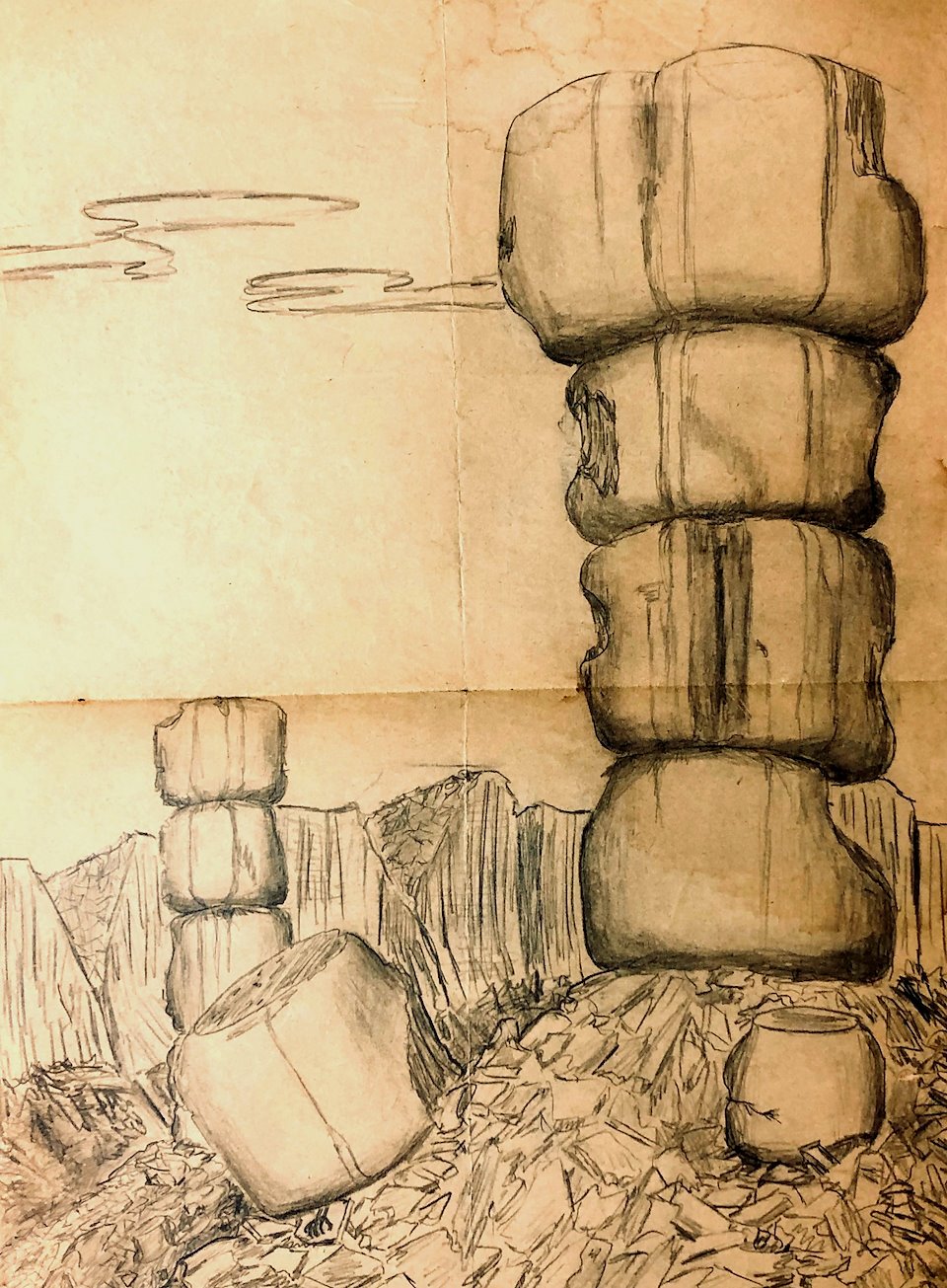 Balanced Rock
18 x 24 pencil on paper ca 1964
After a family vacation to the Utah Canyonlands
Selected Early Portfolio Images
This portfolio is made up of both recent creations only days, weeks or a few months old, and older works that have either found loving homes or reside in my archive box. Many art pieces created on my journey are not represented here, because, while a few become 'Monumental works of art,' the technology wasn't there to record the many good ideas and compositions that end up waiting for a chance to find sunlight. Maybe after I cease to breathe these works will find their place in the art collections of an appreciative patrons. It has been said, "It ain't art until someone buys it." And, "It ain't art till the artist dies." In the meantime enjoy this view into my artistic Cave Man Soul.