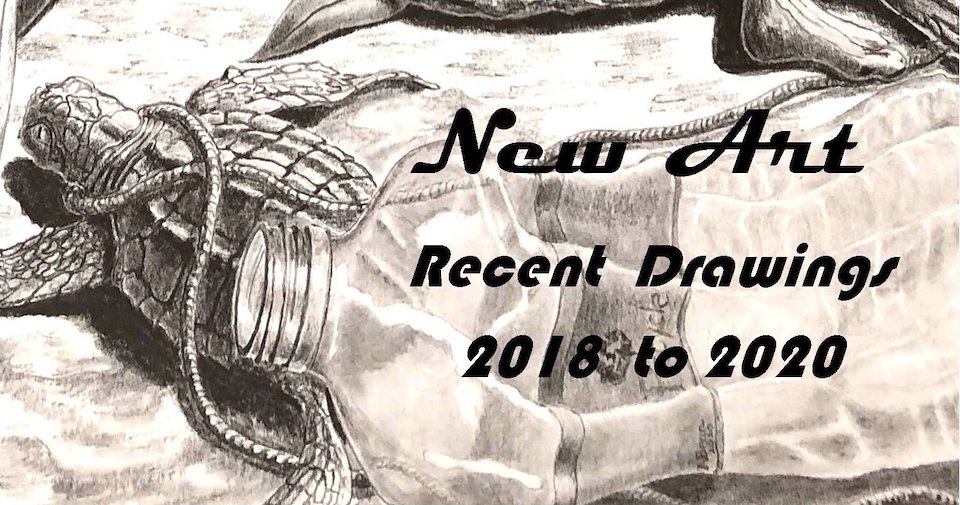 Fishing line, baby turtles and plastic bottles, Oh My.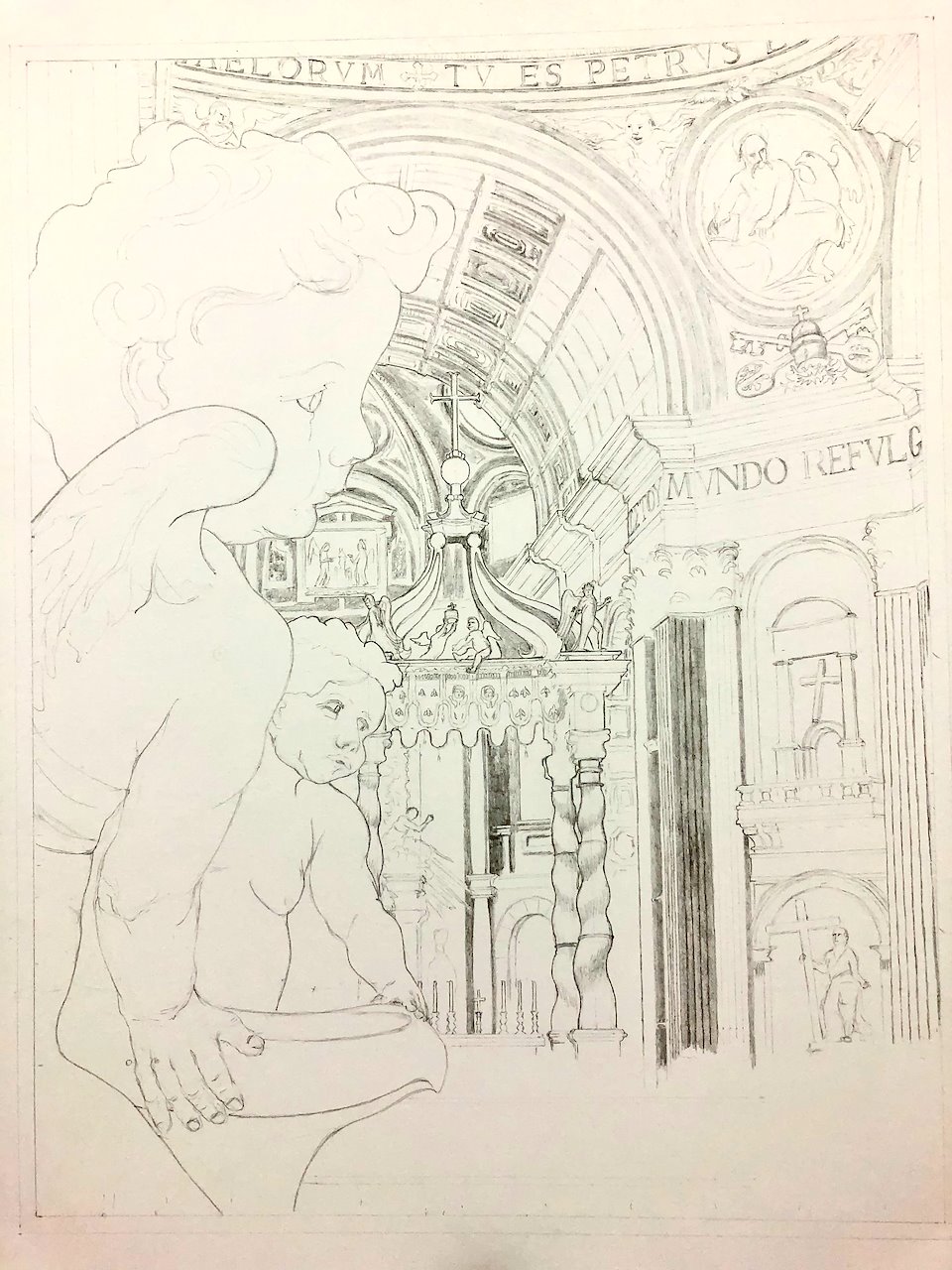 Artwork in progress:
A view of Bernini's Cherubs and Baldachin
in Saint Peter's Basilica.
20 x 16, it might get some color with the graphite.
Complete with Holy Rays and baby angels.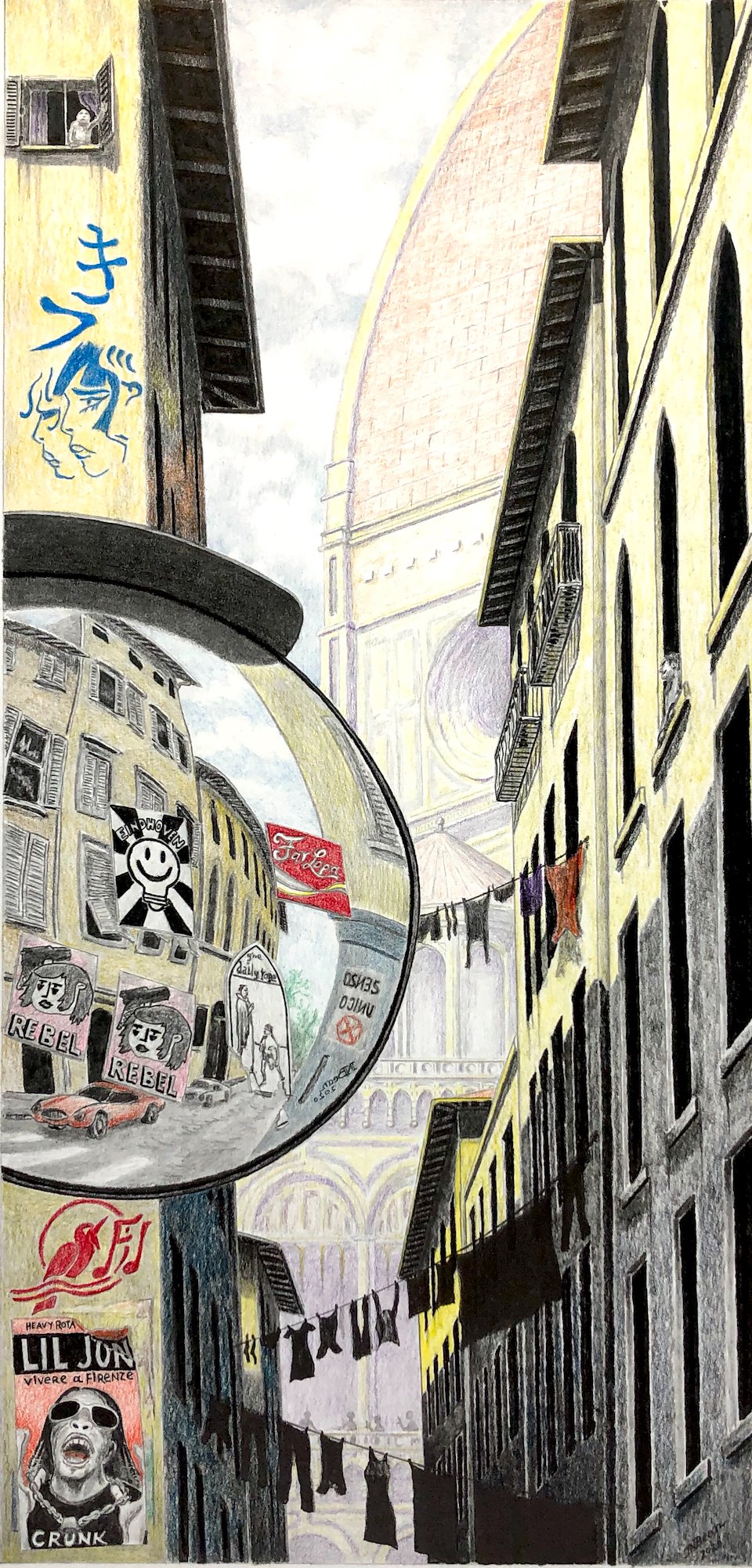 To Florence With Love
2020, dry mixed media, 18 x 10, $300
A typical street scene in the Historic District of Florence, Italy with Santa Maria del Fiori in the background. Most streets in Florence wind toward the Duomo Piazza which offers locals and visitors alike a chance to renew their Christian vows at one of the largest Cathedrals in Italy. From San Miniato al Monte on the hill South of Florence and the Arno River, to the North side hill up to Fiesole, the Cathedral and bell tower dominate the skyline.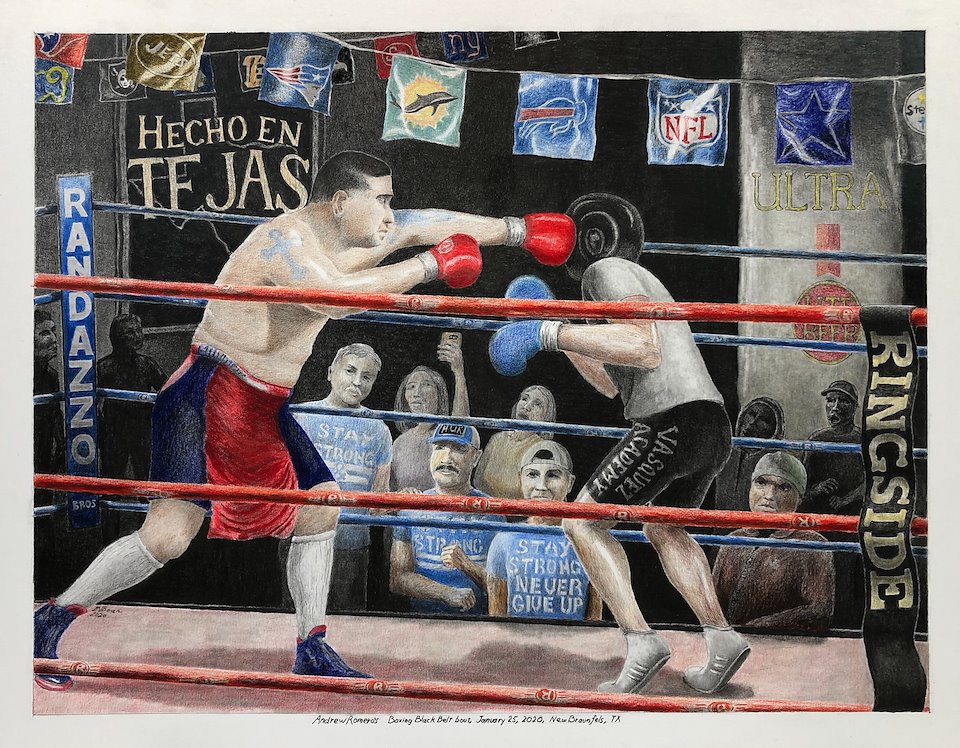 Boxing Black Belt Bout
graphite and color pencils on paper, 16 x 20, 2020, not for sale
On January 25, 2020, in New Braunfels, Texas, Andrew Romero fought 10 rounds with four different opponents to earn his Boxing Black Belt while coaches, family and friends look on cheering and screaming.
"Stay Strong, Never Give Up"
My friend asked me to attend and perhaps create a drawing commemorating the event. In the composition process the idea of adding color to the graphite came up, this is the result.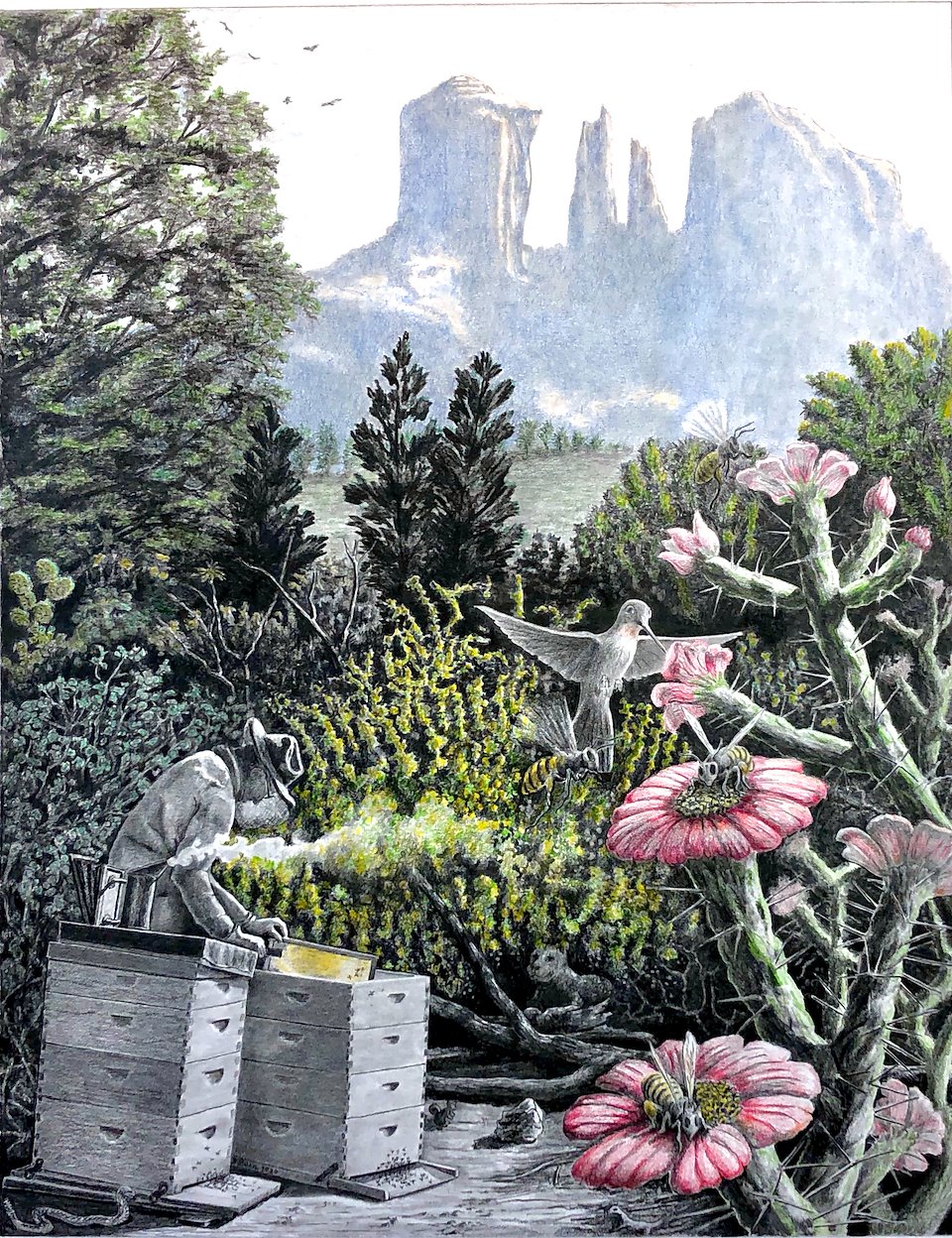 Coffee Pot Bees
$500
2020, graphite and color pencils on paper, 16 x 12.5
Grandpa Bean always kept bees, I think these hives near his home in Central Arizona were clandestine as Grandma didn't know about them. She would have forbidden him to attend to his bees because he had been stung way too many times.
Before retiring from Washington D.C. he often had 15 to 20 hives in his care. Local Maryland farmers often called on Grandfather to request bee pollen service. He also collected rouge swarms, finding the queen, gently placing her and her bees in wooden hives and transporting them to favorable locations.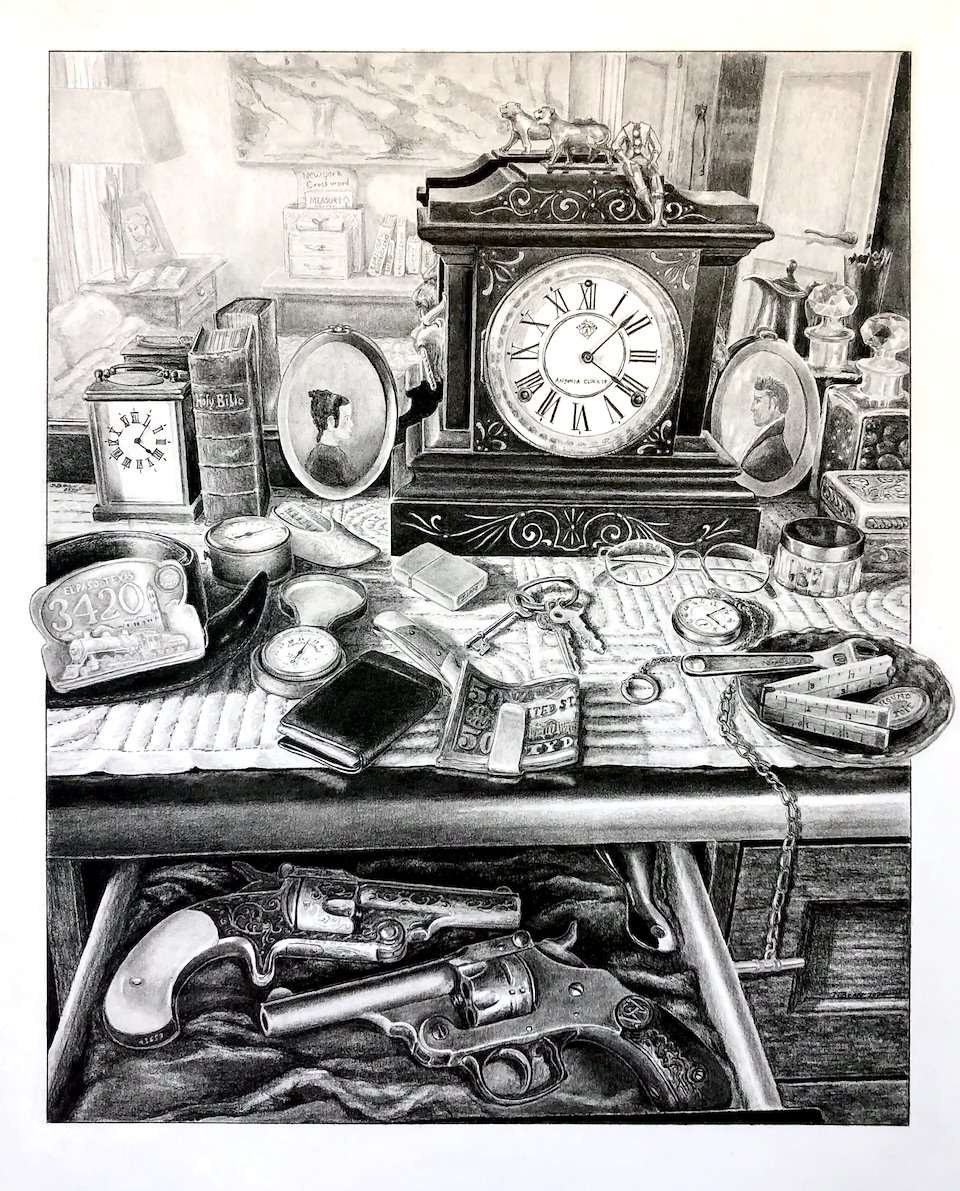 Grandpa's Dresser Bureau
$450
2020, graphite on paper, 15 x 12
Envision Arts Best Of Show
Still Life exhibit, October 1, 2020
www.envisionartshow.com
@envisionartshow
As a curious child I was overwhelmed at all the stuff Granddad kept on and in his bedroom dresser. While I should not have been nosing around my Grandparent's private stuff, (if they had caught me there would have been consequences) it is still a vivid memory that I honor here.
This pencil on paper drawing is a still life composition of some of the many things that I inherited from my Great Grandfather, Grandpa, and Father.
Grandfather Bean was a Measurement Engineer at the U.S. Bureau of Standards in Washington DC, 1916 to 1964.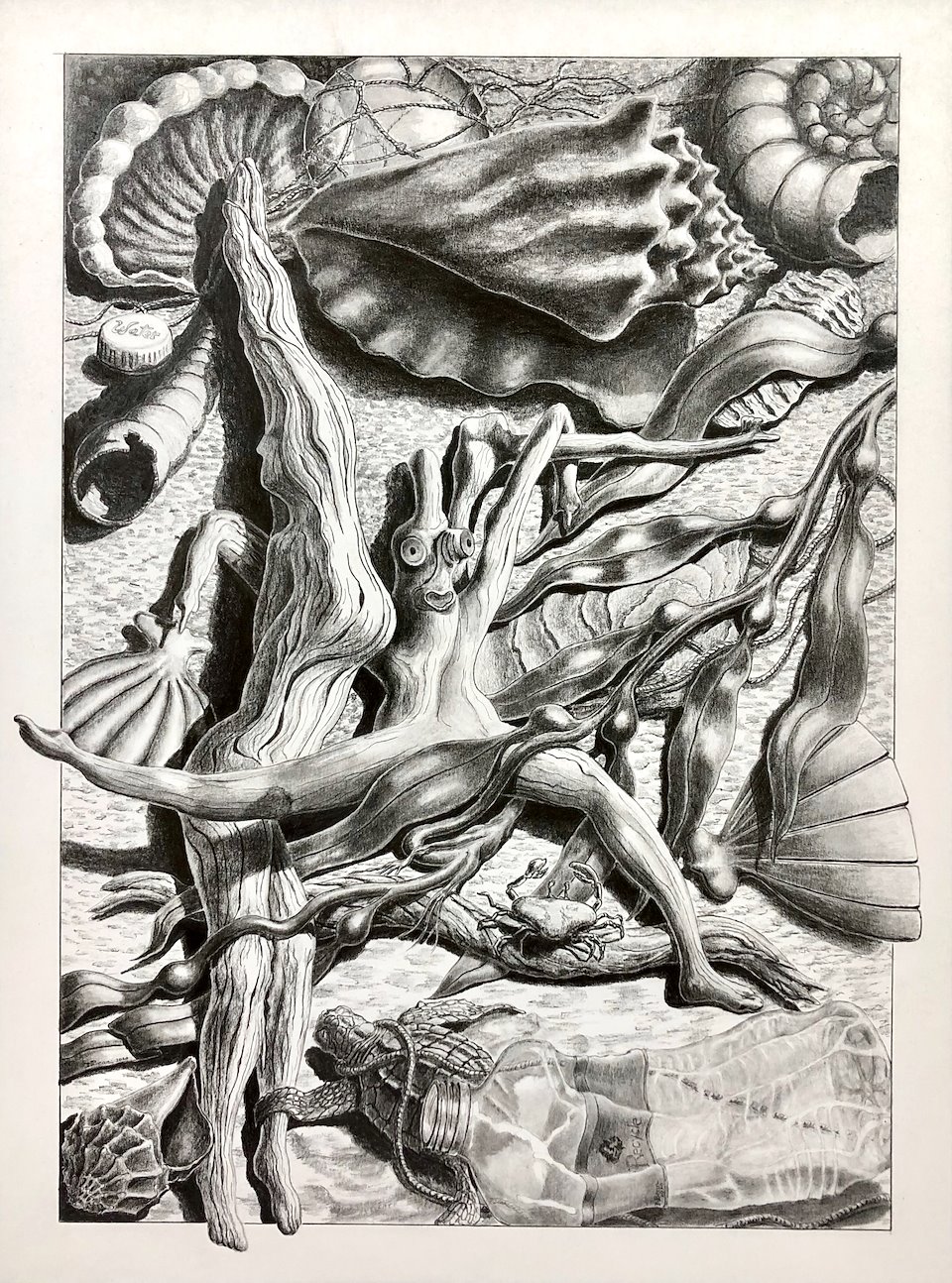 The Family Drift Wood at Low Tide
La Familia Derivar Madera en Marea Baja
$450
2020, graphite on paper, 14 x 18.
Two pieces of drift wood, one carved by Nature in water and waves, the other craved by an artistic creative mind with a sharp knife. The two came together in this still life composition of shells, turtles and trash to commemorate the state of our oceans.
One can only hope ….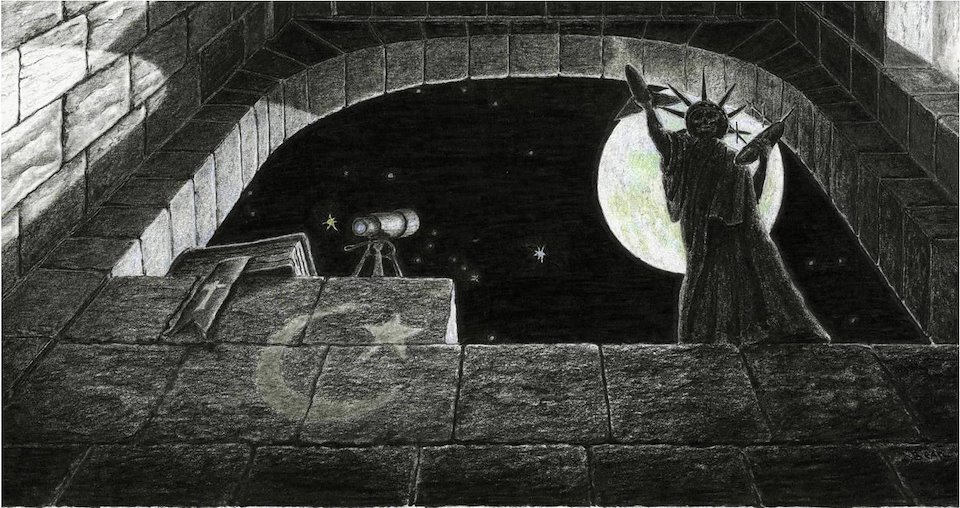 Liberty holds the Space Shuttle in her right hand, a Brigantine in her left. Both were vehicles of discovery in their time. Are you ready for the next Big Adventure?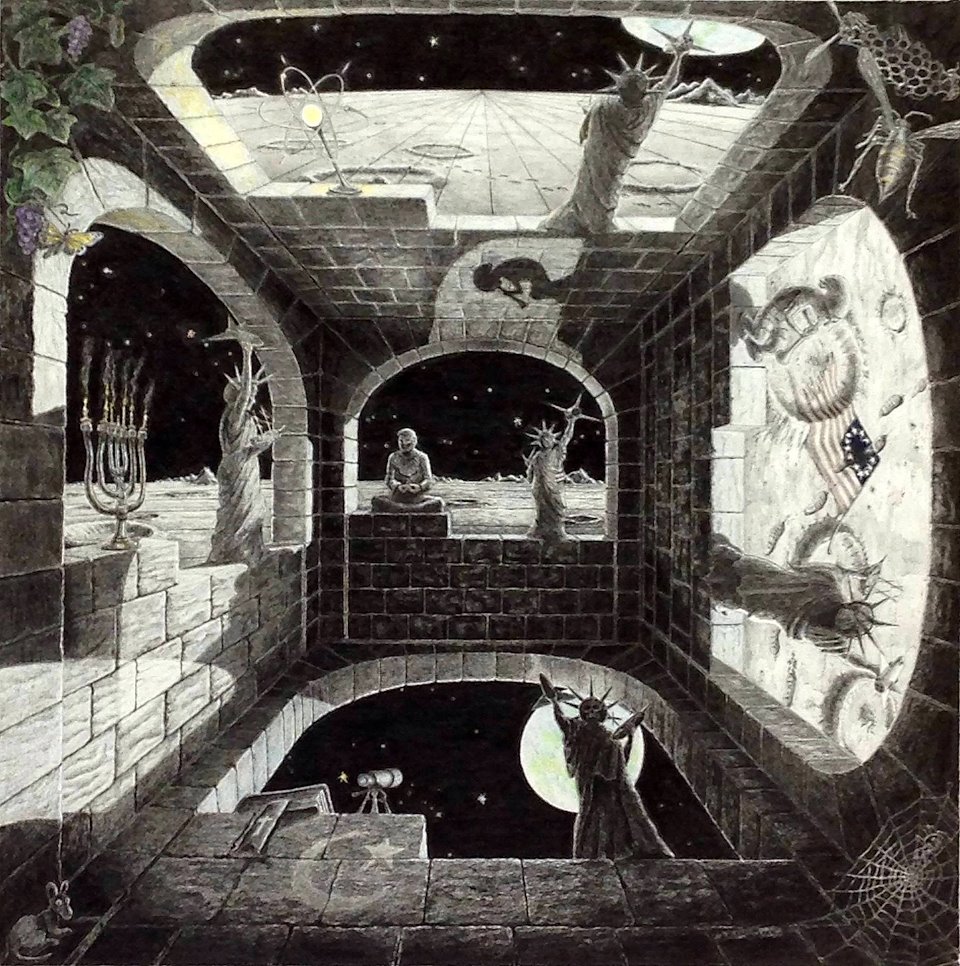 WHEN LIBERTY MET ESCHER
$750
2019, graphite and colored pencils on paper, 16 inch square
This work of art was inspired by the works of M.C. Escher.
Somewhere between science, religion, politics and the spirit of discovery are choices we consider in our dreams. Those dreams can take us anywhere. In this Sci Fi dream a future crossroads is inviting to all, but in reality is not. The Crossroads not only connects to different places, but to different dimensions and events. Because, if you are here, for some reason you've left the green, green grass of home. You might be an individual from the tired, huddled masses staring up at the last icon of universal freedom. Or maybe you are someone who is following a dream or passion, and just arrived at this place we call 'here', only to depart for the unknown.
Like some of Escher's works, there are interesting dilemmas at the crossroads of life's choices. "Is this real or fantasy," "Are there undiscovered truths," "Do I really want to go there?"
Only you can answer these questions and live your dream.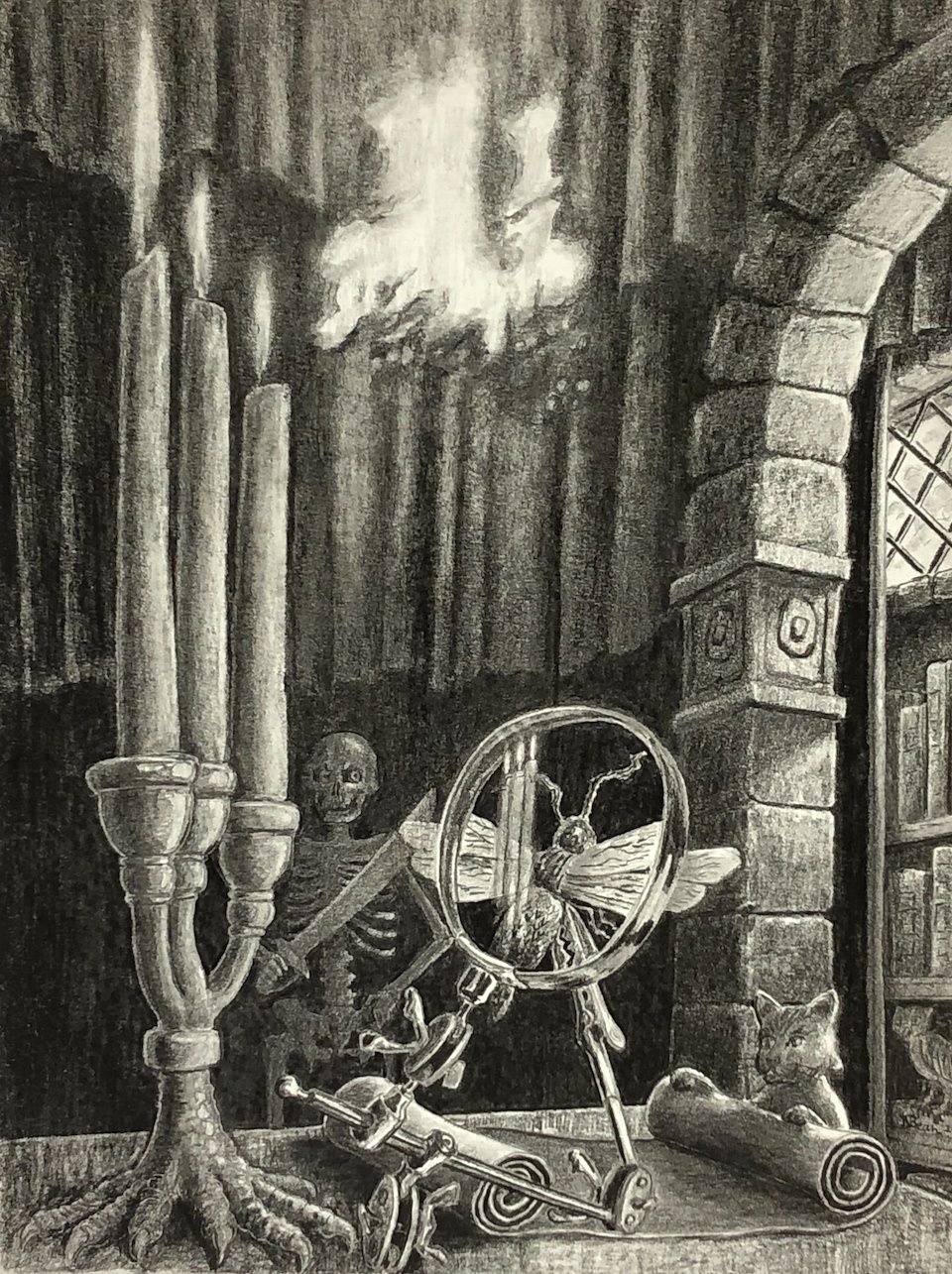 Medieval Science Lab
graphite on paper, 9 x 7, 2020, Sold
In the dark recesses of a medieval castle chamber filled with ancient arcane books, an alchemist studies bones, bugs and kitty cats.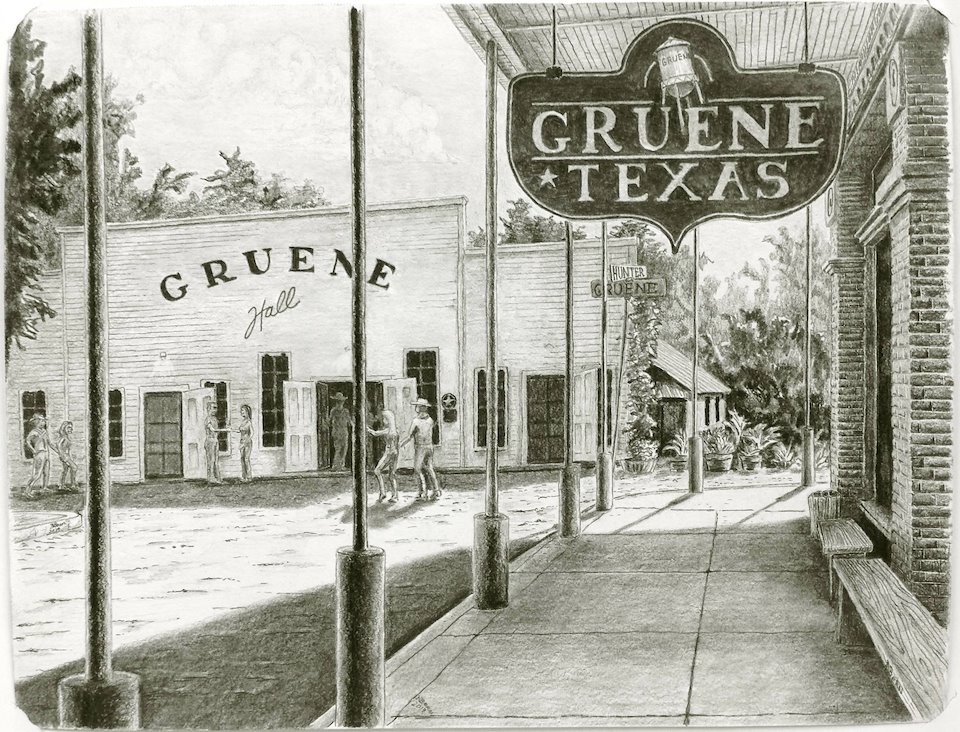 Afternoon Boot Scoot, Gruene Hall 1
2019, graphite on paper 9 x 12, Sold
Gruene Texas, just north of New Braunfels and San Antonio, is where music, art and good times are on tap for locals and tourists. Especially on Saturdays and Sundays, Gruene Hall has become an internationally known music venue for established music icons as well as up and coming artists and performers. Constructed in 1878, the building has hosted social meetings, sales talks, bar fights, brawls and movie filming as well as dancing on the six thousand open air dance floor and outdoor garden.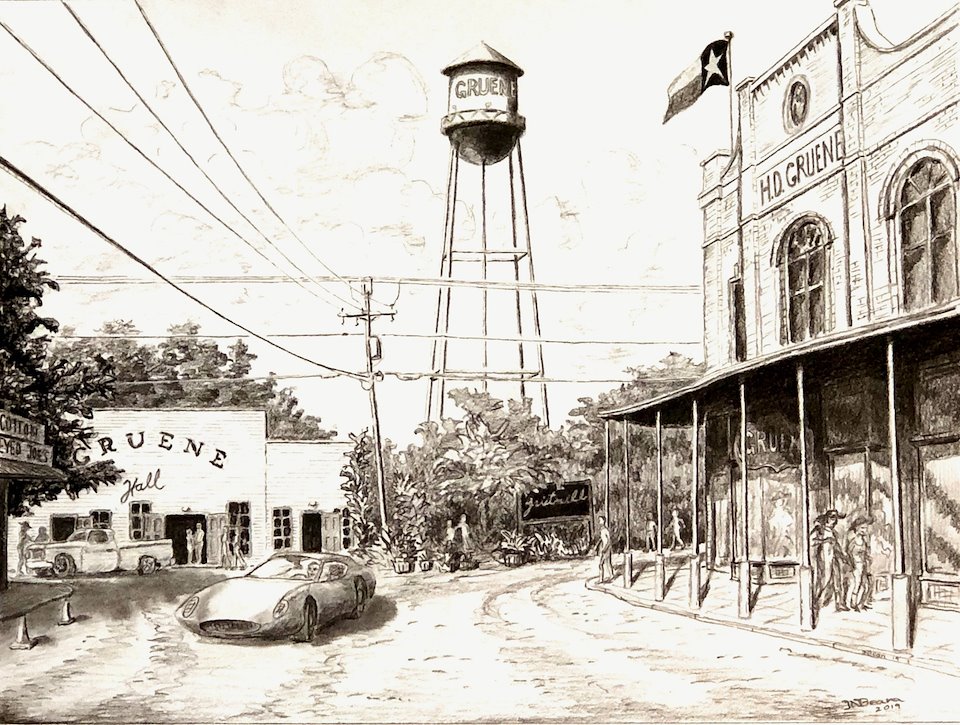 Monday Morning, Gruene Hall 2
graphite on paper, 2019, 9 x 12 sold
Another view of Gruene Hall
Different perspective, day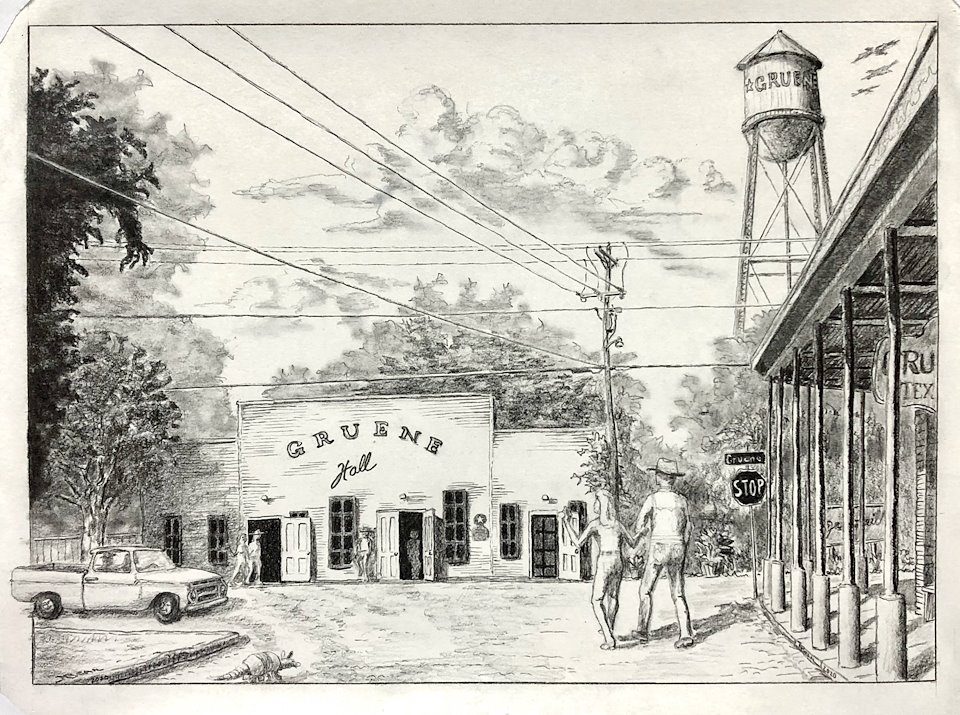 Morning Dance Class, Gruene Hall 3
graphite on paper, 2020, 9 x 12, $100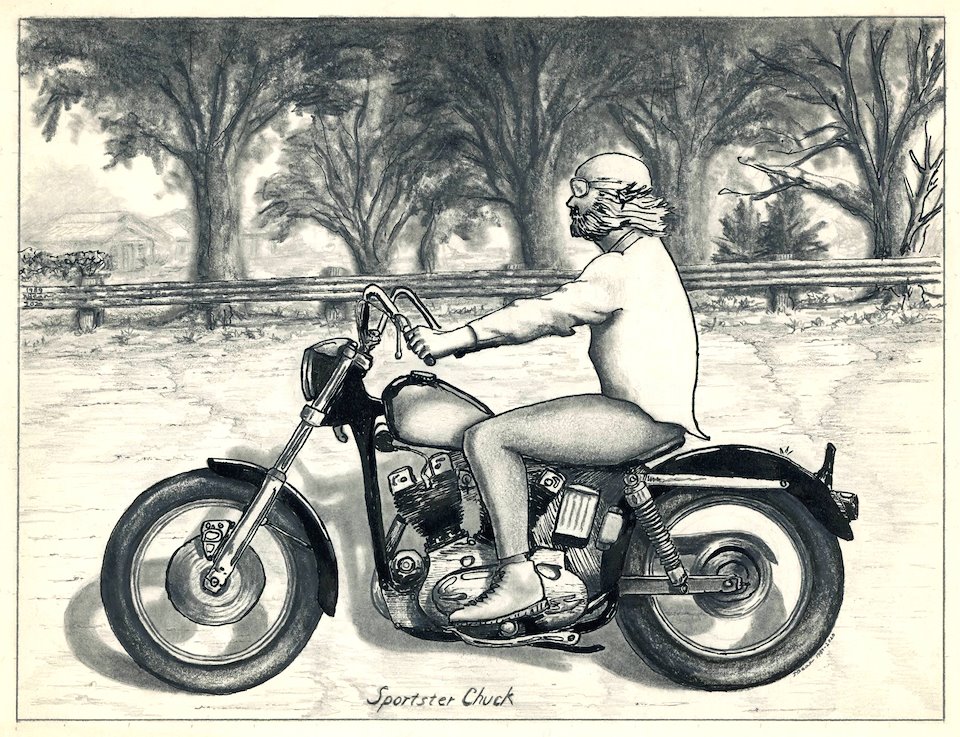 Sportster Chuck Rides Again
ink and graphite on paper, 1989 / 2020, 8.5 x 11
Chuck, if you see this let me know, it is yours.
in August 1988 Chuck, Steve Tripplet and I rode from Austin, Texas up to Sturgis, South Dakota to work at the big Harley Motorcycle rally. We had made it a point to attend another a biker rally in Cedaredge, Colorado the week before where we spent a couple of days partying with the folks of the sponsoring club and riding in the Colorado Rockies. Don't know if the Colorado Springs club still sponsors the event, as a few years later some of the attendees caused a bit of trouble and pissed off some of the locals.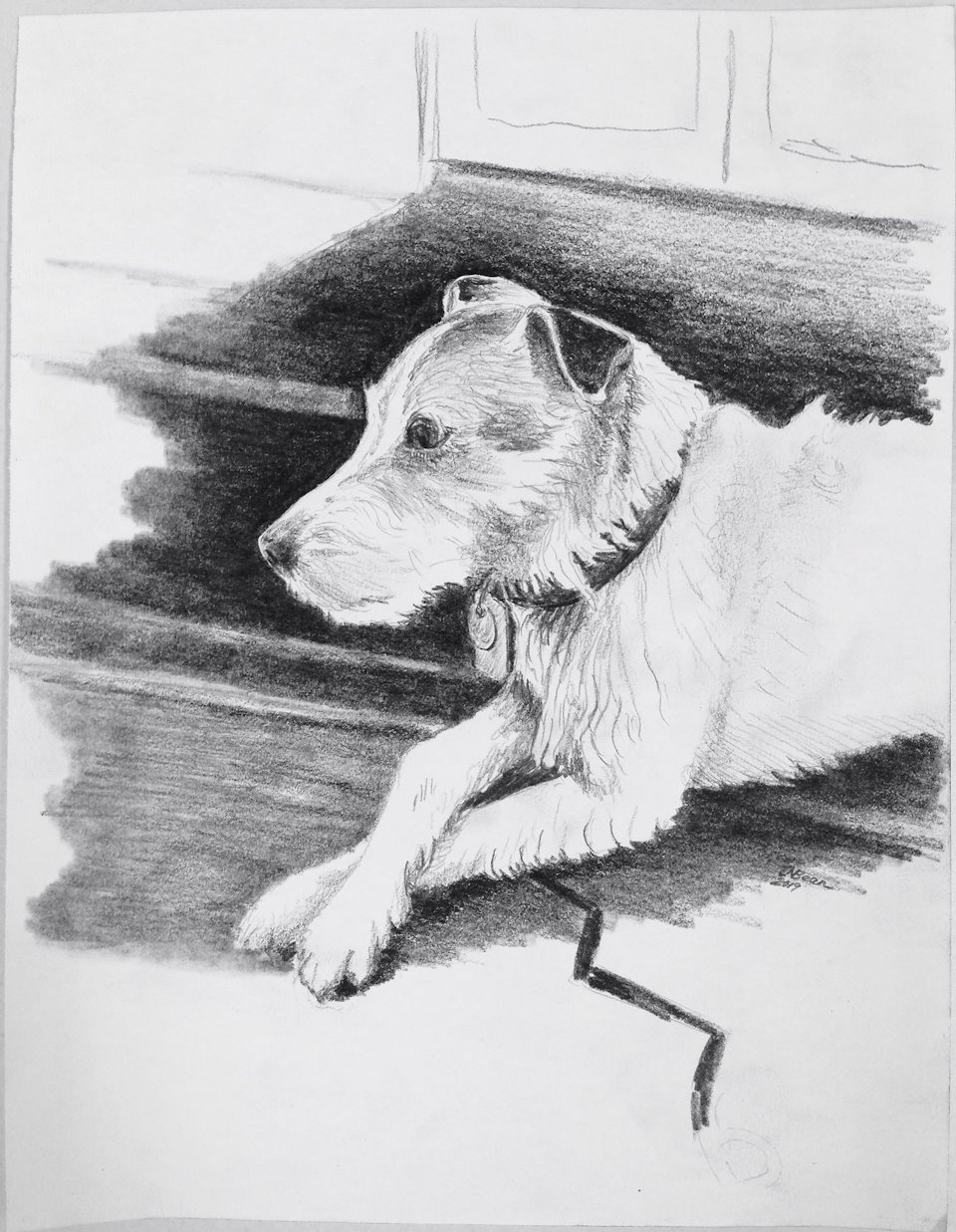 My friend's dog, Buddy
pencil on paper, 2019, 9 x 12, Sold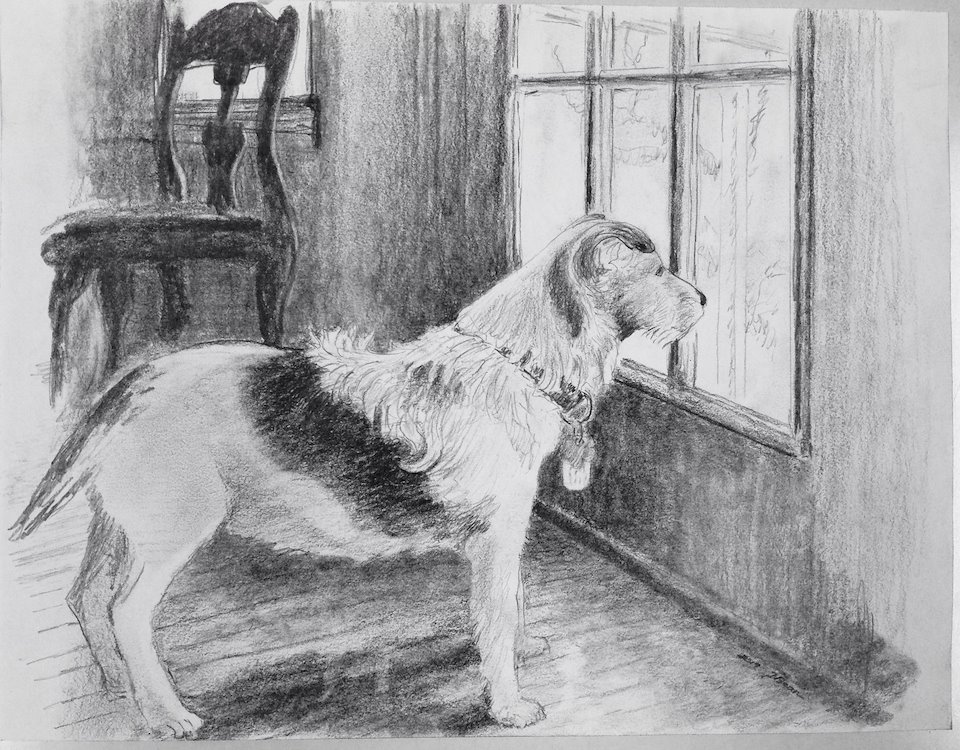 Buddy
pencil on paper, 2019, 9 x 12, Sold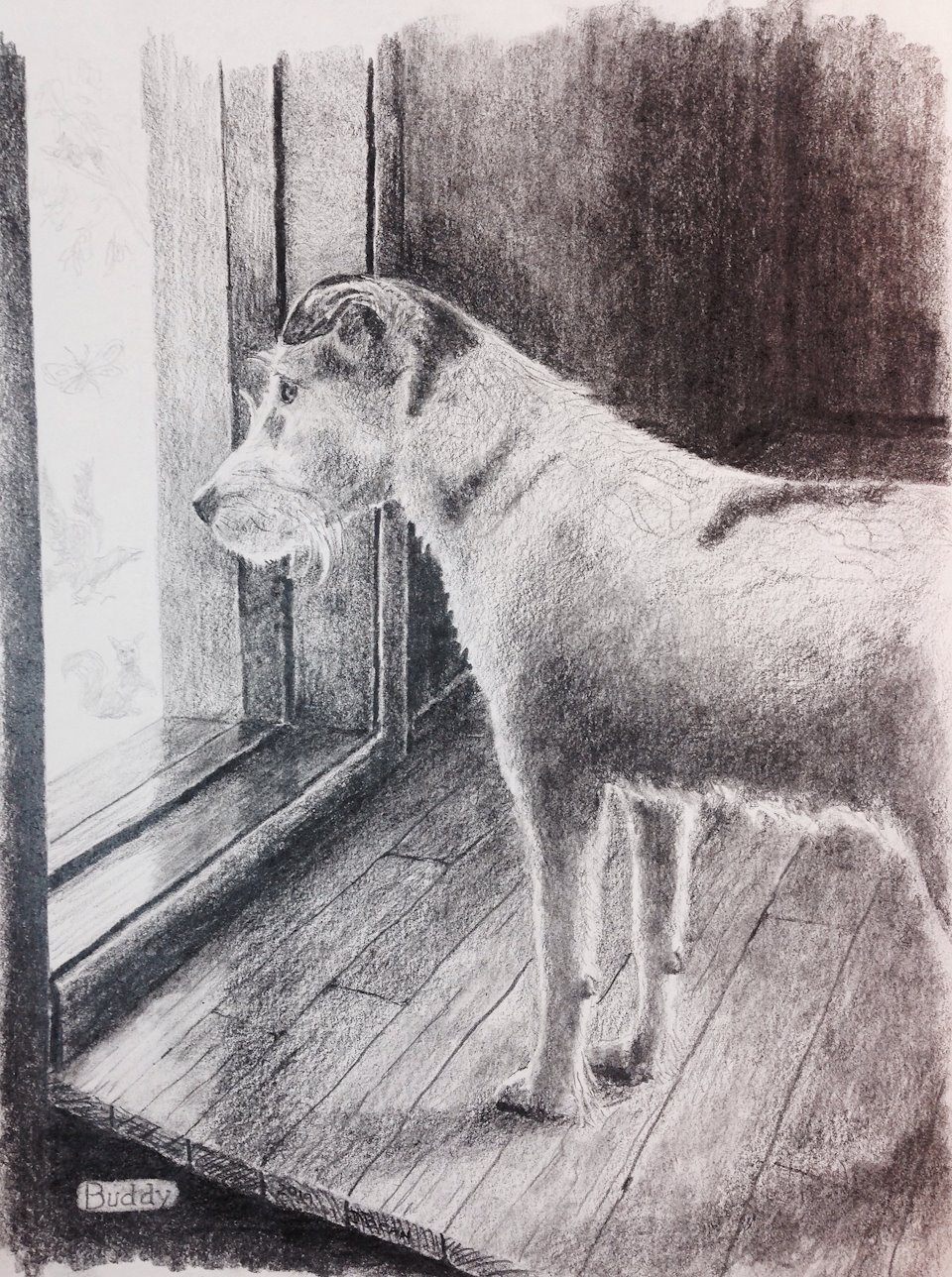 Buddy
pencil on paper, 2019, 9 x 12, Sold
MONUMENT VALLEY
2018, mixed dry media on paper, 10 x 13, sold
On the Navajo Indian Reservation where the air is so much clearer and cleaner in the Four Corners of North East Arizona stand The Three Sisters. Yes it is blazing hot in the sun, but the scanty shade of a thirsty desert tree offers a brief respite with the promise of water if you dare to dig. Tourists and visitors to the Navajo Reservation are not allowed to just go where they wish. Most of the Reservation is considered sacred ancestral ground, off limits to outsiders. A Reservation approved guide driving a four wheel drive bus took us to this area during a special tour.
FREAKED OUT
2018, graphite on paper, 10.5 x 13, sold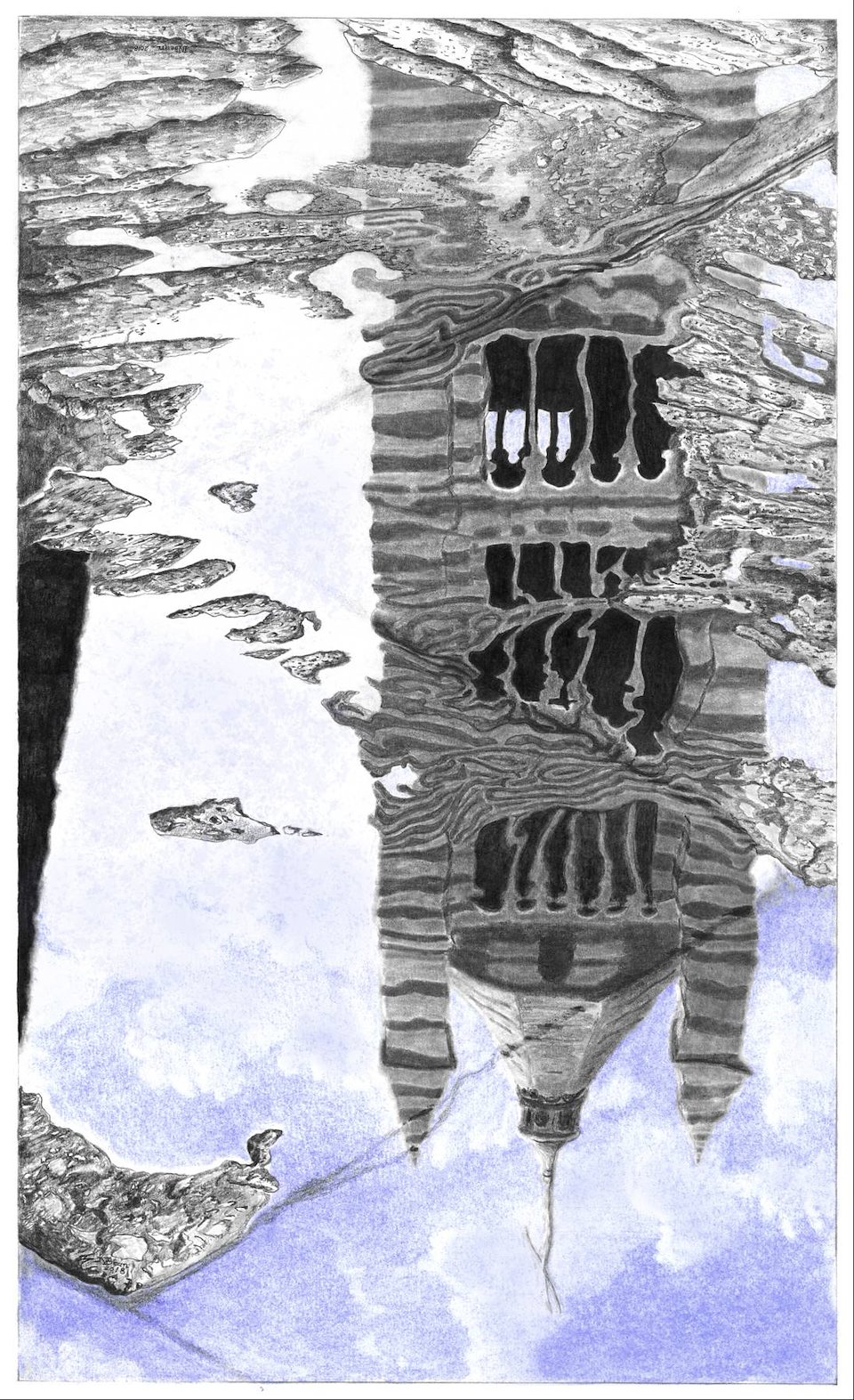 REFLECTION RE – FLEX
2018, graphite & pastel on paper, 10.5 x 17.5, SOLD
Upright or upside-down?
You make the call.
The Siena Campanili as seen after a early morning rain.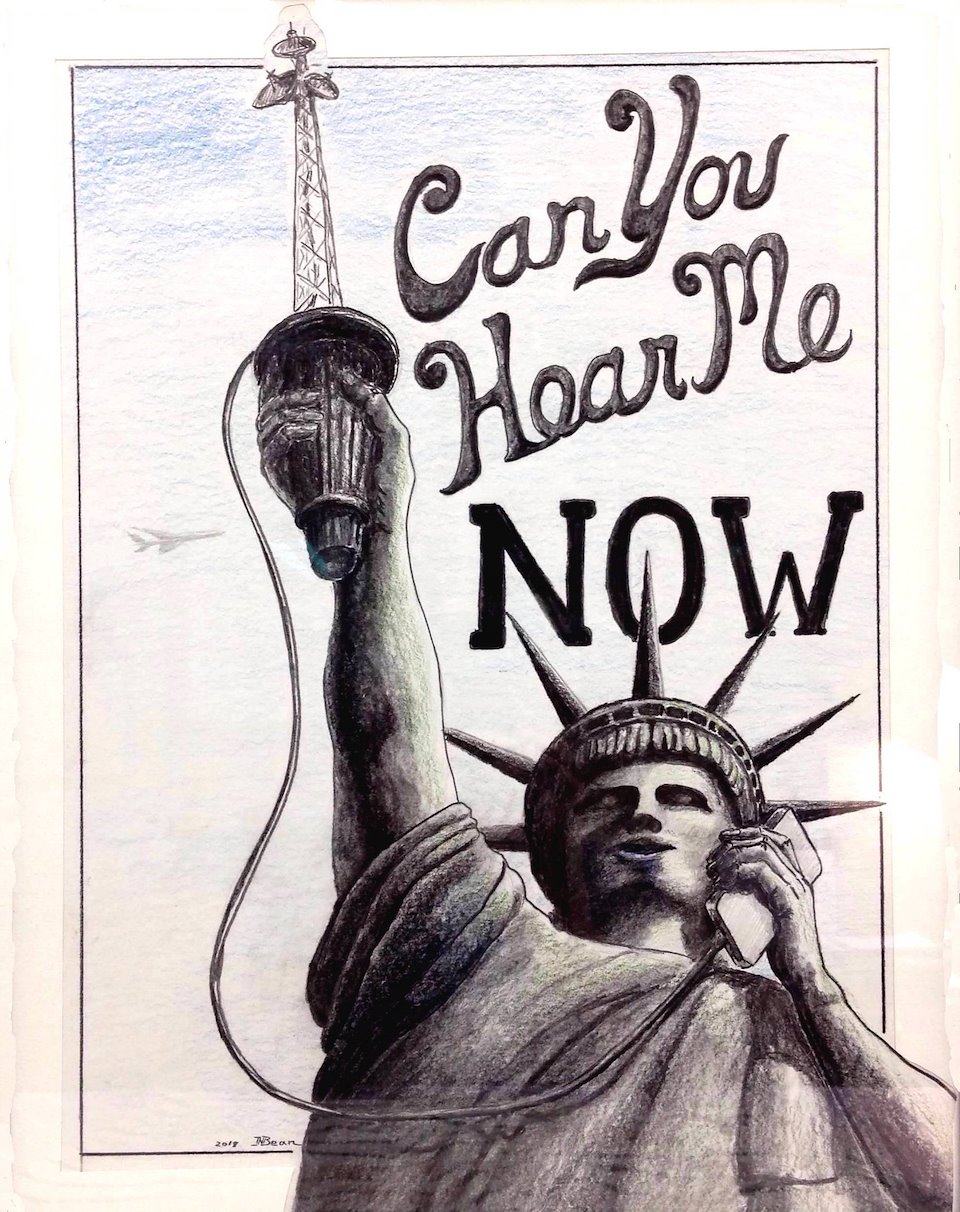 A spoof of the Trump immigration policy.
2018, mixed media, 18 x 14, sold
America used to welcome immigrants, for many good reasons.
What do Americans really think now .....
New Art, Recent Work
This portfolio page is made up of recent creations only days, weeks or a few months old. Maybe after I cease to breathe these works will find their place in the art collections of appreciative patrons. It has been said, "It ain't art until someone buys it." And, "It ain't art till the artist dies." In the meantime enjoy this view into my artistic Cave Man Soul.