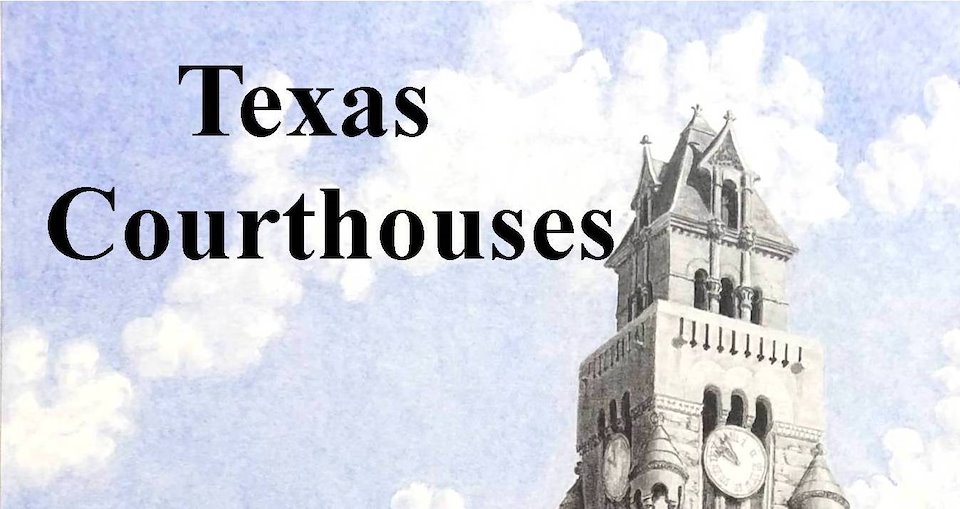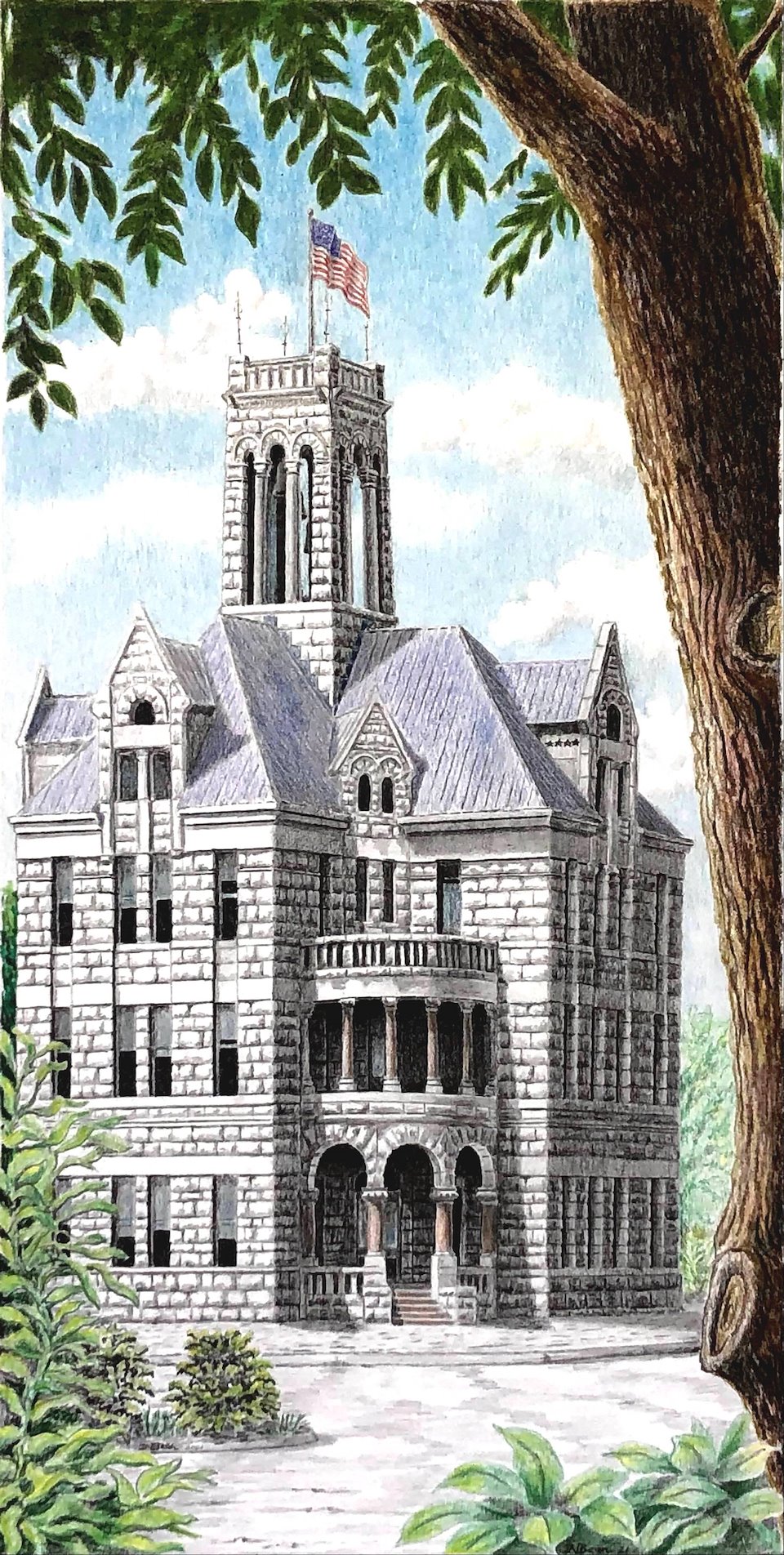 Comal County Courthouse
Graphite and color pencils, 18 x 10, 2021
The Comal County Courthouse was built by architect J. Riely Gordon in 1898 in New Braunfels, Texas, the county seat of Comal County. This Romanesque Revival style National Register Property is similar to some of the other Texas civic buildings designed by Gordon; a Greek Cross with the entryways at the juncture, rather than on the ends of the arms.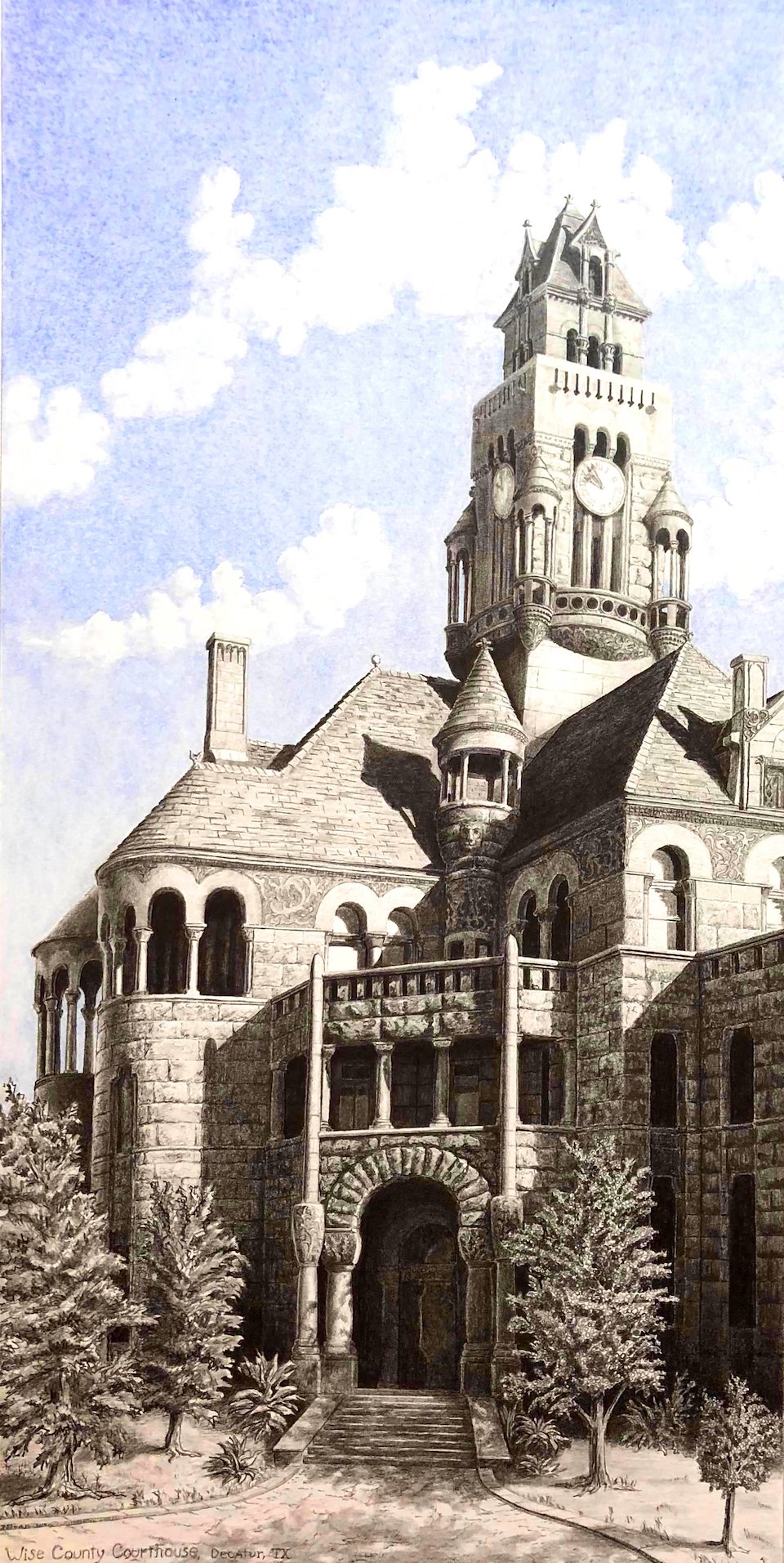 WISE COUNTY TEXAS, 1896
2019, graphite and chalk on paper, 10 x 22
$495
Looking like a castle rising out of the prairie, the Wise County Courthouse in Decatur Texas is one of architect J. Riely Gordon's most memorable courthouse commissions. Built in 1896 in the Cruciform & Romanesque Revival style it is one of the 18 Texas courthouses designed and built by Gordon prior to 1902. With pink granite on the outside and Vermont marble on the inside it is a National Register Property. Facing the South West corner at North State Street and West Main, the morning sunlight provided wonderful definition and contrast for this drawing. Even though the main entry ways are grand, this back door view was the most interesting perspective
GORDON'S GARGOYLE
2017, graphite on paper, 10 x 12, sold.
Fayette County Courthouse, La Grange Texas. Architect James Riely Gordon's oldest existing Texas County Courthouse. We don't know who actually designed or carved this gargoyle, but Mr. Gordon approved the installation as a part of this Courthouse. Twelve of the eighteen Texas courthouses designed and built by Gordon between 1890 and 1910 still stand. In ancient times gargoyles were ornamental waterspouts to direct rain water away from a roof. The term gargoyle has Latin roots gurgulio (gullet), French gargariser (gargle), and Italian gronda sporgente (protruding gutter). Now days ornamental gargoyles (grotesques) are supposed to frighten off harmful persons and evil spirits, and protect those that it guards. In 2008 my art and drawing mentor advised me to…"Just practice drawing what you see." This one was so unusual I couldn't pass up the challenge.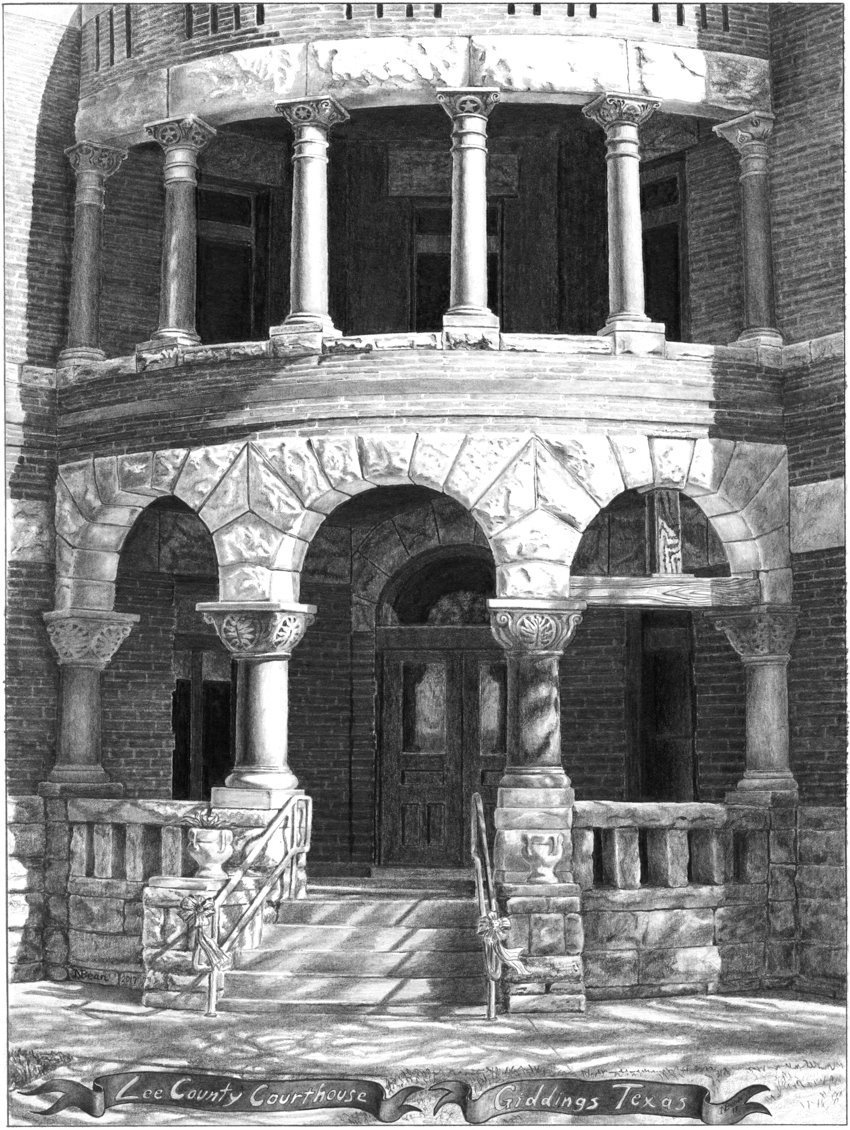 THE FIX
2017, graphite on paper, 14 x 10.5, $450
Lee County Courthouse, Giddings, Texas. Architect James Riely Gordon designed and built eighteen courthouses in Texas from the 1880's to 1902 (twelve still stand). The Lee County Courthouse design is similar to many of Gordon's courthouse layouts: a Greek cross with the entry ways in the juncture rather than at the ends of the cross. There is a story. Seems that in 1899 the technology to seal water out of the basement and foundation was not adequate. Consequently, settling issues have occurred causing some the arches above the entrances to give way. In 2010 Lee County did get a half million dollar grant to attempt "The Fix" but it ain't happened yet. They had to make some sort of scaffold or truss to support the moving keystones. The temporary fix caught my interest, so instead of drawing the whole building I elected to draw a detail of one entry way…I liked the way the shadows played and gave definition to the stone and brick-work at that afternoon hour. It really is a beautiful courthouse, I hope they can make The Fix and keep it intact.
SACRED HEART ROCKNE
2017, graphite on paper, 14 x 10.5, sold
"…but the greatest of these is love." First Corinthians 13:13
STATE CAPITOL of TEXAS
2014, graphite on paper, 20 x 15, $4500.
While hanging an art exhibit at the Old Bakery & Emporium Gallery, 1006 Congress Avenue in Austin, I observed the unique window casing of brick, stone and multiple repairs. The strong contrast between the stonework and the Capitol Dome beyond was too good of a subject to pass up. Construction of the Texas State Capitol building in Austin began in 1882 and was completed in 1888 by contractor Abner Taylor. The Capitol building was designed by architect Elija E. Myers who won a competition held by the Texas State government in the late 1870's. Created in the Renaissance Revival style with 15th century Italian influences, classical order, round arches and symmetrical composition, the Capitol was designated a National historic Landmark in 1986. The foundation is laid of local limestone, and the exterior walls are of "Sunset Red" granite quarried near Marble Falls, Texas. The Lady Liberty on top of the copula, 310 feet, reaches almost 15 feet higher than the nation's Capitol building in Washington D.C.
CALDWELL COUNTY COURTHOUSE
2013, graphite on paper, 19.5 x 14.5, sold
Caldwell County was named in 1848 for the Texas Ranger and signer of the Texas Declaration of Independence, Mathew Caldwell. By the early 1890's, having out grown the existing courthouse, plans were approved in April 1893 for a 3 – story structure of rusticated "Muldoon Blue" sandstone (quarried in Fayette County) with "Pecos Red" sandstone trim. The cornerstone was laid in August 1893 and contractors Martin, Byrne & Johnston completed the project in March 1894. Architect Henry E.M. Guidon designed the mansard roofed, Second Empire style courthouse with a high central tower and a four-way Seth Thomas clock. The great detail and fine workmanship make this one of the most celebrated public buildings in the state of Texas.
HAYS COUNTY COURTHOUSE
2013, graphite on paper, 15 x 20, sold
The Hays County Courthouse sits in the San Marcos town square at 111 East San Antonio Street. The inspiration for the drawing, "Hays County Courthouse," came by way of a request from former Hays County Assistant District Attorney David A. Mendoza. After my repeated visits to the Courthouse a "Sweet Spot View" play of shadows and sunlight was revealed to me early one April morning. As Assistant D.A. from 2004 to 2012, Mr. Mendoza's third floor office and window looked out over the main entryway between the two center columns. Built in 1908 and completed in 1909, the architect for the Classical Revival structure was C.H. Page & Brother of Austin, Texas. Construction, with Beaux-Arts influences and Corinthian Capitals was carried out by contractors Francis Fisher and R.C. Lambie, using Elgin buff brick, grey brick and limestone string courses.
Hays County detail
Hays County detail
Texas Courthouse Drawings
With so many County Courthouses in Texas you might think I've taken on more than I can handle. That much is true. So far in my Texas travels I've seen excellent examples of the rivalry between the 10 Architects who designed and built 97 of the 254 Texas Courthouses.